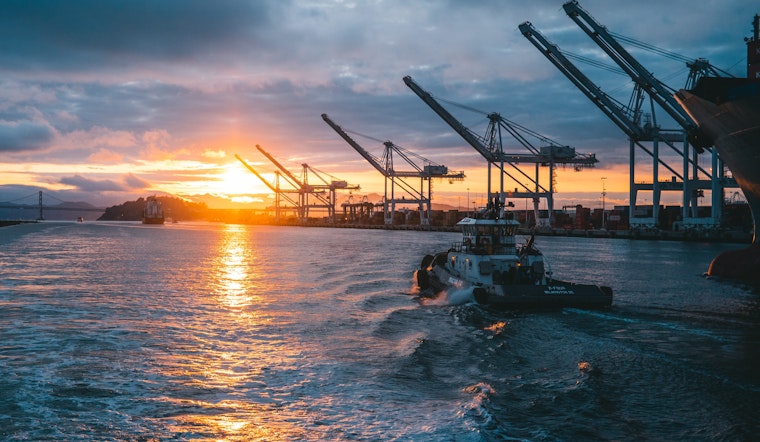 Published on July 07, 2023
The Port of Oakland is set to undergo a massive transformation as it receives a whopping $119 million in grant funding from the State of California, a move that demonstrates the state's dedication to environmental sustainability and greener transportation infrastructure, according to SF Gate. As part of the Port Freight Infrastructure Program (PFIP), the grant award will help the port modernize its maritime facilities, expand green infrastructure, and reduce congestion, thereby decreasing diesel emission impacts in the surrounding area.
This significant grant is part of a larger $1.2 billion state-funded initiative aiming to transform the port's infrastructure and accelerate the adoption of cleaner technologies. The funding will support a variety of marine terminal modernization and arterial roadway improvement projects, including the electrification of the port's cargo handling equipment, which will benefit both the Port of Oakland and the greater Northern California region.
Additionally, this major investment follows a $42 million grant awarded to the Port of Oakland by the California Transportation Commission in June 2023 for its Green Power Microgrid Project, as noted by Port Technology.
Danny Wan, the port's executive director, expressed gratitude for the state's support, thanking Governor Gavin Newsom and the many partners involved in the grant application process, as mentioned in the American Journal of Transportation. Among the planned projects, the port will launch the Outer Harbor Terminal green redevelopment, convert diesel-powered cargo handling equipment to zero-emission alternatives, and introduce wharf improvements that incorporate mobile shore power outlet systems to reduce emissions. Furthermore, roadway rehabilitation will improve overall truck flow, safety, and system resiliency in the Port area.
Such infrastructure upgrades are critical for the Port of Oakland, considering that 99% of containerized goods in Northern California flow through it, according to Bryan Brandes, the port's Maritime Director, via the American Journal of Transportation. Addressing port-related supply chain congestion while upgrading facilities to be more modern and environmentally friendly will not only benefit customers, tenants, and residents, but also strengthen the port's position as a preferred 'green trade gateway' for exporters and California's agricultural growers and shippers.
The massive funding underscores the state's commitment to climate action, equity, and economic prosperity. The Secretary of the California State Transportation Agency (CalSTA), Toks Omishakin, stated that these awards will result in significant improvements to the state's supply chain infrastructure and promote a cleaner, safer, and more efficient goods movement system that will have lasting positive impacts for Californians.