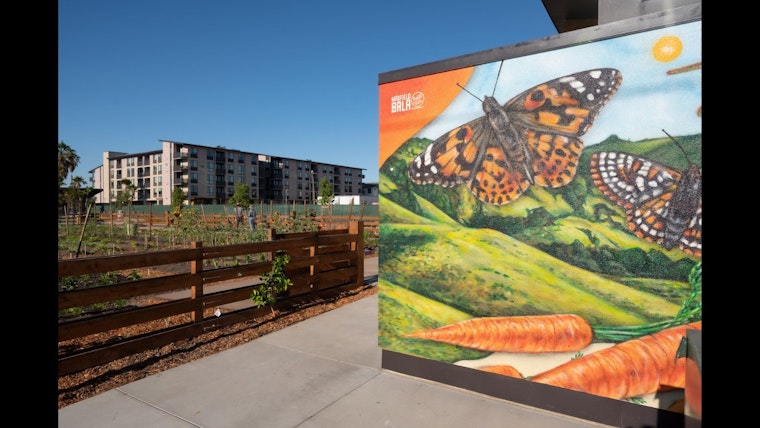 Published on September 21, 2023
California welcomed today a revolutionary project that merges urban farming with affordable housing, known as Agrihood. According to the County of Santa Clara, This long-anticipated development is funded by the 2016 Measure A Affordable Housing Bond and aims to provide a sustainable and supportive community for seniors, with a focus on veterans and carless households.
The Agrihood project includes 165 affordable units allocated for older adults, featuring 54 units of permanent supportive housing. This visionary concept not only addresses the urgent need for affordable housing in the Bay Area but also brings environmental sustainability into focus. The development is LEED Gold-certified, showcasing unique elements such as a stormwater capture system used to hydrate the on-site farm.
Committed to building a true community and not simply shared residency, Agrihood offers 1.5 acres of open space alongside programs such as farmers markets and gardening lessons. The combination of affordable housing and urban farming connects residents with Santa Clara's rich agricultural past while encouraging local food sourcing and fostering a sense of community.
One of the most striking features of Agrihood is the series of eye-catching murals painted by award-winning artist Maxfield Bala, which commemorates the agricultural history of Santa Clara.
At the heart of the project is a collaboration between multiple jurisdictions, including the County and City of Santa Clara, Core Companies, and other housing partners. With $23.5 million in funding from the County's 2016 Measure A Affordable Housing Bond and $15 million from the City of Santa Clara, Agrihood represents a concerted effort to tackle the affordable housing crisis whilst honoring the region's agricultural roots.
Enthusiastically supported by County leaders, housing partners, and community members, Agrihood is hailed as an innovative and refreshing solution to the Bay Area's housing challenges. According to Susan Ellenberg, President of the County of Santa Clara Board of Supervisors, "Agrihood is a long-awaited addition to the supply of safe and affordable housing the Bay Area needs. This development is particularly exciting in its innovative design that includes a working farm, some units designated specifically for older adults and others for mixed income populations, and planned efforts to build a true community, not simply shared residency, around the theme of local food sourcing."
City of Santa Clara Mayor Lisa M. Gillmor echoes this sentiment, stating that Agrihood "will not only create a multigenerational hub with affordable housing for seniors but will also tap into our agricultural history while modeling environmental sustainability into the future." As an invaluable local resource, Agrihood is expected to host over 50 community events per year on its open spaces, bringing its residents closer together and fostering a strong sense of unity.
Vince Cantore, Vice President of Development at The Core Companies, is equally proud of the unique development, saying Agrihood "aims to house our most vulnerable populations while providing them with the unique benefits of fresh produce and open space. To see the vision come together is extremely fulfilling."