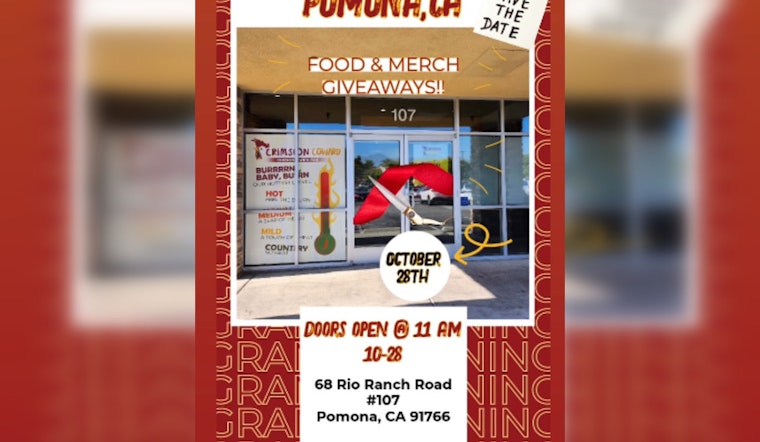 Published on October 26, 2023
The grand opening of Crimson Coward's newest location, at 68 Rio Rancho Rd #107, Pomona, CA 91766, is on Saturday. The event idyllically promises a plethora of festivities featuring mouthwatering food, exclusive giveaways, and live entertainment. A not-to-be-missed gathering for food enthusiasts, as reported by RestaurantNews.com.
The filled to the brim with activities grand opening will start with a ribbon-cutting ceremony and a live band performance. A special treat awaits the first 25 guests: free Crimson Sandwiches. Meanwhile, the next 25 entrants have the chance to receive official merchandise giveaways. Additionally, seven randomly chosen in-store orders will also get $50 gift cards throughout the day, along with exclusive vouchers, according to RestaurantNews.com.
Crimson Coward enthusiastically noted its anticipation to be a valuable addition to the Pomona community. The post also invites local patrons to join the event, commencing at 11 a.m. on Saturday, as stated on their Facebook page.
The grand opening aims to highlight the vibrant spirit of the Pomona community. To foster this spirit, local student musicians and athletes from Garey High School will also be in attendance.
At 10 a.m., before the official grand opening, the Garey High School Band and an energizing cheer performance will instill a festive vibe for everyone who is attending.
Crimson Coward's CEO, Ali Hijazi, expressing the company's fervor in a statement, said, "We're excited to bring our passion for Nashville hot chicken and unique flavor to Pomona. Our commitment to providing top-quality food and excellent customer service is what sets us apart, and we're thrilled to share our love for hot chicken with Pomona and the surrounding community," according to RestaurantNews.com.
Event attendees are encouraged to sample Crimson Coward's renowned Crimson Rub, a blend of tantalizing spices that endows each chicken bite with fiery flavor. Eager to leave its footprint in Pomona, Crimson Coward's nationwide popularity continues to grow.
Food lovers looking to enjoy Nashville hot chicken flavors in Pomona, mark your calendars to attend Crimson Coward's grand opening. Promising fiery flavors, electrifying entertainment, and hearty community vibes, the event will mark a new chapter for the Crimson Coward brand and the Pomona community, as suggested by a recent Facebook post.