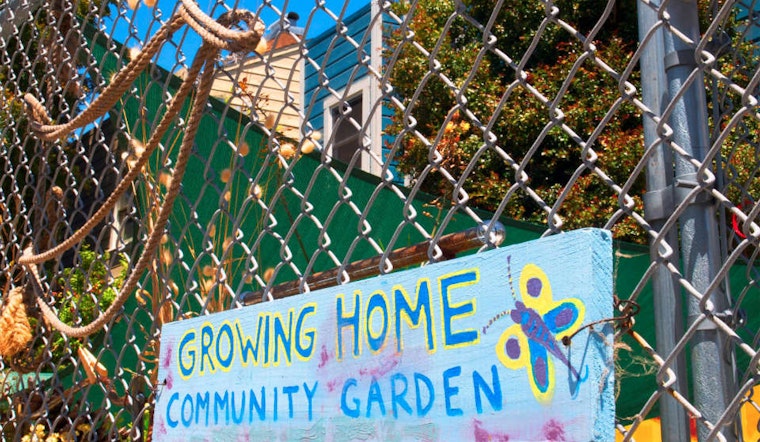 Published on June 19, 2014
Despite petitions and protests, it looks like the end is near for Hayes Valley's Growing Home Community Garden.
The future of the garden has been in question since December, when
we reported
that the City was issuing a Request for Developer Proposals for the two parcels of land that make up the garden.
Last Friday, eviction notices were posted on the fences of both plots, probably to coincide with a selection of developer per the schedule issued by the City's Office of Economic and Workforce Development, which is managing the sale of the land.
According to the notices, everything must be gone by July 4 at 12pm.
We went down to the garden to find out more, and
spoke to volunteer Gregory Lyons. He said that, more than anything, the signs have been motivating and have spurred to garden's supporters to action. While they do have a petition going and are working to generate as much interest as possible, right now, he says, the key is phone calls. Friends of the garden have been calling the number provided on the notices, as well as putting in calls to London Breed (our District 5 Supervisor) to register their opposition to the eviction.
Some of you may be thinking, "Wait a minute: wasn't there always supposed to be an end to the garden's occupation of that space?" In short, the answer is yes.
As we mentioned in
yesterday's post on the future of Flax
, the Market & Octavia Plan was formalized and adopted by the Board of Supervisors in 2008. It
sets out an extensive framework of objectives and policies to guide the redevelopment of Hayes Valley and its surrounding areas. Fundamental to the current issue is what the Plan says in relation to the 22 parcels of land which were created by the demolition of the Central Freeway, including the two parcels of land that make up the community garden.
On this point, the plan is very clear. It states that the City must use those parcels to establish mixed-use, mixed-income (especially low income) housing and other developments. Proceeds from the land sales are designated to be used to support area transportation projects, including construction of Octavia Boulevard, and to public space and street improvements.
So, while it may be disheartening to see another green space disappearing from Hayes Valley, it should not come as a complete shock.
Of course, t
his is small consolation for those who have poured their efforts into the garden over the last four years. For now, they are not giving up, and continue to hope that an extension or exception might be made to allow the garden to stay put.
With that in mind, perhaps now is the time for you to make that first or final trip down and enjoy the garden while you still can.