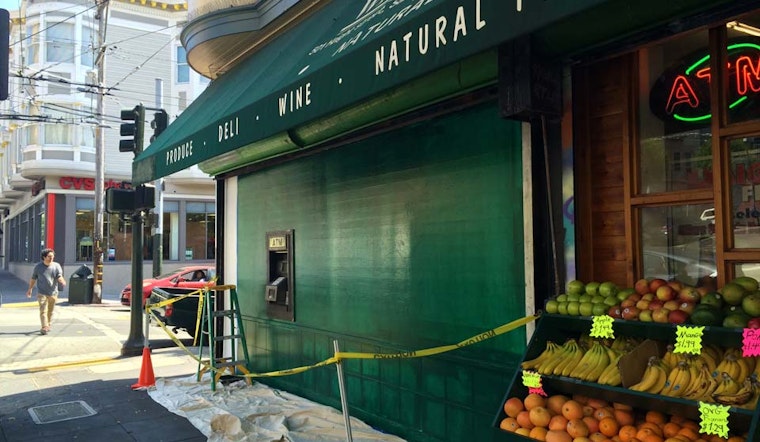 Published on September 08, 2014
Attention, local artists: the
Haight Fillmore Whole Foods
has announced a design contest for a new mural to adorn the wall outside the market's entrance.
Until a few days ago, the wall featured art by Graham O. Gill and looked like this:
It's now painted forest green, in preparation for the new mural.
Reader Dan J.
tipped us off
to a sign posted on market's wall, which advertises the design contest and its tempting $2,500 prize. Per the notice, the building's owner is seeking colorful artwork that references the culture of the neighborhood and somehow incorporates the existing ATM.
Folks at the market tell us that the landlord had grown tired of the old mural (which they describe as "kind of weird") and wanted something new for the market's facade. This will be just the latest addition to a building which already features
many pieces of public art
, including a winged golden statue, a giant rooftop hummingbird, and a mural of dancing fruit.
So artists, here's your chance to have your work prominently displayed at the neighborhood's main intersection, and to make a good chunk of money in the process. The deadline for entries is mid-October, with a target completion date of Thanksgiving (that's November 27th).
For the armchair artists among us, consider this your opportunity to share opinions for what could or should grace the exterior of the Haight & Fillmore market. Got ideas, observations or creative inspiration? Share your comments below.