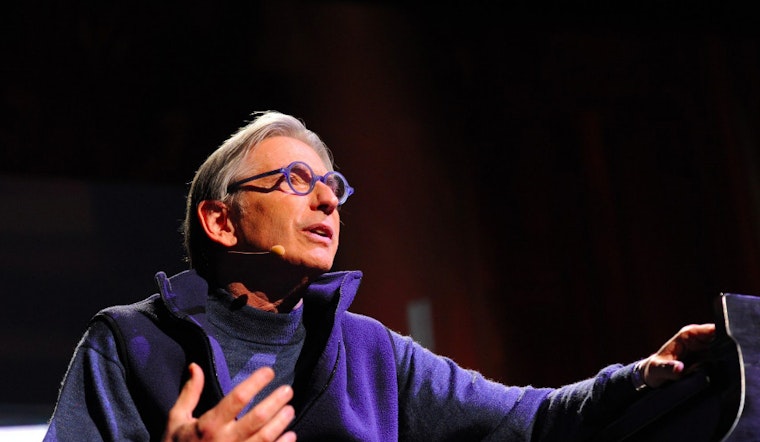 Published on November 18, 2014
Have you noticed
those enigmatic sidewalk stencils
advertising SoundBox, a mysterious project debuting in December?
Turns out,
SoundBox
is an initiative of the San Francisco Symphony, which aims to expand its reach with a brand-new experimental performance space designed to showcase musical exploration in a nightclub-style environment (yes, that means there will be cocktails).
Offerings of the new space, which is located backstage at Davies Symphony Hall (300 Franklin St.), won't be limited to classical music, but will span everything from the earliest music to modern composition, and everything in between. "To have a space in which the audience and musicians can explore this huge swath of time together is something I've always dreamed of," said Music Director Michael Tilson Thomas in a press release, "and now we have it."
The space will boast a Meyer Constellation Sound System, which "can alter the space's acoustics to mimic a variety of different environments." For the December 13th debut, MTT himself will take guests on a journey that explores the full potential of the new space:
"This first concert will have music that goes all the way back to the Middle Ages, to some of the most luscious and impressionistic periods of music, to some completely off-the-wall works by Meredith Monk and John Cage. Some of music will take the volume level of the room to its absolute limit, and some will be on the threshold of audibility. We will also experiment with visual possibilities of the room, using video projection and environmental installations."
As for layout, SoundBox will have a hip, loungey feel, with banquettes, ottomans, café tables and barstools, as well as a full bar and bar bites that will be served before the concert, during intermissions, and after the show. Shows will begin at 9pm, with the venue sometimes offering post-performance DJ sets up to 11:45pm.
SoundBox is clearly designed to be more accessible than regular symphony performances, with
tickets going
for just $25 (the SF Symphony's site is currently down, but check back soon if you'd like to buy tickets). The five programs for SoundBox's debut season will take place on Dec. 13th, Jan. 9th and 10th, Feb. 13th and 14th, March 6th and 7th, and April 9th and 10th.
For more on Michael Tilson Thomas, who celebrates his 70th birthday in December, check out this recent
New York Times profile
, which states that "his mission — of boldly presenting diverse repertory; of not being hemmed in by perceived boundaries between styles and eras; of championing living composers, especially Americans, and especially younger ones — had enormous impact on the scene."