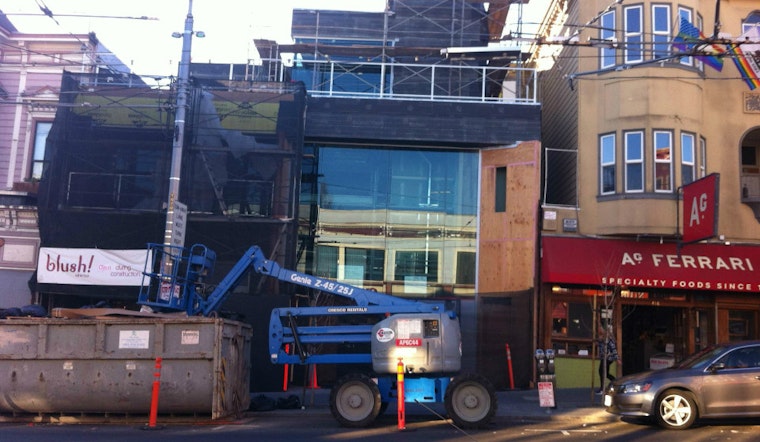 Published on February 24, 2015
Set to open this April in the Castro, The San Francisco AIDS Foundation's health and wellness center is nearing its big debut.
Located at 474 Castro St., the center will be the new home for SFAF's existing programs: Magnet, the Stonewall Project, and the Stop AIDS Project. In addition to expanding the services offered by these longstanding programs, the center will also incorporate services tailored to the needs of groups that have historically been under represented in the area, in the form of The DREAAM Project (for African-American gay, bisexual, and trans men and women aged 18-30) and the 50-Plus Network (which focuses on the needs of gay, bisexual and trans men aged 50 and older). Groups and events hosted by Positive Force and Bridgemen will also be housed at the center.
According to Steve Gibson, Magnet's Director, "the new building at 474 Castro Street will be an
expansion of what Magnet has provided for nearly 12 years, a warm and welcoming place for gay men
to take care of their health and find opportunities to connect with each other through social and cultural
events as well as a variety of discussion groups representing the diversity of our community."
"In my opinion the new
space will offer the ability for so many more people to get connected with the services of SFAF," said Jeremy Zondlo, Magnet's Volunteer Coordinator. "We will
have increased space and appointment availability for testing as well as an integrated approach to the
wellness of our community that goes beyond testing and treatment. There will be a direct connection to
our support with substance use and community connection, all of which can help reduce the amount of
risk an individual might have of getting HIV. We have a many of those programs in place already and this
new space provides the opportunity to put all of those services together under one roof to really meet
the complete needs of our community."
The genesis of this project dates back to 2011 when the SFAF, in collaboration with consulting firm Bain
& Company, carried out an extensive study investigating the potential for a holistic health and wellness
center for queer men in the Castro. What the study found is that there are 6,000 gay men in San
Francisco who are HIV-positive and unaware of their status, or don't yet have the virus under control,
and another 12,000 gay men who are HIV-negative who engage in high risk sexual activities.
After r
eviewing the data, it was determined that if a quarter of these men increased their frequency of
STI/HIV testing, reduced sexual risk-taking, and in the case of those who are already positive, adhered to
their medications (or started taking medication), the instances of new HIV infection in San Francisco will
be cut by 25 percent.
Further, the city of San Francisco would like to provide 100,000 HIV tests a year, but
given its current resources, only 30,000 HIV tests are administered annually. Magnet currently tests
around 900 people a month for STIs and HIV.
It's anticipated that once Magnet moves into the new
facility, it will increase its testing capacity 20 percent, with the goal of increasing by 40 percent over time. The
expanded capacity to test for HIV afforded by the new center would greatly help the city move closer to
this goal.
The focus of the center is not wholly on HIV testing and treatment, but on overall
health and wellness, with the aim to be a one-stop for all health issues which can affect queer men. In
addition to HIV, the queer community also experiences much higher instances of mental health issues,
including depression and substance abuse, than the general population. The new center will
provide services to assist those who are struggling with these problems.
The center has found funding through government grants and private donations but a major fundraising campaign is currently underway to raise the remaining funds.
"I am super excited to see our services expand and see the crucial services of SFAF become more widely used," said Zondlo, "and help us take care of each other and come together in a way we have never seen before.
For further information on the new
center, follow along on the
474 Castro blog
, which provides regular updates on the progress of the construction.