By
Roy
- Published on February 08, 2015.
Dennis Richards is a new member of the San Francisco Planning Commission, appointed by the Board of Supervisors last July to help figure out how to grow the city while preserving the things that make it great.

He's also a 20-year Castro resident who has been involved with protecting historical gay landmarks, countering aggressive developers, and solving local retail and housing issues for decades. 
In an extensive interview, Richards speaks with us openly about the realities of his job and the situation the city and neighborhood face today. Hot topics include the complexities of his current job, the fraught recent history of local urban planning, the selfish decisions of certain other Bay Area cities, and the challenges of maintaining the Castro as a diverse and healthy neighborhood.
SFGovTV
Hoodline: A lot of people are curious about what the Planning Commission does, since they have a lot of say over what happens in the neighborhood. Tell us more about your (part-time) job.
Dennis Richards: If you do it right, it's a 20-30 hour a week job. Each Thursday after the weekly meeting we get a packet to read for the next week. One time I had 10-12 inches stacked of reading materials to do. The biggest job is the environmental impact reports [EIRs] we have to certify for CEQA – for large projects that affect the environment, we have to do a good job of understanding what that is and presenting alternatives. And those could be 700 pages.
HL: And you read through every single one?
DR: [Laughs.] I'm starting to learn how to be more efficient. We have two this week: one is the Sunnydale HopeSF project, they're gonna transform the Sunnydale public housing projects. The second this week is 1601 Mariposa. I have like five EIRs sitting on my desk right now, but we normally only have one a month.
The Fallon Building as the community center construction begins. Photo via The Friends of 1800.
HL: Tell us about how you got involved with planning in the first place, especially since you started out working on neighborhood issues here in the Castro.

DR: It started with historical preservation. I was in a group of gay preservationists called The Friends of 1800 (Market Street), which saved the Fallon Building at the corner of Market and Octavia. It was originally supposed to be incorporated as a part of the new LGBT Community Center but their board decided to bulldoze it. We worked with the City and had it landmarked and incorporated in their final building. We also landmarked Harvey Milk's camera store on Castro Street.
The second thing was that I had been the president of the Duboce Triangle Neighborhood Association. I got involved there around when Cafe Flore changed hands in 2003 – after operating with the same business model for over 30 years, the new owner had sought a bunch of new entitlements for the business. We wanted to make sure that the "new" business model was compatible with the residents living in the area. One thing led to another, and all of a sudden I was the [DTNA] president for seven years – up until 2012. I stepped off the board last year because of the potential conflict of interest of both being on the Planning Commission and being on their board.
The Market and Octavia map showing zoning districts, via the General Plan.
One of the other main things I got involved with was the rezoning around Market and Octavia, which was a six-year process for me. [The plan] went into effect in 2009, but had been going on for ten years. The city and developers talked to DTNA in 2000 then went away for four years while DTNA's leadership turned over. Then they came back and said "here's our plan" and we said "ooh, wait a minute, we don't understand this, where'd you get it from?"

We spent hundreds of hours honing the plan, making sure it's what people wanted for this neighborhood.
HL: Since we're on that topic, tell us more about the goal of the neighborhood plan.
DR: The neighborhood plans came out in the late 90s. It was the city recognizing that 'hey, who knows what's best for the neighborhood' and letting the people in the neighborhood tailor each plan. Only 20% of the city has a neighborhood plan, and the [Upper] Market & Octavia Plan really started around Hayes Valley. The freeway was getting demolished, and land parcels were getting freed up, and the Planning Department realized that the changes were also warranted in the Upper Market as well with all of its soft sites such as gas stations on many of the corners. ["Soft sites" means vacant lots, parking lots and low-density buildings in central locations.]
So eventually we got the plan to extend up to Castro [Street] and Market. All of the buildings you see which have gone up or are going up in the Upper Market can be traced back to that rezoning of the Market and Octavia Plan over the past 15 years.
The famous map of San Francisco with a sea level rise of 300 feet, by Burrito Justice.
But I heard from some planners last week that neighborhood plans are more a thing of the past. The issues that are affecting the neighborhoods are regional and national. Now city planners are looking at citywide and regional planning up through 2050. They are even planning for the effects of the rise in sea level.
In a neighborhood plan you'd tailor it towards a specific set of neighborhoods, understanding where you'd want to direct development knowing that development was going to come. It was meant to be a 25 year plan. But what we've seen is that we're 5 years into the 25 years and have 40% of the growth already realized. So what you're seeing is everybody's reaction to the amount of change happening so fast – you have this long-range plan where everything's crammed into the first 5 years. That's hard to reconcile. You're going to see more regional planning. A lot of the people who, say, live in the condos on Market Street work in Mountain View... well that's a regional issue.

Mountain View's not creating enough housing for workers, or maybe more people would want to live in Mountain View. They can't, so they're moving here. If you don't talk to Mountain View about changing their zoning, about their plans to create millions of square feet of office space for, say, Google, how is it that they can continue to grow when they do not plan for more residents close to where they work? San Francisco is taking in a lot of these workers for a variety of reasons and it is causing a lot of disruption.
We're seeing this with other issues, like pot clubs. San Mateo County doesn't allow them, so people from there come here to buy. The thing that struck me about this new regional planning effort happening in the city is that it is more focused on the East Bay but not as much on the South Bay as well. So I spoke up and said, "what about the South Bay?"
HL: How will planning in neighborhoods happen now?
DR: Neighborhoods will still have a role as one of six or seven emphasis areas – it'll be about how to retain character as well as enable growth.
The existing Plan Areas will remain, but as growth accelerates they will have realized their goal much more quickly and become somewhat obsolete.
The Market and Octavia plan again, this time showing zoned building heights, via the General Plan.
Look at the Mission. It's going through a lot of changes quickly, so we need to go back and look at this. You have people who have lived there a long time, saying, "wait, a lot of it has overwhelmed the neighborhood and caused unintended consequences." I think that's a really good point.

It's just that great planning takes time. Each plan has had an environmental impact report on the development, and it's certified by the city and reviewed by the courts. Plans are certainly affected by the economy. There was a recession five years ago, for example – and there was not a lot of building or growth happening. The neighborhood didn't change much for many years, but then all of a sudden its happening so fast as a result of the good economy here in SF and it's caught a lot of people off guard.
HL: There's clearly a lot of social impact happening here. The stated process includes an environmental impact report – what about the social impact?
DR: There's no social impact covered under the law, but it's something I think about. For the central SoMa plan, one of my comments for the environmental review officer was that you have to include social impact report. If we're going to have 70,000 office units and 20,000 housing units built in Central SoMa, where are the other 50,000 people going to live? And SoMa has the third-highest portion of people in poverty in the city. So we're having all these wealthy people coming in, working in that neighborhood…. what do you think is going to happen to the people there now?
One of the building height zoning options in the Central SoMA plan, via the Central Corridor Plan.
HL: How is the Planning Commission going to tell Mountain View to do anything? They can't, right?

DR: They can't. It has to be coordinated. There's the Association of Bay Area Governments, that did a Plan Bay Area which was required by the state and includes housing targets. The current Bay Area plan looks into the future 35 years. It ended up calling for a lot of densification around transit, like how Fremont has a new transit village planned for right around the BART line.
But cities did not like the density so they're appealing. The question is, what are the specifics? There was an article in the Chronicle last year about Mountain View, that talked about how Mountain View was stuck in the 70s from a residential zoning point of view. It's mostly single-family housing plots of land. There are some transit villages, but for the rest of it the density is not happening, at least not fast enough to keep up with growth.
HL: Do you think that might change?
DR: I don't know. There was an opinion piece in the Examiner about suing Mountain View and it was done tongue-in-cheek, but it had an element of truth to it!
Plan Bay Area's projections for which cities will increase density in the coming decades, and which will avoid doing so. Via Plan Bay Area.
HL: You have a tough job, given all of these problems. What interested you about being on the Planning Commission in the first place?
DR: It's interesting because during the whole Market and Octavia plan we fought for a lot of neighborhood character and quality of life issues and won! Along the way and separate from the plan we fought against things happening in the neighborhood that we thought were not necessary or desirable, such as Chase Bank at the corner of 18th and Castro, as well as an expansion of the Walgreens on 18th Street. We worked with the GLBT Museum, the merchants, the Supervisor's office and Walgreens and in the end Walgreens agreed to provide space for the GLBT History Museum. The partnership between Walgreens and the GLBT Museum was desirable.
I spent countless hours on the other side of that railing, always kind of fantasizing what it would be like on the other side. And now I know.
HL: How do you like it now?
DR: There are some things I like and some things I don't like. In this city, getting criticized is par for the course. So my husband said to me when I joined, "are you sure you want to do this?" But I like being able to help make decisions for the betterment of the city. There are a lot of things we need to do for growth, and to keep the city San Francisco. [On the Planning Commission] we set policy, we make project decisions and we adjudicate disputes.
But it's hard to tell people we don't have power to do what they want, especially when they're upset. They'll come up to us after commission meetings and say, "hey, you're making decisions, and you don't realize how it is affecting everybody." People have asked me to just veto projects. We can change a project, but it's hard for us to just go and disapprove one. We've only done that once since I have been there.
A Castro gas station gets demolished to make way for new construction. Photo by Torbakhopper.
They think we have more power than we actually do… that we can right every wrong, and resolve every disagreement. It's the seven of us, as a group, deciding things – that's sometimes hard.

HL: That sounds like it must be tough, given your background in the neighborhood. What else is challenging?
DR: It's hard for me because we're not operating at the speed of change. I come from a career in tech. If you made a decision on a Monday and you realize you're wrong on a Thursday, then you change plans. It doesn't work that way here, everything is longer range. I'm struggling with the fact that we can't just turn on a dime and change things. This is city government, not private industry. I keep bringing up my experience to the commission and sometimes I get these blank stares. There are some things we can certainly learn from private industry.
HL: Readers have had questions about how below-market-rate units are getting included in neighborhood projects – or not included, actually. It seems like a lot of developers are just paying into the city's affordable housing funds, and even though that money goes into affordable housing, it doesn't help people who need it in the neighborhood. How are you approaching that issue?
DR: There are two kind of BMR units. There are rentals, which are not required on-site by law, and there are for-sale units, which can go either way. If you're a developer and you choose to include BMR units on-site, there's a prescribed percentage of unit space that the developer has to provide. For off-site, there's a higher amount of dollars that you have to give that can go anywhere in the city. That's one of the issues we have in the neighborhood. We don't want the neighborhood to be completely economically non-diverse. For a lot of people, BMR units are not even affordable. They're often at 90% of median income (which is around $87,000) but it's a complicated formula and hard for most people to understand.
The Planning Department director gives us a report each week, showing the number of affordable units, middle-income units and market-rate units being produced based on current market demand.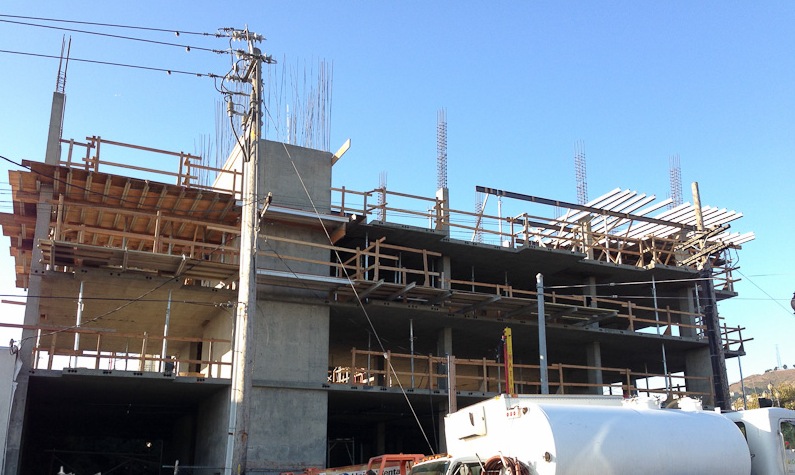 The former "Big Hole" gets filled at 16th and Market. Photo by Waiyde Palmer.
At this point, we're overproducing market rate units at 200% and affordable units at 60% – it needs to be at 100%. But for middle-income units we're only producing 25%. So you have luxury units funding BMR units, but it's still hard to build middle-income units even though there's huge market demand. It costs half a million dollars just to build a unit in the city, and if you're in the middle-class, you probably don't have the down-payment needed for one of those even if you have the income.
HL: What about the architectural decisions on some of these new buildings? A lot of our readers have had critical things to say.
DR: Let's go back to the pace of change. I brought this up at the commission last week – can we stop having a ton of these cubey blocks? Can we have something a little more quirky. Like the 15th and Sanchez building. I thought that was really well done. But change is happening so fast that the architectural trends of the moment get amplified.
In the mid '90s, live-work lofts were getting built everywhere. Can you imagine if that had kept going? They're all over SoMa today and they're terrible. I'm glad they stalled out [with the dot-com crash] and the Board of Supervisors intervention.

Here's another example. I was on a hike on Kite Hill with my husband and dog, and we were looking at all of the aging developments in that part of the Castro. What if those had kept going?
It's a complicated question. I have friends who are architects and they say, "let architects be architects." In order for developers to win approval for projects, they have to let people in neighborhoods comment. Then all of a sudden you get design by committee, where the results might be well-intentioned but are neither here nor there.
At the same time, some requests for changes to specific projects have mitigated bad design. Can we come out and embrace the new designs and say they're the best this side of Paris? No, but they're functional and they work.
You also have to remember that once a style gets old enough it becomes treasured. In the '80s, when you were my age, you'd drive to some suburban place and you'd see all this '50s and '60s kitsch and you'd say gross. But now you have people who love that style and are working to protect it.
The new CVS. Photo by David T. on Yelp.
HL: How do you approach planning in the Castro? When the CVS opened up in place of Tower Records, a lot of people wondered why another pharmacy was moving in. Was there a density issue that allowed that to pass? A lot of people were wondering how this happened.
DR: First off, that started years before I got on the commission. Second, I was on the DTNA board as president and we didn't take a position. Formula retail has to work for us in order for us to support it. That space had been vacant for seven years. Office Depot had tried and failed to open, and so had a furniture store among other retailers. Then there was Trader Joe's attempt – which was a big issue because of the impact it would have had on traffic and quality of life.
That space was unusual. There was 16,000 square feet on the bottom floor and 14,000 square feet on top. The project owner was going bankrupt. The two units were not subdivided, and would have been hard to divide for a retailer. And we were in this huge recession, where the vacancy rate was 7%.

I kept telling the owner, you have a 1980s building in a 21st century economy. It's too small for a big-box chain and too big for mom-and-pop. So you had this weird space at the wrong time. CVS worked with the neighborhood. We at the DTNA asked for no alcohol sales and limited hours, and told CVS that if they wanted to change they should come back and talk, which worked for all of us.
HL: Do you see the Home location getting approved and becoming housing?
DR: It should. I had somebody who is a business owner in the Castro who I dearly love, who told me, "I'm tired of all the condos going up." And I was like, "Then where should we put them?" I said, "It's on a Muni line literally right above the station. How much more convenient can you get for people who don't have cars?"
And the height limit is already 85 feet. Where are you going to put density? Where it belongs. That's what the whole neighborhood plan was for. You don't want that building sitting out in the Sunset, you want it here.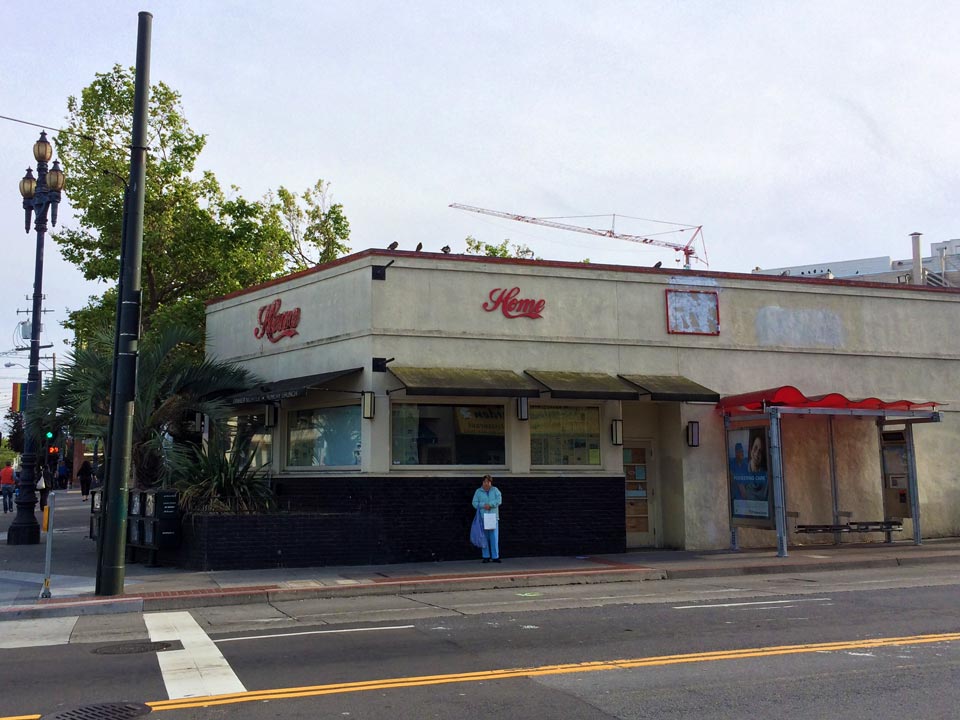 The defunct Home, with building crane in background, as new plans loom. Photo by Rose Garrett.
HL: What's your view of the Castro retail strategy project?

DR: I had been on the advisory committee, but I got off to avoid any potential conflict of interest. I understand it is planned to come before the Commission to be certified as "policy" once it's completed. The good thing about it is that for at least the first time in my lifetime that I've been aware of, the merchants association, the neighborhood groups, the community benefit district, the Mayor's office, the Supervisors office and the developers all joined in to fund the study.
The study will be good at guiding what retail comes to the neighborhood as it seeks to quantify why people stay to buy goods and services and why people go elsewhere. It also takes into consideration the Castro as both a regional as well as national/international tourist destination.
HL: What's your hope for the Castro in the next five years?
DR: I've talked to some people who say it's already too late, that it's no longer the Castro, that it's lost all its Castro-ness. It certainly has changed from when I moved here, and from ten years ago, and even from two years ago. But there's that great quote: "Ask any San Franciscan when the best time in San Francisco was, and it's the day they got off the plane." Everybody wants this city to be the way it used to be, but we're living in a world where that's a fantasy.
So how do you take what you need to keep it San Francisco, and allow all the other stuff to happen? That is the challenge.
People also have to realize that besides considering conditional-use permits, there's not much left to do. Most of the soft sites with low-rises or parking, that's all been decided years ago – before I joined the commission – and it's in the works.
A rendering from earlier this year for Home's possible replacement, by Brian Spiers Development.

If you look at the map of Market and Octavia, for buildings that are historic, heights were lowered. For sites that were soft, including corners, heights were raised to incentivize people to build in those areas. Look at the map and start coloring in, you'll see a good portion of them are already built up.
You also have to think about the differences between developers. I sat with a developer who's doing Cafe Du Nord – Enrique Landa, the guy that did BetaBrands. He has a project on 1140 Folsom Street. Before that hearing, I said to myself, "I'm tired of hearing from developers about how they'll lose money if they don't get what they want. I want one developer to sit down with me and show me financials."
He had the balls to do it.
I saw what it was they work with. Some developers have profit margins set at 30 percent and they don't deviate. But the good developers say, "If the neighborhood wants these things, I'll concede these things. I'll take it at 28 percent or whatever, I'll build this the way they want."
You get to a certain point where the investors want a return, and when it hits that point, that's when shit happens. Like the 30 percent exclusionary housing mandate that got proposed last year – developers went crazy on that because it would have made it hard for many of them to afford to build anything.
HL: Is the pace of development going down at all?
DR: No. We're forecast to grow by 200,000 people in the next 15 years. Where are they going? For every four people, there's another person coming. Region-wide, from Sonoma to Gilroy, the Bay Area is expected to grow by one million people or more. For us, it's 200,000.
HL: How do you view the existence of formula retail?
DR: What people don't understand about the formula retail question is that it's a double-edged sword. It can help existing businesses, if it's offering something that the neighborhood doesn't have. It can help bring in more foot traffic. But it's pretty much over when they go in. They don't generally go out of business at the rate that small businesses do. But do people want to come from all over to sit at Starbucks in the Castro? No, they can do that at home.
Map of zoning and vacancies published by the Invest in Sf: Castro/Upper Market report.
HL: What about taxes on empty retail locations?

DR: The $798 tax is already in place. It's a start – but it also depends on the neighborhood. Go out to Mission Street where you can't rent a place anyway, and maybe it makes sense.
But there some neighborhoods that are really hurting – and what are you going to do, fine the landlord who can't find tenants without losing money? It's more about rent. Retail margins are maybe not high enough to absorb some of these increases. It seems like alcohol and coffee are replacing restaurants [in the Castro].
We changed the limit on eating and drinking establishments and now this is what the marketplace is showing us. I know there are plenty of people saying let them go out of business, but now they can open anything… and there are fucking 30 coffee shops. Seriously. I think there are 30.
HL: So what can be done at the neighborhood level?
DR: One of my friends observed, there's the Castro at the neighborhood level, and there's Castro at the regional level, and there's the Castro at the international level.
From the neighborhood point of view, going to a coffee shop is great. There are 30 of them, so what? I don't have to walk so far.
But from a regional level, it's not that interesting relative to gay tourism. There are also bars and nightlife, and if you're coming in from somewhere else in the Bay, maybe you'll go to a coffee shop during the day? Then look at it from an international perspective. Besides the Castro Theatre there's Harvey Milk's Camera Shop and now we have the rainbow crosswalks… and there are a bunch of coffee shops and banks and dildo stores. What's that all about?
We gotta keep interest going. We don't want people going back home and saying there's not much to see here.
HL: If there was one change that you could make in the Castro through the commission, what would it be?
DR: It'd be to adopt the upcoming retail study, assuming it's sound and rational and gives us some guidelines on what we want. It will hopefully give local businesspeople ideas. If they want to open up a business, they will finally be able to see what the neighborhood really needs.
A snapshot of Castro old and new. Photo by Torbakhopper.