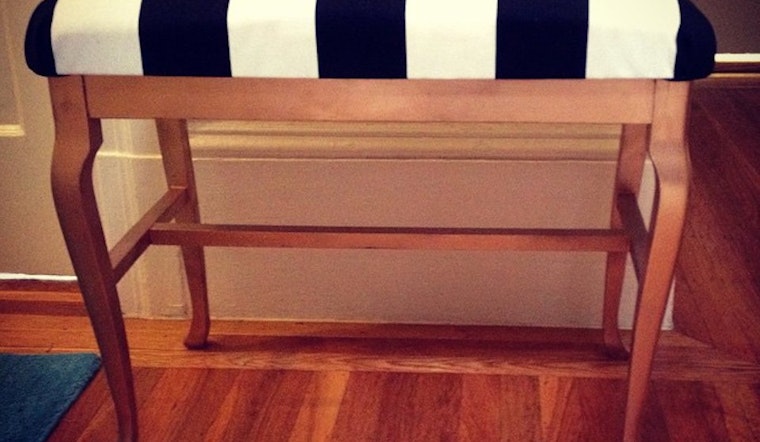 Published on February 03, 2015
Funded in part by a Kickstarter campaign, Jacqueline Stoecker is opening Delightful Designs, a vintage furniture and home decor boutique in the Inner Sunset.
Stoecker, a former culinary student and restaurant worker, refurbishes items "from old and drab to bold and beautiful", and plans to open her storefront in a few weeks.
courtesy Delightful Designs
"Right now, I'm hanging on to my restaurant job until I can get the store open," Stoecker told us via phone. At just 530 square feet, Delightful Design's retail space at 550 Irving is "pretty small, but it's perfect for me," she added. "I love to do this, and I've been doing it for more than 10 years. I saw the empty storefront and said, 'why not?'" The space was formerly home to tanning salon G-O Glow.

For years, Stoecker said she was "doing the furniture thing on the side," with special projects for friends, family and her own home. "I do everything myself," she said. "I have a passion for chairs, reupholstering and painting them in bright colors, and I love to sew."
While she prepares her retail space, Stoecker stores her inventory in a outdoor shed.
courtesy Delightful Design
She said she plans to keep prices low to appeal to a broad clientele that includes students and neighborhood regulars. "I don't plan on being one of those high-end $600 per chair kind of places. I want to make things fun."
Using Kickstarter to offset some startup costs "was a great experience," said Stoecker. "It was a lot of fun to promote it and get friends to back you, as well as people you don't know. It gives you that extra boost of confidence that it's going to work."
Stoecker said she's looking forward to building her business in the Inner Sunset. "It's fun. There's a great farmer's market on the weekend, and a very tight community. I always run into someone I know."
Delightful Designs will be open for business by the first weekend in March, said Stoecker. Follow the store's Facebook page to be notified about its grand opening.