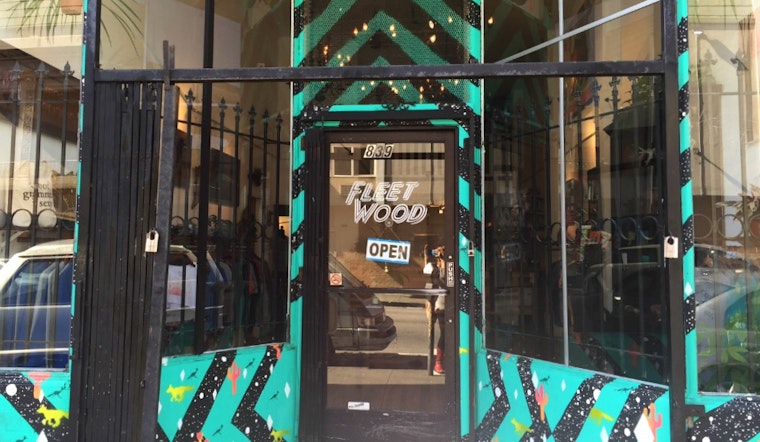 Published on February 27, 2015
When artist workspace 1564 MRKT was given notice to close up shop in lieu of a proposed 12-story condo building, many of the artists in residence were left without studio spaces. The artists' collective (located on Market Street between Franklin and Van Ness) was only a temporary home for the woodworkers, photographers and designers in the space, but in a city with a competitive real estate market, staying in the city isn't an option for many artists.
After the loss of their studios, the group split up in a search for new places to work, but two chose to stay together. Cleveland Motley from Motley Goods and Nico from Studio Nico embarked on an exhaustive search of the city, finally finding 839 Larkin Street. (As Cleveland told us back in December, "Realtors of San Francisco are happy I found somewhere, so they don't have to hear from me any more.")
839 Larkin Street was formerly home to The Shooting Gallery, which moved to a larger 5,000 square food space on Geary in 2013. Although the space isn't huge, it's plenty large enough to incorporate Nico's screen printing workshop downstairs, and to fit Cleveland's bag-making workshop upstairs.

January of this year was a flurry of activity. "I think we took 34 trips to Home Depot," said Nico. "We really took DIY to the next level." The Douglas fir floors were badly in need of repair, and the duo called on a friend to patch and polish them. The large retail shelf housing the work of local artists was reclaimed from the back of the shop, and the colorful exterior was painted by Celeste and Yvonne Byers, two local sisters.
In one hectic month, Fleet Wood was born, and when opening night hit during the Open Late on Larkin Art Walk on February 5th, there were so many people dropping by that they couldn't all fit inside.
The shop is now filled with colorful racks of Studio Nico's screen printed tees and tanks, and a Motley bag or two is on display. Despite the full store, both Nico and Cleveland admit that the rush of opening a new workshop and studio space means that they're backlogged with orders. Studio Nico sells wholesale to a number of retailers, and has an online shop to maintain. Motley Goods is currently only taking custom bag orders, with a waiting list a couple weeks long. In other words, business is good, and now that they have a storefront, it should only get better.
Aside from being the retail space and workshops for Motley Goods and Studio Nico, Fleet Wood is also an active gallery with a rotating show every month. Along with regular art openings, the pair hopes to host a number of events in the future, such as film festivals and a speaker series.
"It was a good spot to land," said Cleveland of the space, located down the street from Strand (a barber shop), Vacation (a vintage clothing shop), and San FranCycle (a clothing store for the "casual cyclist"). "It's one of the last places in the city with a fresh new art scene."
To follow more Hoodline Tenderloin stories, check out @Hoodloin on Twitter, Hoodline Tenderloin on Facebook, Hoodline's RSS feed, and don't forget about our app.