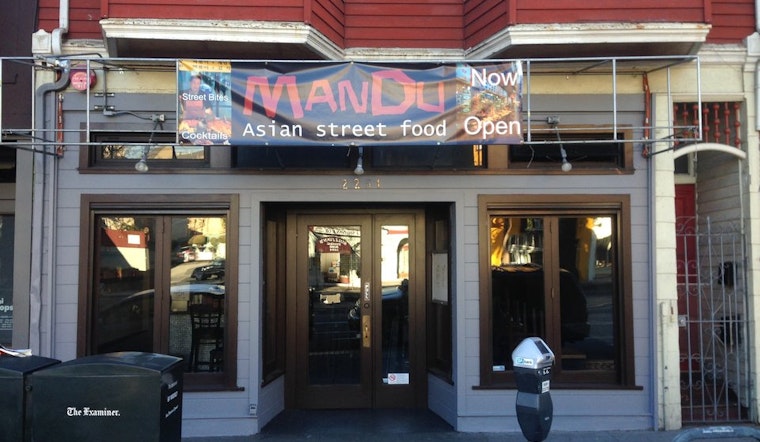 Published on February 14, 2015
Less than a month after Barracuda Sushi closed its doors for a remodel and concept change, ManDu has opened in time for Valentine's Day this weekend.
The 80-seat, 2,100 square foot space formerly occupied by Barracuda has been completely renovated with feng shui principles in mind. The interior now has a slightly industrial feel, with wood, concrete and metal materials accented with splashes of red. The seating is mixed between dining tables and upholstered booths.
Chef Daniel Sudar, who's also the chef at Slurp, has been hard at work developing the pan-Asian street food menu for the new restaurant, which opened quietly for dinner last week. While he's still going in to Slurp everyday to taste the sauces and broths, Sudar tells us that he'll be spending the majority of his time at ManDu while his sous chef handles the major responsibilities at the noodle bar.

ManDu's menu, inspired by Asian street food, includes items from Indonesia, Malaysia, the Philippines, Singapore, Vietnam, Thailand, Korea, Japan, and more, with dishes ranging in price from $5.50 to $15.95. Some of the highlights from the preview menu include the Gado-Gado with chilled steamed vegetables, eggs, tofu, crackers with a peanut sauce, and the Korean BBQ tacos with kimchi, lettuce, chilies and an avocado-tomato relish. Here's the full preview menu, which is subject to change.
Gado-Gado. (Photo via Daniel Sudar)
The drink list includes a variety of soju cocktails made with house-made purees, plus a selection of wine with bottles priced under $50. Limited production sakes and Asian beers are also available.
ManDu is currently only open for dinner, with plans for brunch and lunch service in the future. Hours are Sunday-Thursday from 5-10pm and Friday-Saturday from 5-11pm. For a reservation, call (415) 558-8567.