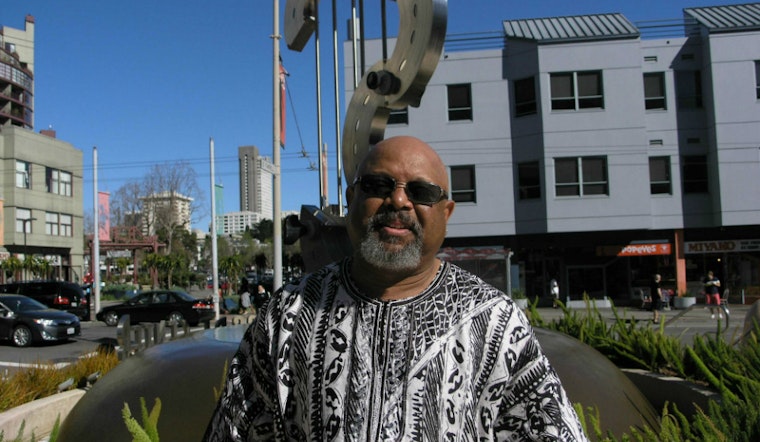 Published on February 28, 2015
Larry Douglas is still trying to figure out how technology works.
"Come on, thing," he says, aiming a remote control at a stereo system in his living room. "Oh, there you go."
And with that, the sounds of an uptempo, dancy trumpet melody fill the room.
"This is what I was working on in the studio yesterday," he shouts over the music.
At age 64, Douglas seems to have done it all. He joined the army and rose through the ranks to become first sergeant in the '70s, played with the military band in "literally all" of the cemeteries in the Pacific Rim, tried out for the San Francisco 49ers, dropped out of San Francisco State University, performed in Super Bowl III, toured the United States with musician Johnny Otis (and toured internationally with his son, Shuggie Otis, in 2012 and 2013), and taught instrumental music in schools all over San Francisco until 2010. And he is currently recording a new album, "Dedicatorias Dos" by Larry Douglas and Jorge Pineda Alltet, under his own record label, to be released in March.
"People will tell you what you play," he says after turning off his demo. "I don't play jazz, I don't play Latin music. When I'm playing Larry Douglas music, I'm playing 'SoPa.'"
"SoPa," an acronym for "sound painting," is a genre that Douglas has created himself.
Armed with a bachelor's degree in music from Florida A&M and a master's degree in trumpet from the San Francisco Conservatory of Music, Douglas explains how he uses the trumpet as his main paintbrush to create sound.
"I may not be the very best musician on that instrument, but when I'm playing my music, I may sound like the best instrumentalist in the world because I'm playing something from passion and I'm playing what I know. I'm not playing anybody else."
Ignacio Rodriguez, Douglas's best friend of 40 years, sees this originality in him.
"He doesn't limit himself. He's open and doesn't want to be pigeonholed."
Douglas's music resume includes being part of a self-proclaimed Earth, Wind, & Fire pre-cursor band called Funk Incorporated. ("We were supposed to have gotten a contract with Columbia, and if it would have happened, we would have come out just before Earth, Wind, & Fire hit the market."). He was also part of the Grammy-nominated Johnny Otis and His Orchestra, and band leader of the Larry Douglas Alltet.
Illustrious career aside, he still comes to the Fillmore Farmer's Market every second and fourth Saturday to play for donations to give back to the community.

"I will not miss a Saturday going out there and playing for the community because I feel like I do make a difference. Regardless of whether I do make a difference or not, I feel I make a difference," he says. "My favorite part about playing at the Fillmore is that I get a chance to give back what I've earned."
Among the venues in the Fillmore, Douglas has played at 1300, Yoshi's lounge, Sheba's, Rasselas, and the African American Art & Culture Complex.
He explains that he often pays to play at the Fillmore, because "the musical presence in the Fillmore was what the Fillmore was all about."
As an educator, Douglas has taught instrumental music in middle and high schools all over the San Francisco Unified School District, and was an adjunct professor at University of California, Santa Cruz and the Peralta Community College District, following in his parents' footsteps. His father was the assistant principal at the high school he attended and his mother was an elementary school teacher in Georgia where he grew up.
Douglas reveals that he teaches, not just because his parents taught, but for that moment of clarity every student has in their academic life.
"The light bulb goes off and they can see the outcome, they can solve the problem. After that, it is the confidence that that student gained from knowing that they have been empowered from their knowledge. And I love that."
Rodriguez says that if there's one word to describe Douglas, it would be "mentor."
"He's a very good teacher. He's alive and involved. He will help you find a way. Not just with music. He taught me about serendipity."
With that, Douglas has become a mentor and a father to five children of his own. All of them followed in his musical footsteps. One of his sons, LaDamon, also known as Fatboi, is a hip hop producer in Atlanta who has produced music for big names such as Gucci Mane, Flo Rida, and 2 Chainz.
Douglas plays "The Hustle" by Rocko and Nas on his tablet and says that not only has his son produced the track, but has recruited his father to play on it as well. "I'm playing vibes, trumpet, and flute on it."
When asked how many instruments he plays, he gestures to his living room where the vibes are set up in front of the fireplace across from the piano and there are various stands holding wind instruments placed along the perimeter of the room. Of the many instruments in his repertoire, he names flute, clarinet, vibes, trumpet, trombone and piano.
A framed caricature on the wall in the hallway shows an animated cartoon Douglas playing trumpet with the words "Les Joulins" scrawled on the side.
At Les Joulins Jazz Bistro on Ellis Street, Douglas walks around the restaurant playing an upswing jazz rendition of "When the Saints Go Marching In" directly to patrons at their tables, who smile at him and sing and bob their heads in tempo and clap as he leaves to move on to play to the next table.

Reuben Almanza, waiter at Les Joulins, says that Douglas has been coming and going, playing at the restaurant for 20 years.
"He reminds me of the song 'What a Wonderful World' by Louis Armstrong. He's that song."
"When I play to people… their faces are tight, twisted, from all the stress," Douglas explains. "But if I get a chance to release that demon and change that tight face into a smile, I can move them from where they are and take them to another place where they are free. That's what it's all about."