Big changes are planned for Hayes and Divisadero in the form of a new 5-story apartment building. 
Harding Theater owner Michael Klestoff hinted at the project when we interviewed him last fall, and now the application is under environmental review with the Planning Department. The 5-story building would contain 9 residential units, as well as 1-3 parking spots below. All units will be 1-bedrooms, ranging in size from 705 to 755 square feet. A shared roof deck would complete the project. No word on whether it will include any below market-rate units. 
The empty lot which shares an L-shaped parcel with the Harding Theater has stood vacant for years, collecting trash and other debris that blows in from Divisadero Street around the corner. Currently, it's home to the mechanical room of the Harding Theater, which will be demolished for this project. Other than that, the Harding Theater will remain untouched.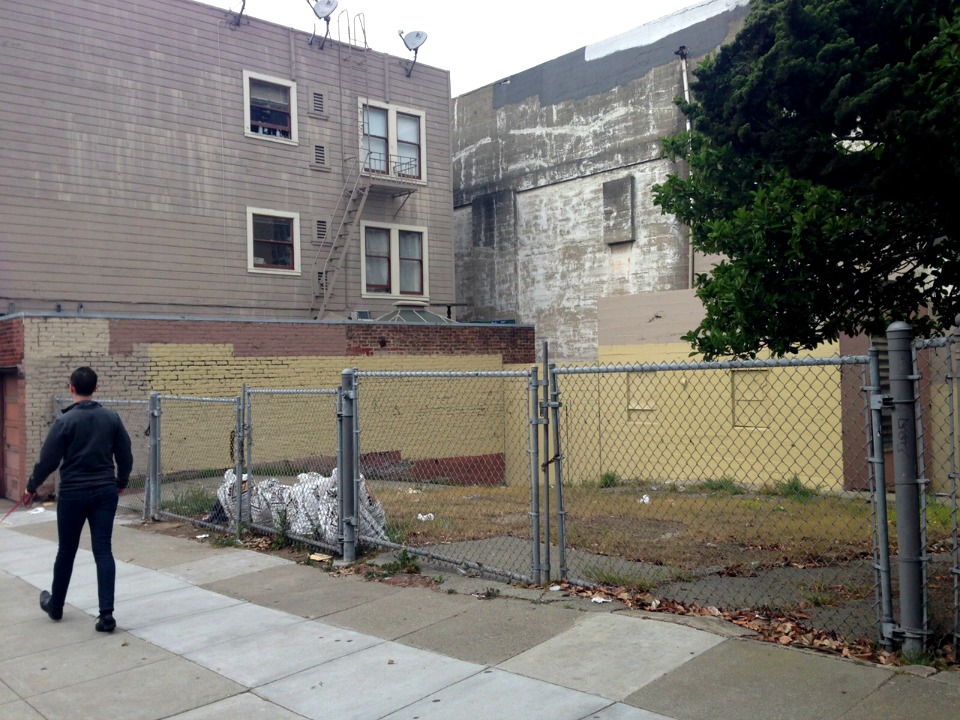 As a reminder, Klestoff's original plan for the Harding Theater back in 2005 was to demolish it all, and build 18 condominiums. Local residents rallied to preserve the historic space, and since then no significant work has been done on the old auditorium. It's been on and off the market for several years now, and despite a group of neighbors who pulled together to put an offer on the building, it has yet to be sold, and owner Klestoff says he's looking for a tenant for the property.
This is the second apartment building planned for the area of Divisadero between Hayes and Grove streets. Last summer, we reported that the former home of Alouis Auto Radiator at 650 Divisadero is to be converted to a 5-story, 16-unit building with street-level retail space. Construction on that project will begin in 2016. 
But back to the empty lot. Local Divisadero architect Mark Topetcher of TOPetcher Architecture is working on plans for the building, and David Silverman, the real estate lawyer assigned to the project, told us that the building "will be built as soon as possible." We'll keep you updated as we know more.