By
Dijon
- Published on March 21, 2015.
We continue our photo series with another installment of brief on-the-street interviews and snapshots from our friend Dijon of Souls of Society.
Today, we present a collection of portraits that Dijon took recently around the Civic Center area.
---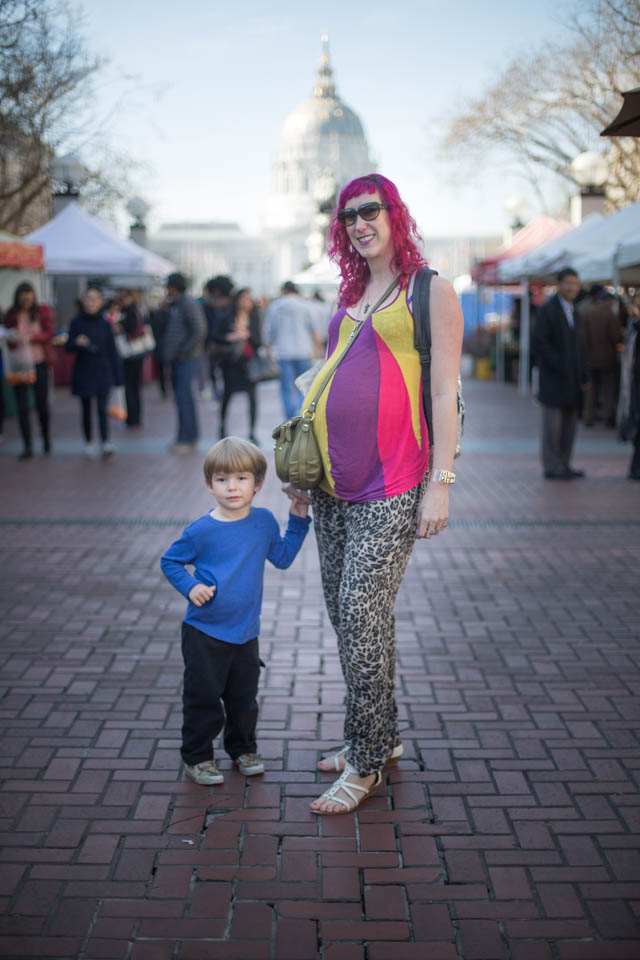 "How old is he?"

"He's 3."
"Cool, what's one of your favorite things about being a mom?"
"I guess it would have to be curiosity reinvented as an adult, you get to be curious all over again."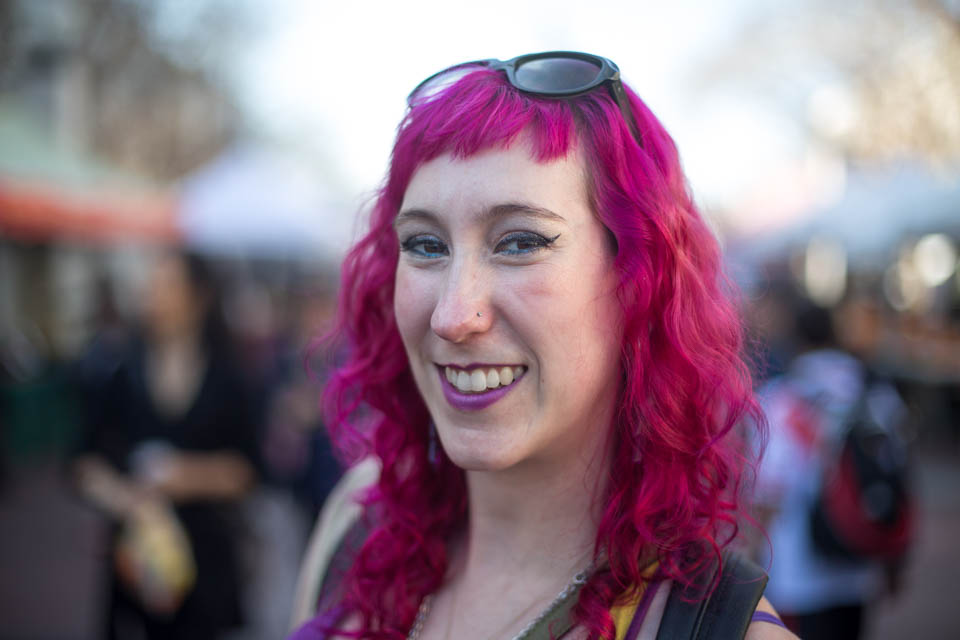 "You seem like a very expressive, artistic person, what do you do?"
"I'm an esthetician. I do facials, but mostly I'm a stay at home mom."
"What's your dream for your life?"
"Extensive world travel and healthiness."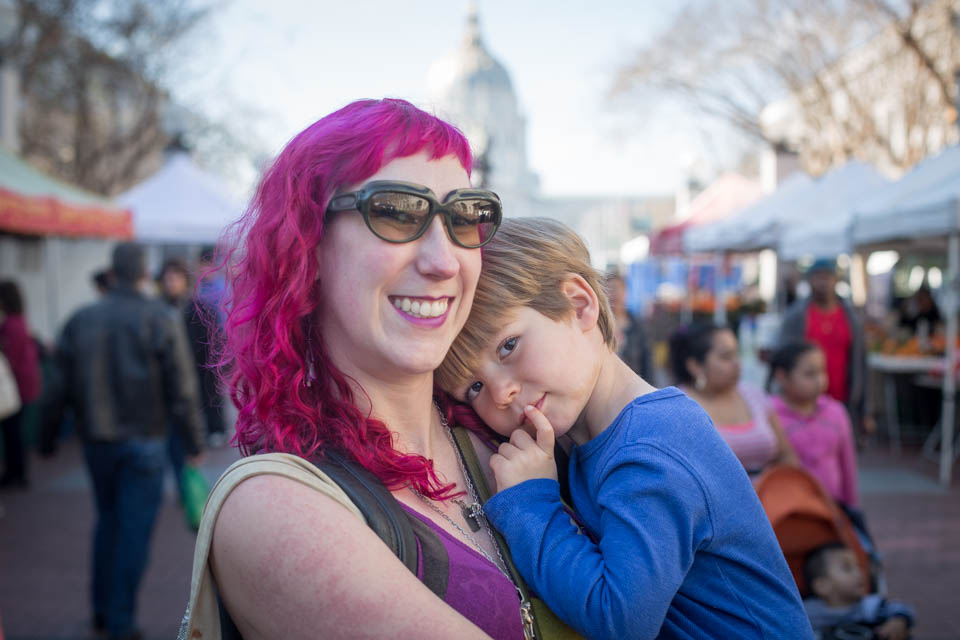 "What's one of your favorite things about his personality?"
"Well he's completely opposite of me so it forces me to really understand people that are completely different from me."
"Interesting, in what way?"
"He's super shy, demure, and laid back whereas I'm a go getter and out there."
"Well they always say kids come to teach us lessons."
"Totally."
"And what about this one that's coming?"
"It's a surprise!"
---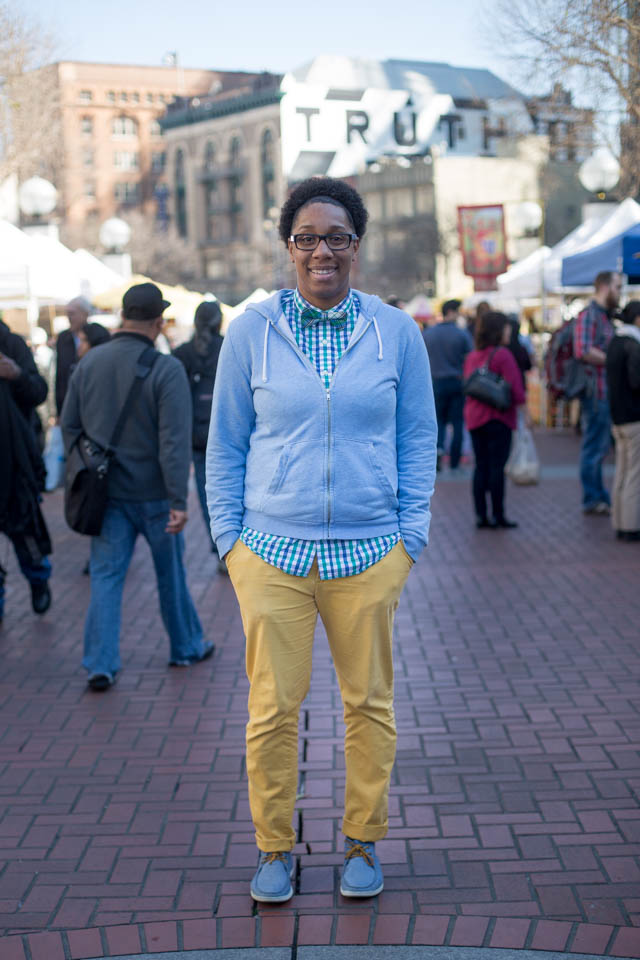 "You look awesome! Incredible style!"
"It actually took me a really long time to figure out what my style was gonna be. I really like bright colors so that's what I try to wear."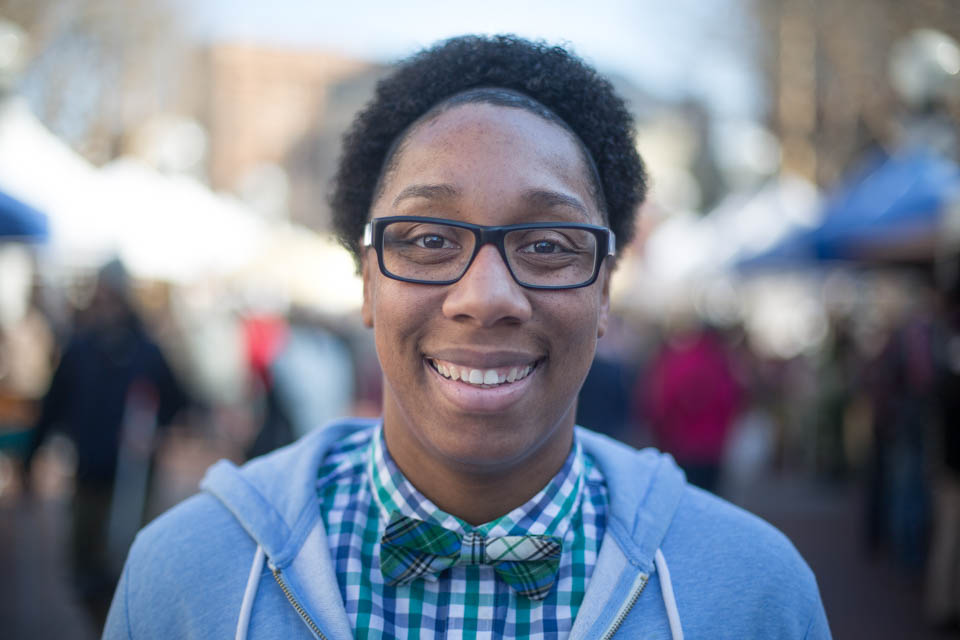 "What are you most grateful for right now?"
"Living in San Francisco. The rest of the country is under snow and it's nice and warm outside. But for reals for reals I'm grateful for my girlfriend."
"What is it that you appreciate about her?"
"Just her being her and helping me be better as a person."
"That's great. What's one of the biggest struggles you've overcome becoming a better person."
"That's a tough one, I don't really have any struggles. I try to not take things too seriously so things don't bring me down."
---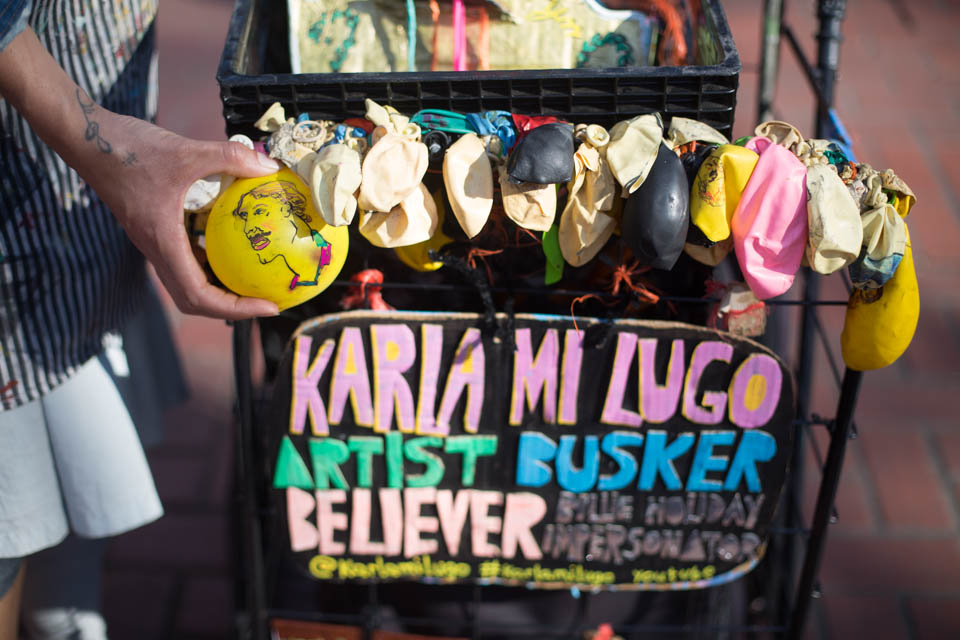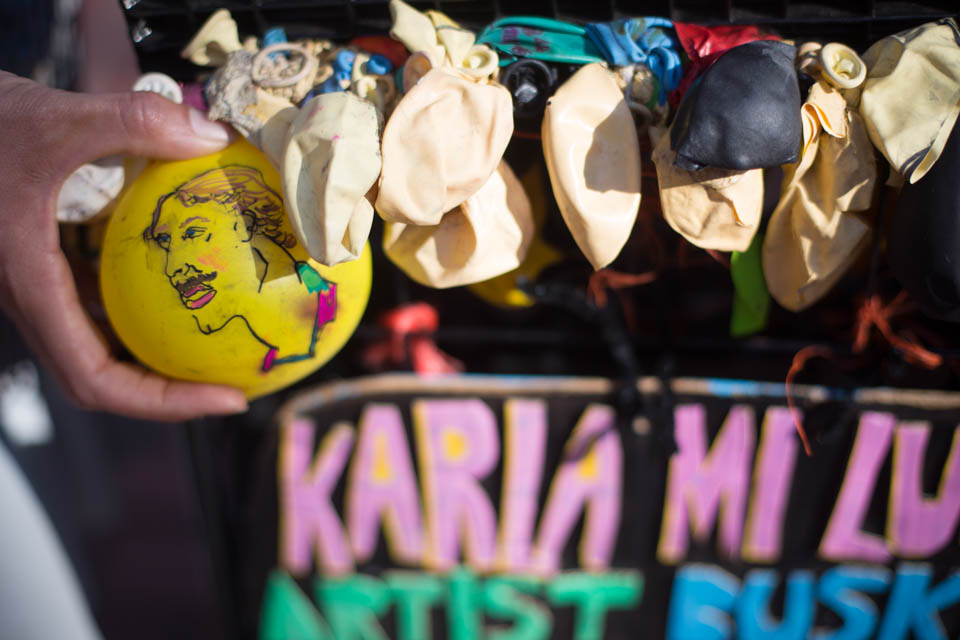 "I made these drawings on balloons!"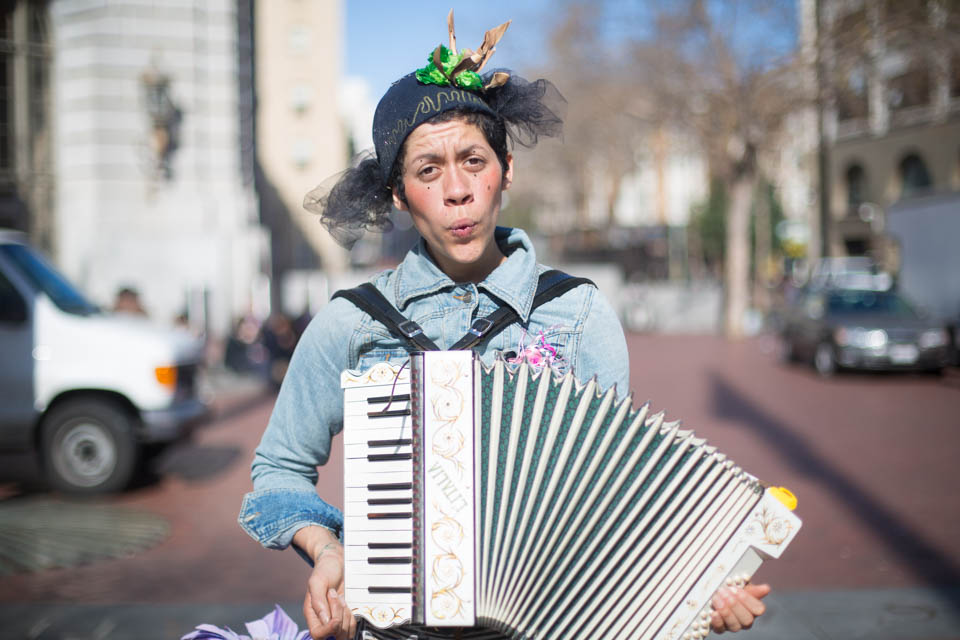 "What inspires you to busk and make art?"
"I think it's important to have music in an environment. Especially nowadays as the whole world is destroying itself and people are fighting and there's all kinds of unrest and hopelessness and uncertainty about what to do. Even when you're in America and you have good things going on, you think about the world and it's still pretty crazy. Music is just good for the people. When it's happening in a public space it makes it peaceful. You get random crazies or whatever, it's San Francisco, but I want to live in a place where there is music in performance in the street all the time. And the more that I give, the more that I receive."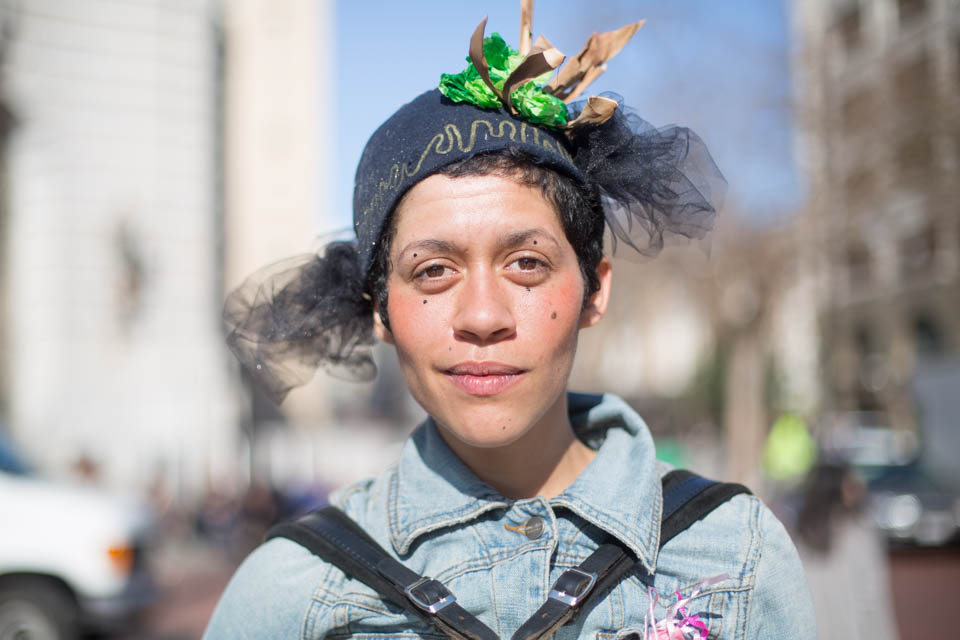 "It's hard as a street performer, people ignore you all the time, and nowadays everyone is on their cell phone. Sometimes people take a picture on their cell phone and walk away without appreciating the experience. I guess I'm really just here to create an experience and share it with people."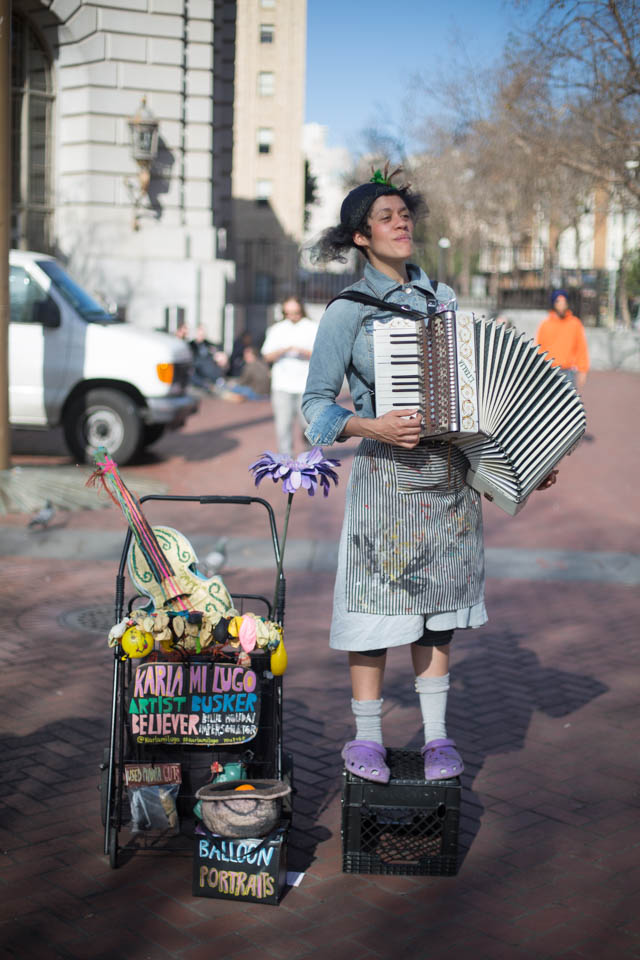 "Busking comes from a Spanish word, which is buscar, which means 'to seek'. So looking for something, looking for friendship, or looking for tips, inspiration. Street performing also makes me a better performer because I get to see what appeals to everyone, not just a specific group of people. Universal things. And you never know who you're gonna meet on the street, if it's in a venue there's a specific group of people who come."
---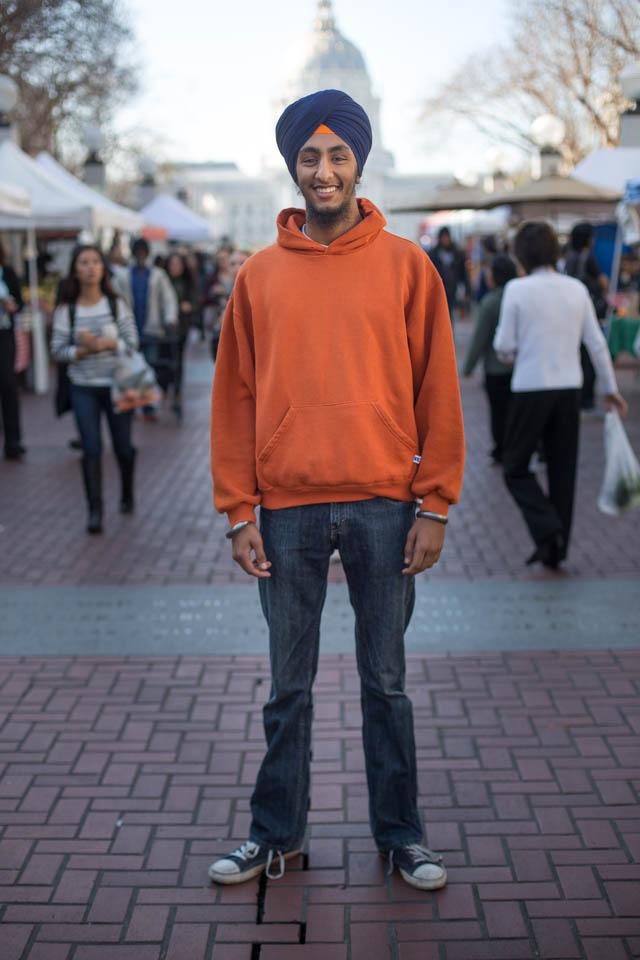 "I'm going to law school right now so I'm really enjoying that."
"You're the happiest law student I've ever seen. What do you like about law?"
"You just kinda see the gears of our society, how everything works. You see how everything works together."
"Do you have some insight into society after looking under the hood?"
"Yeah, it's a lot of people doing stuff and then trying to rationalize what they did afterwards."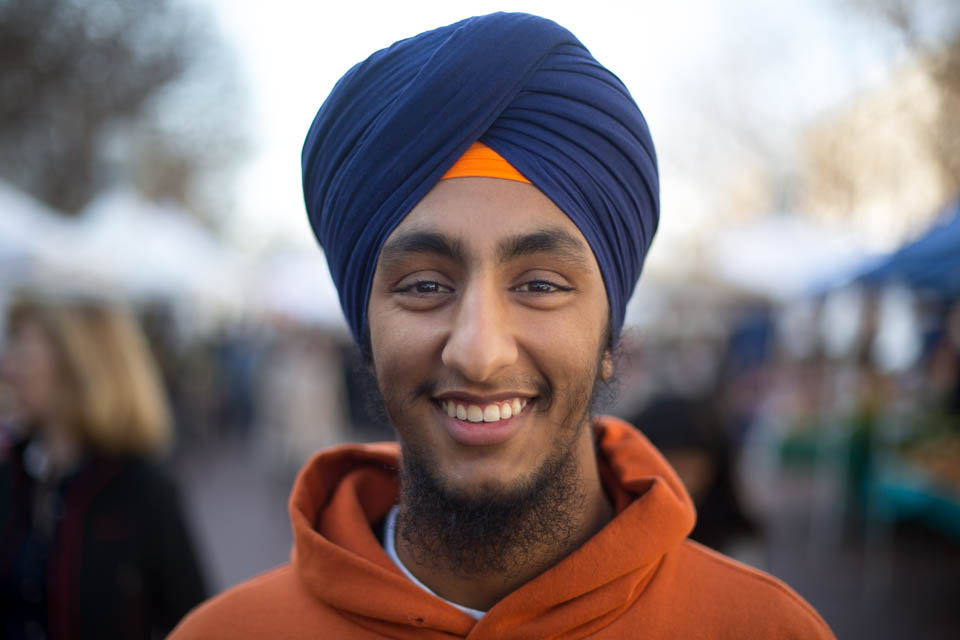 "I think of law as being very mental and analytical, you seem very much in your heart. How did you make your way into law?"
"Well like I was telling you, to see how society works. If you wanna make any sort of impact in the world you have to see what you're making an impact in. Once you know, then you can figure out ways in which you can try to make some sort of change."
"What kind of changes are you trying to make?"
"Just making the world a more community-based place instead of a place where everyone is detached from each other."
---
 Stay tuned for more installments coming to a neighborhood near you.