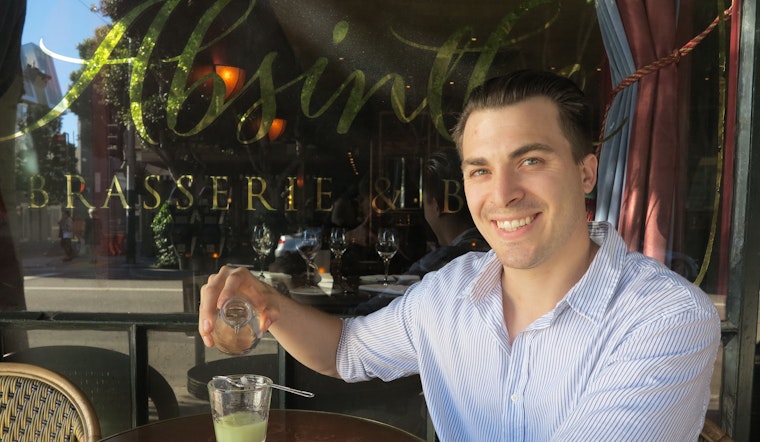 Published on March 18, 2015
Jared Schmidt is just 30 years old, but he's already made some serious waves in the San Francisco bar scene, having worked at some of the city's top bars and restaurants since he moved here from Sacramento. He's currently the bar manager at Absinthe Brasserie and Bar, a Hayes Valley institution now in its 17th year. We caught up with Jared to chat about the industry, craft cocktails, and of course, absinthe.
Where are you from and how did you get here?
"I'm from Sacramento, and how I got here was by car [laughs]. Honestly though, I came to San Francisco for two reasons. One was because I was dating a girl at the time that got a job in San Francisco and decided to move here, following her, and two, one of my friends that I had met at the Bartender's Guild was opening up a new restaurant, La Mar, and I had the opportunity to go open up a new restaurant here in San Francisco."
Tell us a little about your background as a bartender and how you came to work here at Absinthe.
"I've worked in the restaurant industry for quite some time, starting off as a hole-in-the-wall taqueria cook when I was 16, and then moved up through the ranks, bussing, serving and eventually bartending in a city north of Sacramento called Lincoln. I moved to Sacramento and worked in a tequila bar called Zocolo's, worked there for about two or three years and came out here. I worked at La Mar for about two years I would say, and then went and opened up Cotogna and started working with the Quince group, then eventually was doing a couple shifts at Comstock Saloon, and that's when I first got involved with the company of Absinthe. Then I worked at Cantina for a little bit, and went from there to bar managing over at Quince, for about a year, then started working for Absinthe about two and half years ago when this position opened up."
Wow, all of this before you were 30 years old. What's it like being so relatively young in such an established bar scene?
"I think it's great. I've been able to work with some of my mentors and become friends with some of the people I grew up reading books about. One being Jeff Hollinger, who was a manager here for quite some time, who wrote a book Art of the Bar which is a fantastic book. Actually, turning 30 was a milestone for me, you know, you're no longer in your 20s and and you want to do something special. So I actually took a trip and hiked the Inca Trail with my good friend Enrique Sanchez, who's the bar manager over at Arguello and Commissary, and who was also the bar manager at La Mar at the time, and Marco Dionysos, who was the original bar manager of Absinthe, who then went on to open up many other restaurants and bars, and who now is a bartender at Smuggler's Cove. It was good times."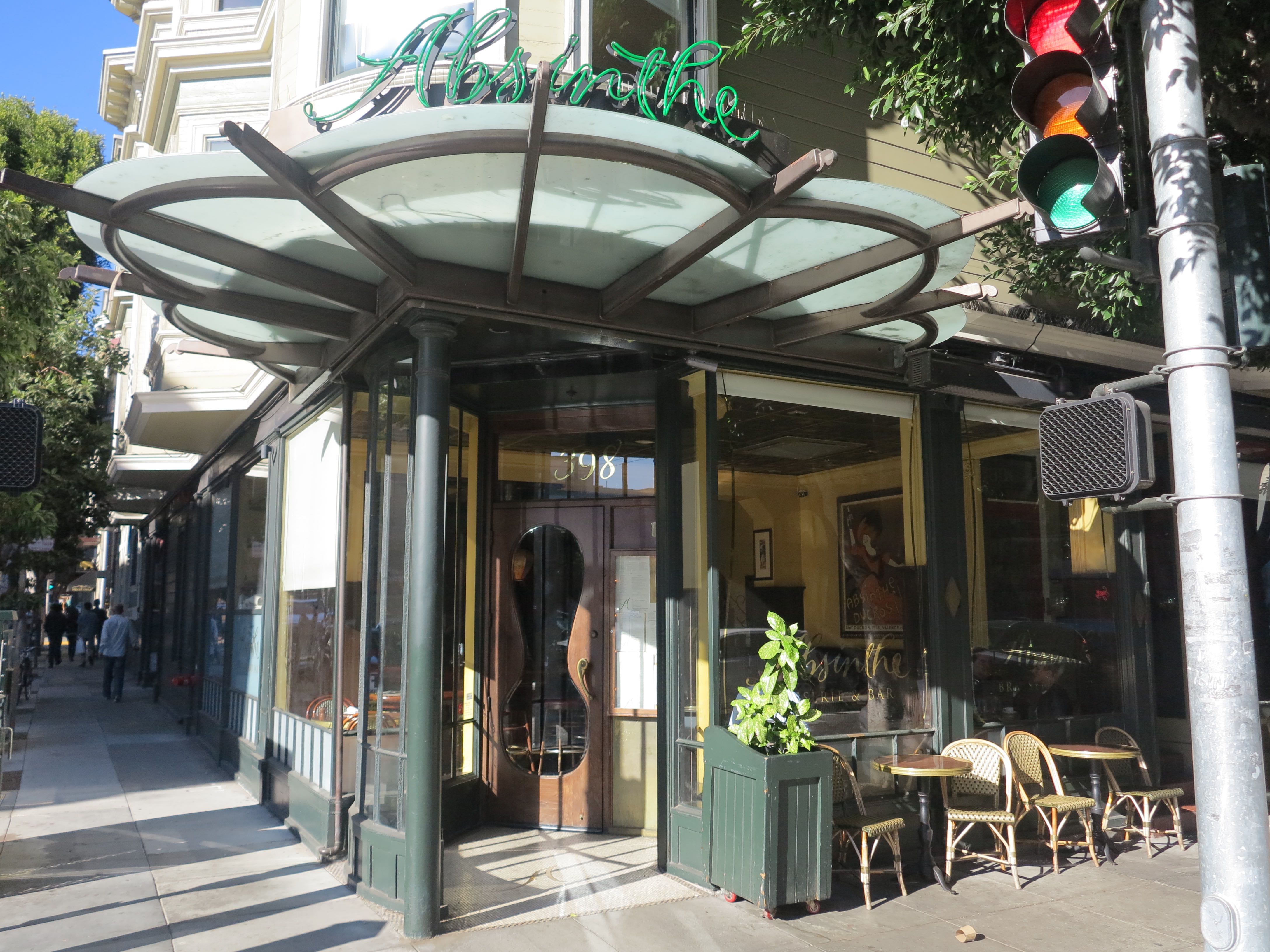 Stephen Jackson/Hoodline

How do you handle the wide variety of clientele that frequents Absinthe? Do you find that your personality or style changes from customer to customer?
"As a bartender, you always have to read your client, what kind of mood they're in. You know, if they're on a first date or they're meeting an old friend, if they're going out for a fun time as a group, or if they're by themselves ... you just have to be able to read them and know the right questions to ask, and then just kind of go from there. You definitely want to be able to adapt to any situation you come across."
What do you do outside of bartending?
"Outside of bartending, I hang out with my girlfriend. I also ride motorcycles, eat out a lot, I ride bikes, I'm starting to take a blacksmithing course. I go to a lot of movies, read books, enjoy life. I also travel a lot. You gotta travel."
What is so special about the bar at Absinthe?
"One reason why it's so special and it's been so influential in the cocktail world is because of who has worked here prior to me. Many bartenders and many bar managers have gone on to shape the craft cocktail world. I don't want to say that without Absinthe the rise of craft cocktails or mixology, or whatever you want to call it, wouldn't have happened, but it certainly wouldn't have happened as fast. Absinthe opened 17 years ago, and at that time, as I said before, the bar manager was named Marco Dionysos, and was ahead of his time. He developed this cocktail list that at that time, you only saw at a handful of other bars in San Francisco. He had some cocktails that were pretty amazing, and I personally think they sort of started off the West Coast-style, fresh ingredient cocktails. What Absinthe's always been doing and what hopefully we'll continue doing during my time here is just making well-crafted cocktails."
Why is the restaurant called "Absinthe" in the first place?
"Now, if I'm not mistaken—I've only heard this explanation once before—It was the owner's idea of a period and time in France when people would get off work and go to "Green Hour", where you could go to bars and get absinthe. It was during this whole Bohemian time, and he named the restaurant Absinthe because he wanted to have a place for people to go and relax and have a good time and be happy when they got off work, or before they went to the Symphony or for any other reason."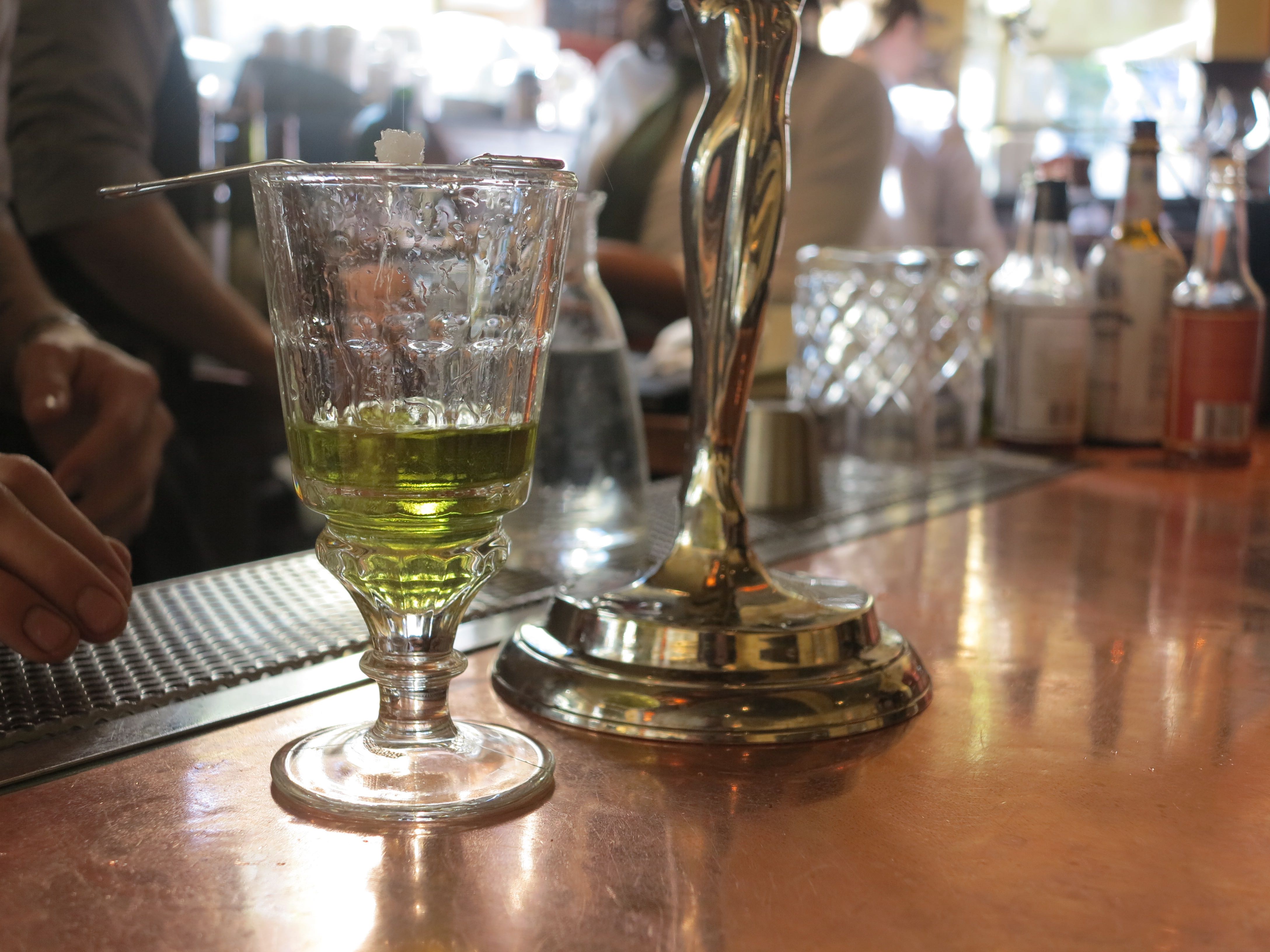 Stephen Jackson/Hoodline
Have you ever had a psychedelic experience on absinthe? If so, please describe.

"I have not ever hallucinated on absinthe, maybe I'm not drinking the right stuff [laughs]. They've done a lot of chemical analysis on absinthe, and the trace amounts of chemicals that apparently would make you hallucinate don't exist, even in the old bottles. People definitely stick to their stories that the alcohol affects them differently, and has a different buzz, much like a lot of people say that champagne or tequila does that, but I think that might be more of a placebo effect than anything else."