Rush hour commutes on the 22-Fillmore might get a bit quicker soon, thanks to some traffic rule changes that are in the works.
As tipster Allison Y. noted, the SFMTA is proposing to ban left turns on Fillmore at Oak and Fell during peak morning and evening traffic hours. Specifically, that means left turns would be outlawed on weekdays from 7am-9am and 4pm-6pm, on Fillmore northbound at Fell and southbound at Oak.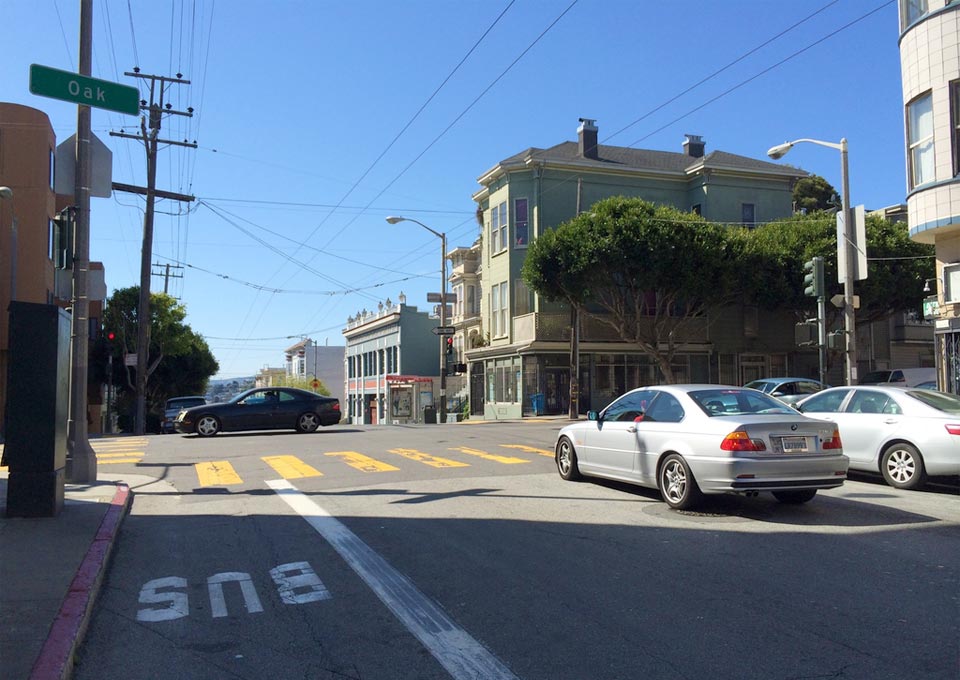 Fillmore looking south toward Oak. (Photo: Rose Garrett / Hoodline)
Cars trying to turn onto these cross-town arteries during rush hour can cause traffic backups, making it one of the slowest sections of the 22's journey up and down Fillmore.
This Friday, the SFMTA will hold a public hearing to consider the proposed new rules, among dozens of other traffic and transit tweaks. The hearing takes place this Friday, April 17th at 10am at City Hall, Room 416.
The SFMTA is currently fleshing out the 22 Fillmore Transit Priority Project, which involves some major changes to the route. As proposed, the southern end would no longer veer off of 16th Street toward Potrero Hill, but would continue eastward into Mission Bay. (In the interim, the SFMTA has launched a new, temporary bus route called the 55-16th Street, which connects 16th Street BART and Mission Bay). There will also be streetscape improvements and transit-only lanes, among other enhancements.
You can review the slated changes at the link above, and take a survey that will help inform Muni's proposals here.