Published on April 01, 2015
The Barbary Coast: the name conjures a bawdy, brawling time in San Francisco's early years.
After the onset of the Gold Rush in 1849 and continuing into the 20th century, the city was infamous for gangs, crime, bordellos, gambling, opium dens and men getting "shanghaied."
"We had 70 years of lawlessness," said the Countess Lola Montez of Landsfeld, a/k/a Rick Shelton of Bernal Heights. Shelton performs as Countess Lola Montez, heading up Drag Me Along Tours, an adults-only affair that hits the naughty highlights of the Barbary Coast starting from Portsmouth Square at 11am on Sundays.
The book The Barbary Coast by Herbert Asbury is also an entertaining and often shocking record of life in the early days of the city. According to Asbury, the area refers to a wide swath of downtown San Francisco that was occupied during the early Gold Rush. 
It was roughly bounded "on the east by waterfront and East Street, now the Embarcadero; on the south by Clay and Commercial streets; on the west by Grant Avenue and Chinatown; and on the north by Broadway, with occasional overflows into the region around North Beach and Telegraph Hill."
However, bronze plaques marking the Barbary Coast have been placed in sidewalks ranging from near Powell and Market streets up to the Wharf, throughout North Beach and Chinatown, and along the Embarcadero.
For a full history, pick up Asbury's book, take Montez's tour for the highlights, and read on for Montez's overview of what life was like back in those days.
The original Barbary Coast was an area on the coast of Africa around Algeria and Tunisia where pirates were notorious for raiding ships, Montez said.
In the Barbary Coast of San Francisco, sailors disembarked to find a similar anything-goes atmosphere: "The Devil's Acres were filled with (violent street gang) the Sydney Ducks, and thugs and crimps and pickpockets and cutthroats and whoremongers and opium dens—the whole bit was right there," Montez said.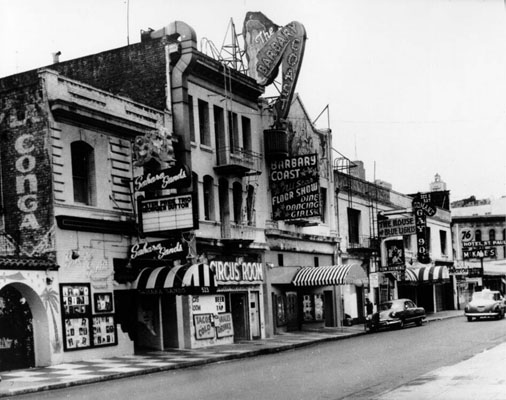 Barbary Coast theaters. Photo: San Francisco History Center, SF Public Library
Crimps were those who shanghaied men—they'd spike their drink, kidnap them and put them on a ship for forced labor. Some bars reportedly had a trap door in the floor for easy pickings.
"It was so profitable and so necessary" to shanghai men, Montez said. "All of these boats were coming into our bay, and sailors were jumping ship and looking for their fortune, so captains had to replenish their crews."
Men were regularly shaghaied from 1849 to 1910, she added.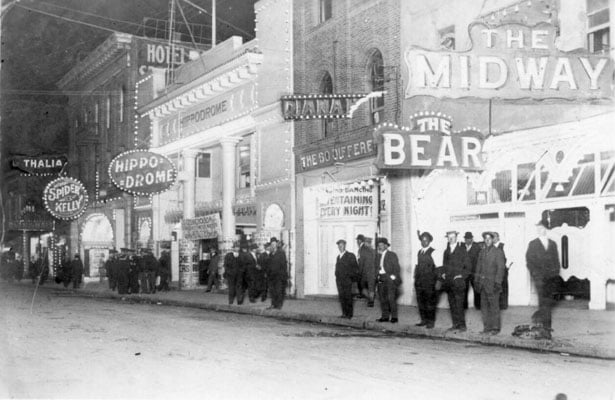 Nightclubs on Pacific Street, 1909. Photo: San Francisco History Center, SF Public Library
With all of the men coming for the Gold Rush, it wasn't long before a brisk prostitution business was set up. Napoleon sent 2,000 streetwalkers from Paris in 1850, and "some opened the best bordellos we ever saw in the world," Montez said.
Many of the streets were named after noted prostitutes and madams, she added. Minna was a 14-year-old prostitute who was both pregnant and very popular—she worked up until the day of delivery. (Chew on that next time you're visiting Minna or Clementina streets in SoMa.)
Portsmouth Square was surrounded by theaters and gambling dens, and Jackson Square became a riotous epicenter for debauchery, full of melodeons with off-color entertainment and larger-than-life characters.
One, Oofty Goofty, made his living allowing people to hit and kick him because earlier experiences wearing a tar and feather costume made him impervious to pain.
On Pacific Street, Montez said, "Every single location at one point was either a saloon, an opium den, a brothel or a hotel (hello, who's going to be using that 'hotel'?). Even the restaurants had bawdy shows going on."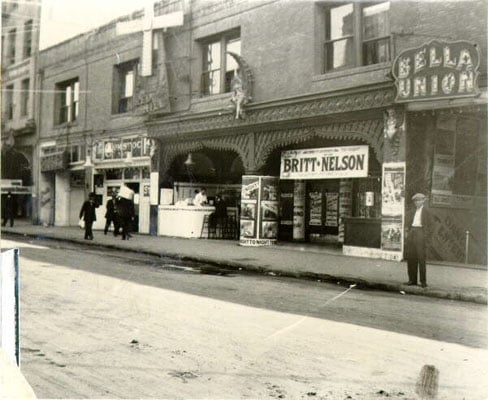 500 block of Pacific Street, early 1900s. Photo: San Francisco History Center, SF Public Library
On the up side, Montez added, "The madams, prostitutes, women of questionable virtue—they brought a lot of culture and compassion to our neighborhoods."

Another well-known citizen was the self-proclaimed Emperor Norton, who lost his wealth and his sanity and became a famous resident admired and supported by the community. His memory lives on today with Emperor Norton's Fantastic San Francisco Time Machine tours, led by Montez's life partner.
Emperor Norton. (Photo: San Francisco History Center, SF Public Library)
Because of the Gold Rush, inflation ran rampant in San Francisco, Montez said. A loaf of bread or an egg was $1—an incredible sum in those days. Water was hard to get. Garbage piled up, rats multiplied, and the population doubled every 10 days.

The stories go on and on and get more fascinating with every telling.
In some respects, you could say the Barbary Coast hasn't changed much. 
Theaters and saloons are still prevalent in the Barbary Coast, though Jackson and Pacific streets are inarguably more genteel than in the old days. Portsmouth Square remains popular for gambling. Eccentric neighborhood characters are tolerated and often beloved.
And some say we're in a new Gold Rush era with the rise of the tech industry, growing population and rising prices for everything from pizza to rent.
But the neighborhood never seems to lose its luster.