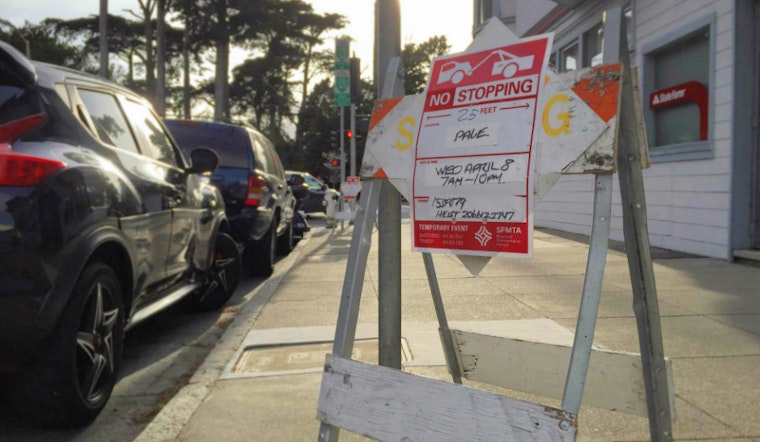 Published on April 07, 2015
As you may have noticed, most of the parking spaces on Page Street between Stanyan and Shrader will be unavailable tomorrow from 7am until 10pm, and a local coffee stop will also be closed to the public.
A tipster from HANC wrote us to say that the total number of spaces would be 20 on Page Street, and eight on Stanyan. We looked into it, and it turns out that the production company Heist Inc. will be shooting inside Flywheel (672 Stanyan St.) for the entire day, and occupying the parking spots as part of its filming.
[Update: Heist's Milo tells us in comments that "per the request of some neighbors, we've changed our permitted parking area to all metered spots on Stanyan and Haight streets. Hopefully that helps neighbors a bit!"]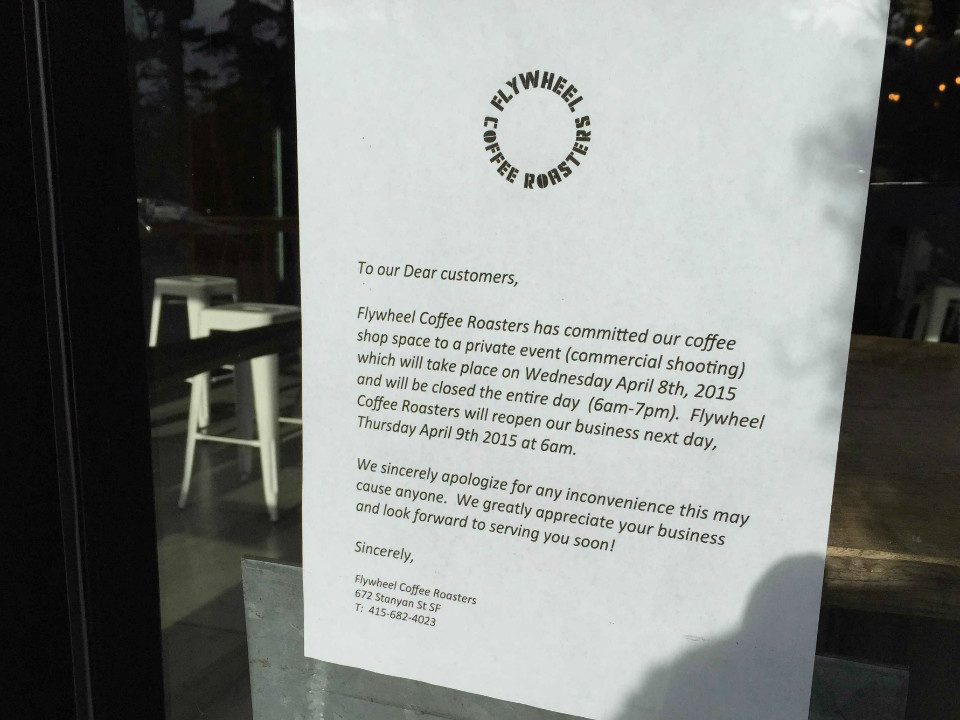 Per a sign posted at Flywheel:
To our Dear Customers, 
Flywheel Coffee Roasters has committed our coffee shop space to a private event (commercial shooting) which will take place on Wednesday, April 8th, 2015 and will be closed the entire day (6am-7pm). Flywheel Coffee Roasters will reopen our business next day, Thursday April 9th at 6am. 
We sincerely apologize for any inconvenience this may cause anyone. We greatly appreciate your business and look forward to serving you soon! 
Sincerely, 
Flywheel Coffee Roasters
According to Heist Producer Kimi Milo and Lauren Machado of the SF Film Commission, the non-parking-related disruption should be minimal, as the shoot will be fully interior to the coffee shop. As for parking, Machado assures us that it's normal for a shoot of this size to take up 20+ parking spaces for wardrobe, grip, camera, and other equipment vehicles. 
Heist will be filming a product launch, and Milo says that you'll be able to peek inside Flywheel if you want to watch the crew in action, though she's keeping mum on just what the content of the filming might include.
If you're not the voyeur type, you may want to just avoid the chaos at that intersection altogether, and head over to Stanza for your morning buzz while you wait for things to return to the Haight's version of normal on Thursday.