A parade of dignitaries welcomed new residents of an affordable housing development at Broadway Street between Battery and Sansome streets on Wednesday morning with a key ceremony and a flurry of media attention.
On hand were Mayor Ed Lee, District 3 Supervisor Julie Christensen, and the Rev. Norman Fong, executive director of Chinatown Community Development Center (CCDC), which developed the project, along with several others.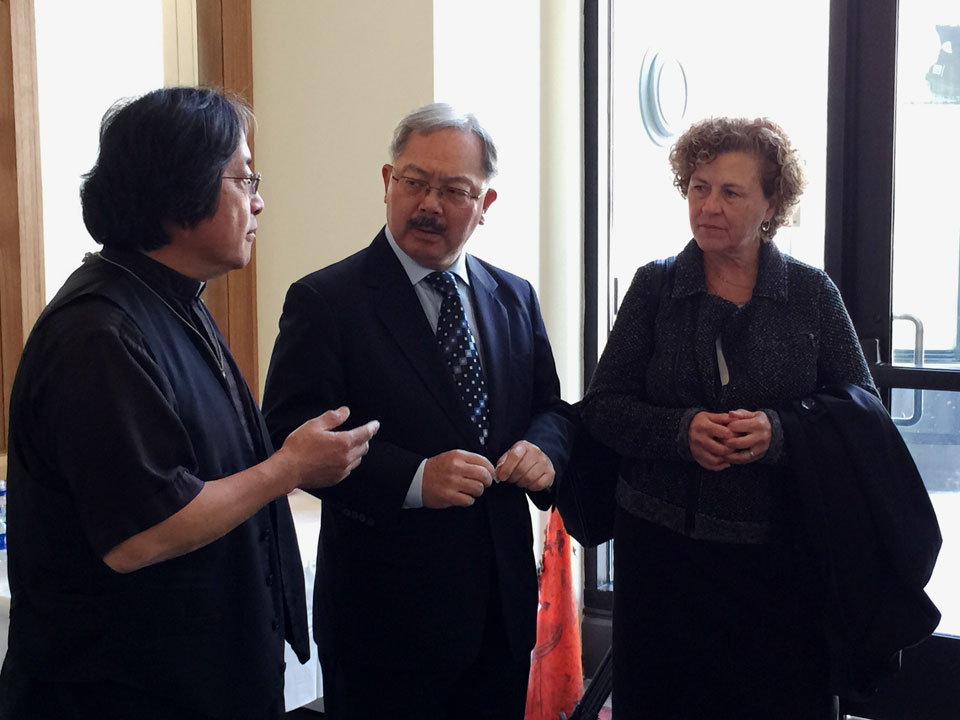 Rev. Norman Fong, Mayor Ed Lee, Supervisor Julie Christensen. 
The Broadway-Sansome Apartments at 255 Broadway St. unofficially opened about a month ago, and more families will move in over the next few weeks to a month.  The grand opening will be in June.

Lee presented a fruit basket and Christensen gave clothing to Lidia Flores and her son, Christian Ulloa, 16, and daughter, Fatima Ulloa, 12.
"We know for your family it has not been easy to find affordable housing in the city," Lee said, later adding, "We have a housing bond this November that would raise another $250 million to build affordable housing."
He said the cost of the Broadway-Sansome Apartments was roughly $37 million.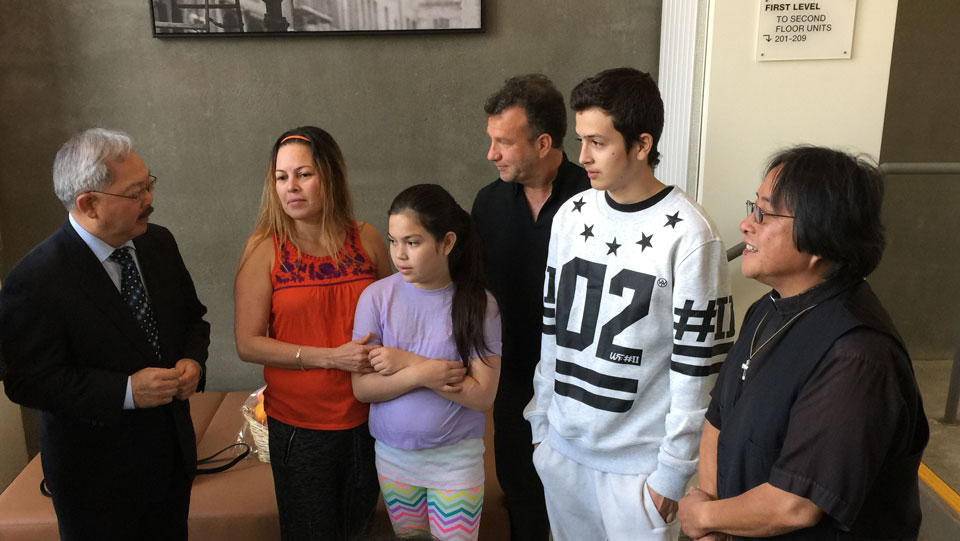 Mayor Ed Lee, the Flores-Ulloa family with translator Raul Fernandez-Berriozabal, and Rev. Norman Fong.
Flores and her children were among 75 individuals and families from roughly 4,000 applicants to get a coveted unit at the new building, which boasts a community room, interior courtyard, rooftop garden and double-paned windows in the units for peace and quiet.
"I used to live in a hotel, in an SRO at 30th Street and Mission," Flores said through translator Raul Fernandez-Berriozabal. "The conditions were deplorable. There was limited access to showers, there was one bathroom for a lot of people."
Now, she said, "I feel happy. It's beautiful. I enjoy the community, I enjoy the opportunity to rest easily and do the things I need to do."
She said her daughter is enjoying having a bathtub for the first time, though she tells her they have to save water.
"It's a family building," said Kyle Golden, intensive case manager for CCDC. "There are only a few single adults here coming from an SRO or a shelter. Most have at least one adult and one child."
There's a mix of residents from many ethnic backgrounds, he said, and 37 are from the Local Operating Subsidy Program (LOSP), which is designed to address the gap between the supply and demand for federal subsidies, particularly Section 8 vouchers.
In addition to units with granite countertops and handsome wood floors, the residents get a host of social services.
Golden, a full-time employee at Broadway-Sansome Apartments, helps them apply for benefits, community services and insurance, and will develop classes and programs such as gardening, exercise, healthy cooking, nutrition, stress management, and movie and recreation nights.

"Right now we're kind of getting a feel for who's in the building and what kind of programs and services they would like," he said.
Rent is based on ability to pay, so those who receive only a few hundred dollars a month from Supplemental Security Income pay less than those who work and earn more, Golden said.
Christensen said the building "is going to take care of some families that really need stable, secure housing."
She added, "We're continuing to look for other opportunities for housing in the district—not only for low-income, but for middle income and also for seniors." (For more on the issue of middle income housing, see yesterday's story on local pushback for the affordable housing development proposed for a seawall lot at Broadway and Front.)
The history behind the push for affordable housing in the area dates back to the Loma Prieta earthquake in 1989. The Broadway-Sansome site was the Broadway on-ramp for the Embarcadero Freeway, which was torn down after the quake.
They city dedicated the site to affordable housing and, in June 2007, the Mayor's Office of Housing selected CCDC as the developer of the site. CCDC now has 14 housing developments in the city, most in downtown.
"We fought a long time to get this vacated freeway site to go toward affordable housing," Fong said.
Part of the ground floor of the Broadway-Sansome Apartments will be for restaurant and retail; a location of the American Grilled Cheese Company is expected to open this spring.