For a year-and-a-half, San Francisco Yellow Bike has existed in a small quiet storefront next to the Tenderloin Children's Playground and Rec Center. When the shop's gates are shut, curtains hide the workshop inside and bike parts hang like Christmas decorations in the windows. The doors only open twice a week for a few hours, but when they're open, traffic is heavy as people from around the city pour in to get their bikes fixed on the cheap.
San Francisco Yellow Bike was thought up on a bike tour across Europe. Founder Nathan Woody spent his time cycling through different countries in 2010 feeling slightly homesick, and thinking about SF Board of Supervisors' 2010 goal of increasing biking in San Francisco 20 percent by 2020. Many miles later, Nathan decided that he wanted to start a shop that would "teach mechanics through volunteerism," and help San Franciscans keep their bikes safe and rideable while learning useful skills for long-term bike maintenance and repair.
When he returned from his trip, he teamed up with friends Mary Kay Chin and Adam Dubinsky, and in 2011 San Francisco Yellow Bike was born.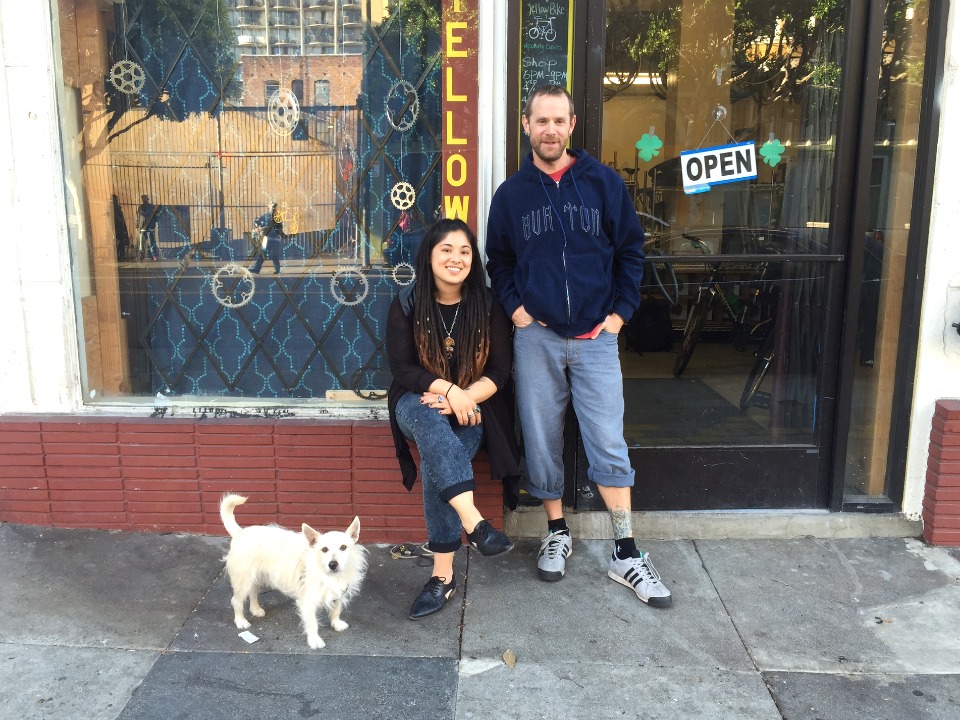 Founders Mary Kay Chin and Nathan Woody. (Photo: Nuala Sawyer / Hoodline)
The name Yellow Bike comes from a long legacy of bike co-ops, which would paint their bikes yellow to identify them as community bikes. Portland first launched a yellow bike program in 1994, deploying 400 yellow-painted bikes into the community for free use in the first six months. The concept spread to Paris, New York and Washington DC, and now yellow bikes are an international symbol of community-based free transportation. "We feel the name and color still work and thought, why change it?" says Mary Kay. 
San Francisco's Yellow Bike launch was largely conceptual until 2012 (donated parts were kept in a storage unit while raising money to rent a shop). In 2012, the group took over a lease at 25 DeHaro St., but it was on the second floor and tiny. There was no storefront to draw people in, and it was out of the way. When a rent hike forced them out, Yellow Bike was temporarily homeless—until Tenderloin resident Mary Kay came across 530 Ellis St.
The location fit all the team's needs: space to wrench on bikes, a storefront to draw people in, and a vibrant community with a wide array of bikers—be it teens on BMX bikes, adults on commuters or kids needing training wheels. The rent was double the shop's former space but Mary Kay and Woody decided to go for it anyway. 
(Photo: Nuala Sawyer / Hoodline)
Today, the shop is constantly full during open hours. But it's not like other bike shops. If you come in with a flat tire, don't expect someone else to change it for you—you're going to have to learn (with the careful guidance of volunteers) how to do it yourself. Same goes for more complicated things like replacing bottom brackets, fixing spokes or replacing handlebars. 
The minimum donation requested is $5, depending on what parts are needed and how much time the repair will take. Those who don't have funds available can volunteer to pay off the shop time. No experience wrenching bikes is necessary—Yellow Bike is always in need of people to sort tubes by size, organize parts and clean donations. "There is always some task if you want to get your hands dirty," says Nathan. 
Donated bike parts. (Photo: Nuala Sawyer / Hoodline)
As for how Yellow Bike manages to provide spare bottom brackets, new wheels or fresh spokes for those customers who walk in the door, it's all thanks to other cyclists and bike shops around the Bay Area who donate parts. In an area with so many cyclists, it's not difficult to accrue spare wheels or handlebars, all of which Yellow Bike will happily take off your hands in order to repurpose them for another cyclist. 
Frames are built up into bikes for sale, which are often sold to members of the direct community. The bikes for sale are on a constant rotation—walk in any week and there could be more or fewer available than the week before. Some may look a little rough at first glance—scratched up vintage frames, or frankenbikes with a cobbled together set of components—but Yellow Bike seeks to make sure they're all well-made, reliable and the least-expensive bikes around.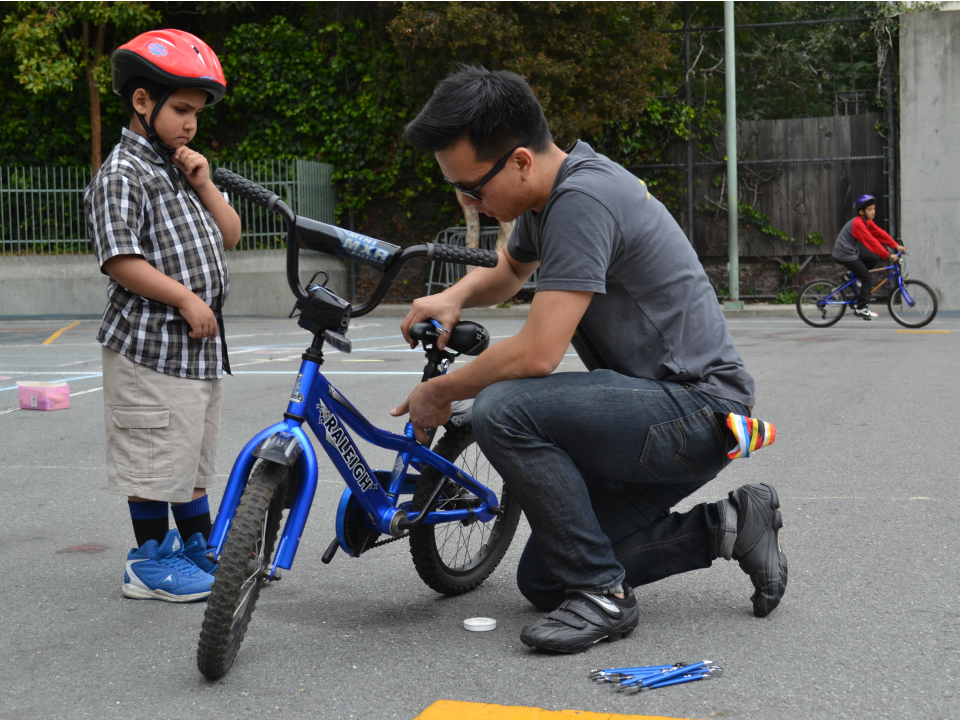 Volunteer Terence Tse at the Kid's Bike Swap. (Photo: SFYB)
As great as all of the above sounds, none of it can happen without a regular and committed team of volunteers. Every Wednesday or Thursday evening when the shop is open, customers will see either Mary Kay or Nathan running the shop, along with volunteers from all walks of life. Many who signed up to work with Yellow Bike did so to learn about bike mechanics and repair in a supportive environment that also gives back.
And over time, volunteers begin to share their skills with one another, or with customers who walk in the door. "It's a proud moment when we see a student turn into a teacher and share the knowledge," says Mary Kay. 
To volunteer, drop off parts, donate money or find other ways to get involved with San Francisco Yellow Bike, visit the website to learn more. And if your bike is acting up and you'd like to learn how to fix it yourself, swing by 530 Ellis St. during their hours on Wednesday and Thursday evenings, from 6pm-9pm.