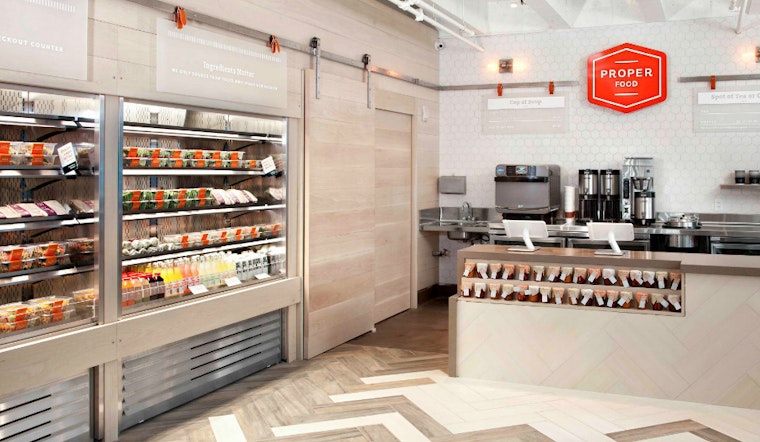 Published on April 10, 2015
The earlier version of this story contained inaccuracies based on out-of-date information due to a technical glitch. We have updated it and apologize for any confusion.
There's no shortage of options for eating out in the eatery-dense area Financial District area, which serves more than 220,000 workers. But you're often forced to choose between speed and quality. If you've ever stood behind someone in line fretting whether to get pesto or avocado on a sandwich or torn between choosing romaine or mixed greens, you can relate.

That's why Howard Bloom founded Proper Food as a place to get in and out fast so you can get back to business. The name is also the company's philosophy. "Our model is all about high-quality, local, organic, sustainable food thats super convenient," Bloom said. "We're not sacrificing quality for convenience."
Beginning next week, Proper Food will debut its second brick-and-mortar location, joining the original store at 100 First St. The outpost will open at 116 Montgomery St. this coming Monday. There's no seating; it's take-out only.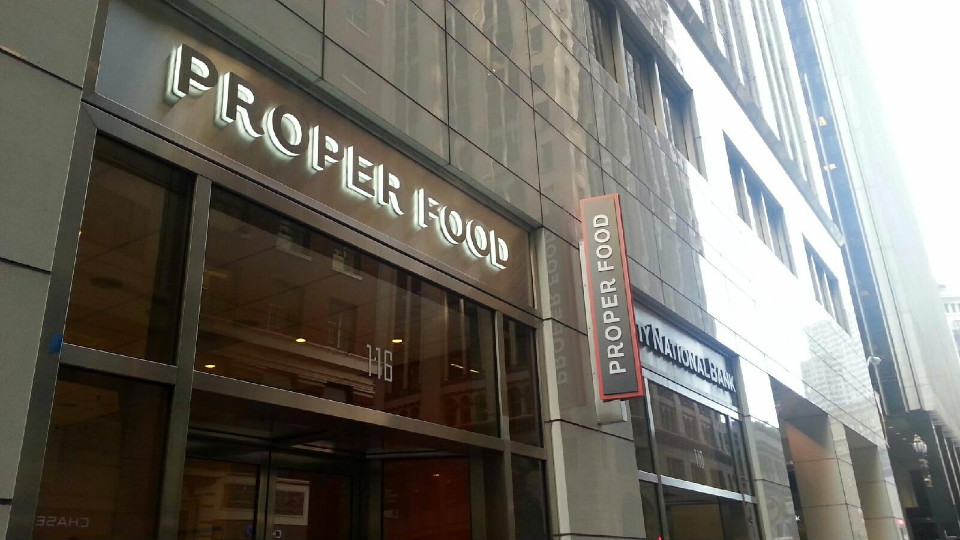 Proper Food exterior on Montgomery. Photo: Eric Koeppel
Bloom got the inspiration after living in London, where good and quick lunch options abounded. With a background in business and finance, he started to develop the concept in late 2013 and opened the first store on First Street in May of 2014.
Proper Food's culinary team—led by executive chef Juan Muñoz, whose resume includes The Plant Café, Balboa Café, and Michelin starred Campton Place—uses local, all-natural market-fresh ingredients like rainbow carrots, charred avocado, house-made lemon aioli, and wild octopus to create Proper's gourmet-inspired fare. The seafood supplier is Monterey Fish Market, and most meats come from Golden Gate Meat company.
Dishes are created in a commercial kitchen and brought in every day, and the menu changes seasonally. Some popular, core items are always on the menu—quinoa beet pesto salad, a charbroiled flank steak rice and bean bowl, lemon pepper tuna—but get seasonal twists. "Our PB and J is popular, but may change from strawberry to blueberry jam," Bloom said.
Attention, picky eaters: Everything is pre-packaged and not customizable, so if you don't like tomatoes, for instance, you'll have to take them off yourself. (They can do some customization when catering.)
The menu includes breakfast, lunch and snack offerings. Salads and entrees range from $8.50–$13.95 and sandwiches run $6.95–$9.95. Vegetarian options are available on many of them: A grilled tandoori chicken wrap also has a version with tofu, for example.
With a focus on freshness, Proper Food's wall features a 'Made Today' ticker that displays the current date. If anything is left at the end of the day, it's donated to a food bank. No calorie counts are available yet, but the menu tags items with nine icons such as detox, energy, superfood and vegan. (Here's a look at Proper Food's current menu.)
In case you're curious, Proper's contemporary branding, with its signature orange and white colors, were developed by Rubber Design, and the small but slick 800-square-foot storefront was designed by Abueg-Morris Architects. The space was formerly home to a Yoppi Yogurt location.
Plans are to open two more FiDi locations this year and multiple locations in the Bay Area over the next five years where there's plenty of foot traffic, Bloom said. "We think the Financial District can support a bunch of different locations for our concept," he added.
Beginning Monday, Proper Food will serve breakfast and lunch from 7am–5pm every weekday. And, for those of you in charge of providing food for your next in-office meeting, catering is available at (415) 992-6781.