Published on April 11, 2015
Just after 6:30pm on Friday, a UCSF shuttle bus crashed at the intersection of Carl & Stanyan streets in Cole Valley. The incident is still under investigation, but the bus crossed a lane of oncoming traffic and struck two cars that were parked on the east side of Stanyan.
According to one witness, a passenger on the shuttle bus said the driver passed out behind the wheel. After an examination by EMTs, the driver was removed by ambulance; no information on his condition was currently available.
We've reached out to SFPD and UCSF Transportation Services for more on the incident, as well as whether anyone was injured in the collision, but have yet to hear back.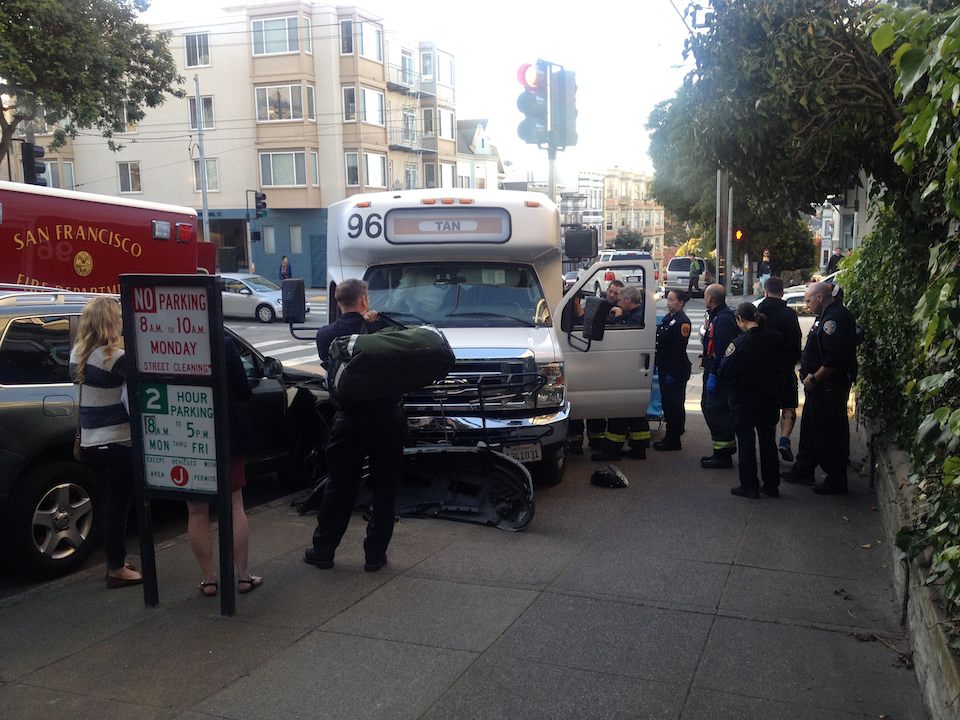 Shuttle buses for UCSF staff and students are part of the traffic pattern in Cole Valley, but for many residents, they're also a cause for concern.
In neighborhood meetings and on message boards, many locals have expressed concern about whether shuttle observe speed limits and stop signs, although no major accident happened in Cole Valley in the recent past.
In July of 2011, one passenger was killed and four others were seriously injured when a shuttle bus allegedly ran a light at Octavia and Oak.
After the 2011 crash, the second fatality for UCSF's shuttle fleet within a year, new safety standards were put in place, including the installation of lap belts and a reevaluation of training and hiring policies.
In 2011, the last year for which data is available, UCSF's shuttle system had approximately 75 drivers and carried 2.3 million passengers.
Drivers for UCSF receive yearly performance reviews and are observed via video cameras, but it's unclear how frequently they receive physical examinations. All holders of commercial driver's licenses in California are required to undergo a physical every two years.
Even though the winter opening of UCSF Benioff Children's Hospital has transferred some patients to Mission Bay, UCSF's Parnassus campus is still the major hub for its shuttle routes, serving nine different lines.