With a new name and the San Francisco LGBT Center as its new organizers, the San Francisco Pride "Pink Party" will unveil many details about the 2015 iteration of the Pride event today in a meeting that will include the Castro Merchants. The goal of the meeting is to present the proposed plans for the June 27th event formerly known as Pink Saturday and engage attendees and the community for feedback.

Ruth McFarlane of the LGBT Center spoke with Hoodline on Wednesday evening to share many of the details that will be announced today, including addressing main areas of concern that have been voiced by locals and organizers.
New Time: "In response to community concerns, the Pink Party will begin at 3pm and end at 8pm," McFarlane told Hoodline. "We want to make the event safer, and an earlier end time should help with that." When asked about plans to disperse the crowd after 8pm, McFarlane said, "We're working with city and community advisers, as well as event planners, to develop a good dispersal plan."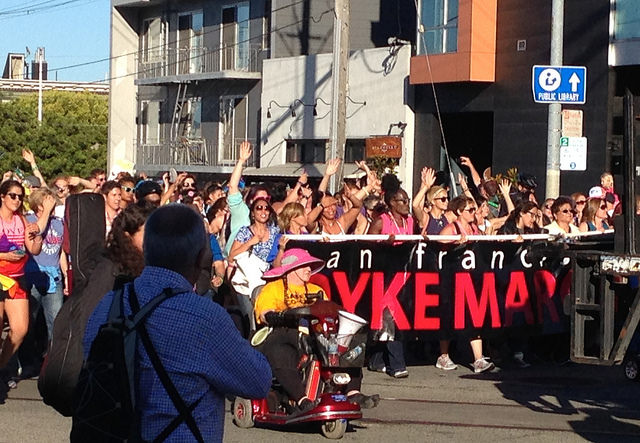 Dyke March 2014 (Photo: Ed & Eddie / Flickr)
Dyke March: Because of the earlier time, the LGBT Center has been working with organizers of the Dyke March, which traditionally ends at the event area. "They have agreed to move their event earlier as well so that both events work together as in previous years," McFarlane explains.
More Security: "We are increasing the presence of private security and are also working closely with the SFPD," McFarlane said. "Safety is a high priority for an event where people should be allowed to be open with their identities and respectful of one another and local businesses and property."

Event Area: While organizers are still finalizing a detailed event map, McFarlane told us that the footprint will remain unchanged from previous years. "There will be three entry/exit gates with volunteers, paid staff, and security present. We will have food vendors present, as in previous years, and the bars and restaurants will be open as usual."
Stages and Performers: There will be four stages for performers and speakers. "We'll have a variety of live music, DJs, drag performers, and speakers," McFarlane says. "Performers will include a mix of previous and new, and we're also looking at 'roving' performers who will move around, activating the entire event area instead of having everyone standing only around the stages."

Entry, Suggested Donations, and Beneficiaries: "All ages will be welcome, so no alcohol will be served by the event," McFarlane tells Hoodline. "Bars will still be open, however, so attendees can purchase drinks there." As with previous years, volunteers will be at each entry point and throughout the festival, asking for donations. However, "No one will be turned away," said McFarlane. "We'll also continue the tradition of having legacy beneficiaries who volunteer at the event, and will be approaching new beneficiaries as well, all of whom will receive a portion of the donations from the event."
A Strong LGBTQ Celebration: While the LGBT Center is using event planners E. Cee Productions to help put on the event, McFarlane stressed that the Center will oversee every detail of the event to keep the focus on LGBTQ culture. "We are working very closely with every element—producers, talent, media and stage messaging, beneficiaries, security, and volunteers—to continue celebrating the queer culture core of the Pink Party. Everyone will be going through proper training to keep the event safe and respectful."
Budget: While last year's event cost around $80,000, there is no word on the cost for 2015 at the time of this story. "We are about to submit paperwork for street closures and permits, and are still lining up performers and working with Castro Merchants on ideas, so it's impossible to give an estimate at this time," McFarlane told us. "We should have a good idea of the budget near the end of May."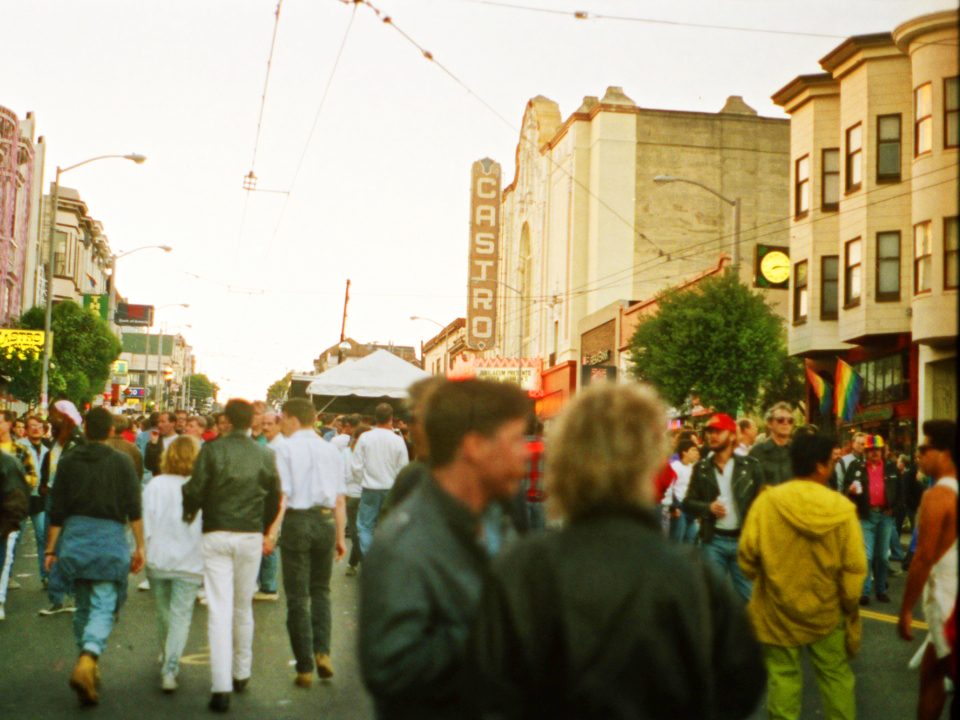 Pink Saturday, 1991 (Photo: David Prasad / Flickr)
Everything else, including a logo, any work with local businesses, and specific performance details, is to be determined, so stay tuned and share your thoughts on the news above in the comments.