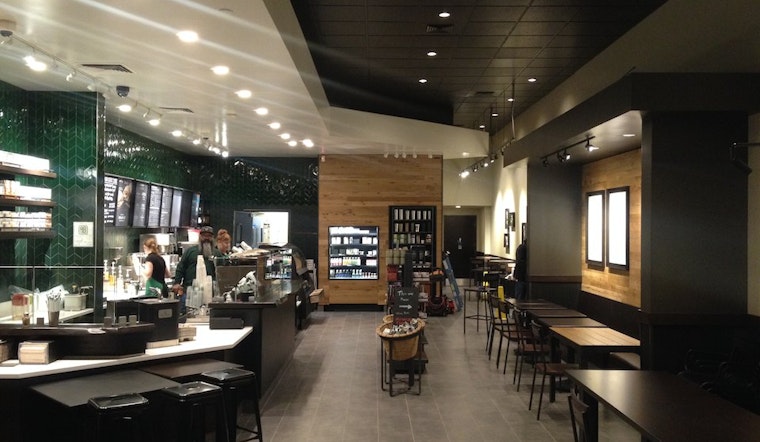 Published on May 07, 2015
Fresh off a recent remodel, the Starbucks Coffee at the corner of 9th Ave. & Irving will start selling beer and wine after 4pm as part of a pilot program called Starbucks Evenings. Marketing materials suggest that the initiative is meant to encourage customers to view Starbucks as an evening destination that bookends their morning coffee experience.
The store at 744 Irving St. closed for a revamp on April 24th and reopened yesterday (May 6th) with new green tiles, wooden siding and expanded seating. Though beer and wine aren't on the menu just yet, the store hinted at things to come on its Facebook page back on April 20th. The store is currently open until 9pm, but it's not clear if that will change after alcohol is on the menu.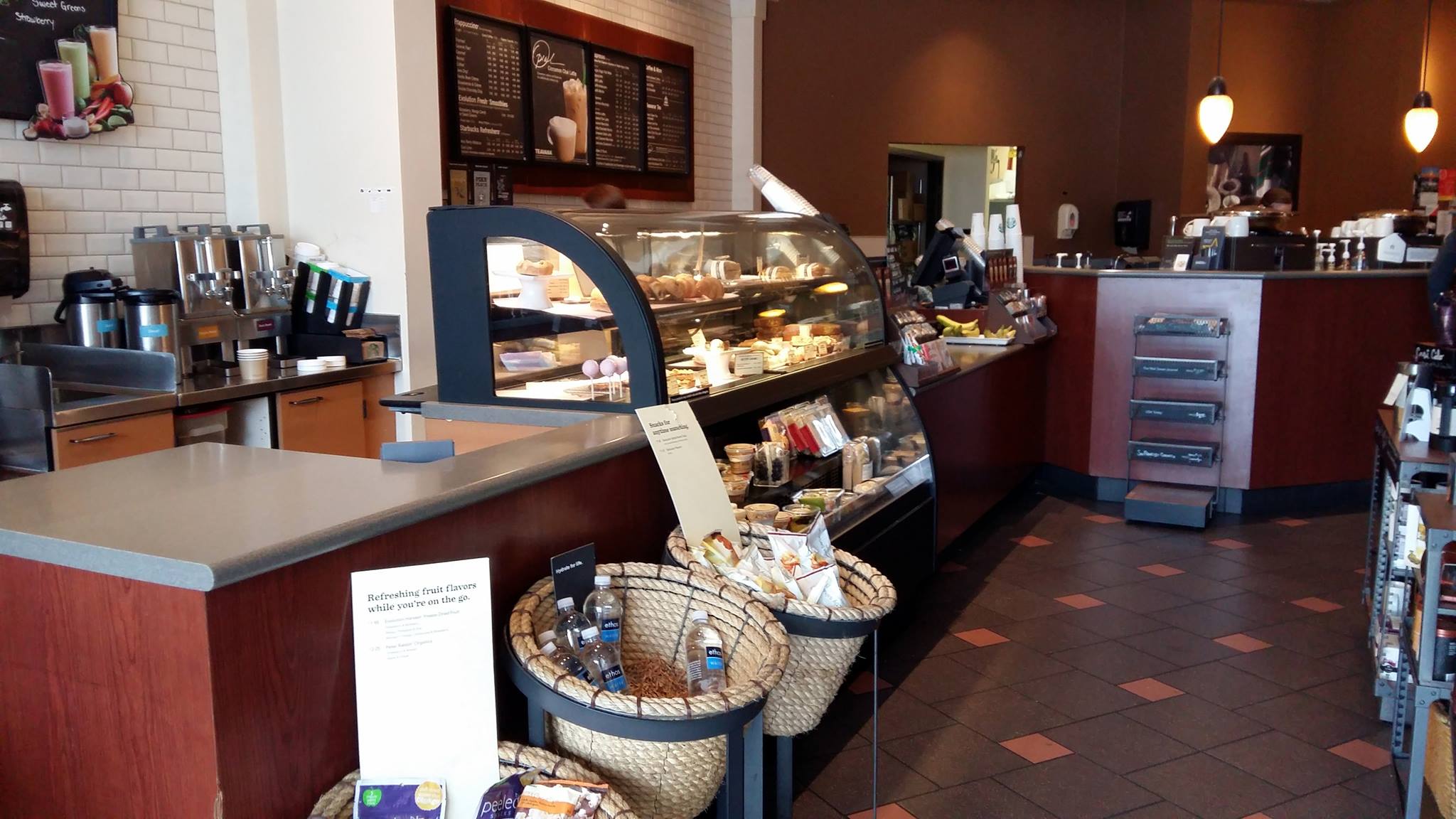 Starbucks interior before the revamp. (Photo: Starbucks/Facebook)
David Zimmerman, president of the Inner Sunset Merchants Association and owner of popular sports bar Blackthorn, hadn't heard about Starbucks Evenings until we called him for comment. "I wasn't aware of it," he said. "They didn't alert the neighborhood."
The Seattle-based chain announced its Starbucks Evenings plan back in March of 2014 and has already rolled out the concept in select locations in Seattle, Chicago, Atlanta, Los Angeles, Portland, Orlando and Washington, D.C. According to an employee we spoke to at the 9th & Irving store, the Inner Sunset location will transition to offering beer, wine and an evening-only food menu sometime in June. (Here's a glance at what the menu might look like.)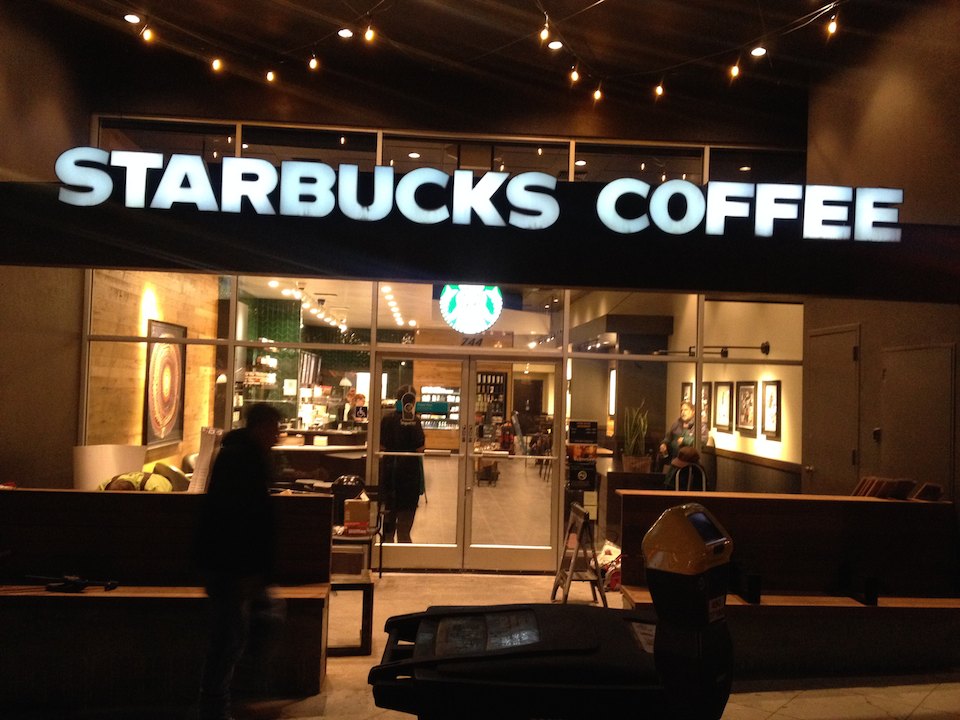 Newly renovated Starbucks at 744 Irving St.
A beer and wine license for 744 Irving has yet to be filed, but we did find a pending Alcohol Beverage Control application to sell beer and wine at a Fisherman's Wharf Starbucks (685 Beach St). A search for licenses associated with the corporation's name turned up 34 pending or active similar applications across the state.

"I think it's a slippery slope," said Zimmerman. "Starbucks owns a lot of locations, and if they start this trend, it could be troubling to have so many beer-and-wine operations pop up." Zimmerman wondered whether baristas have been properly trained and certified by the state department of Alcohol Beverage Control. "Do any of them have experience dealing with over-served customers, or any of the issues that come with being a responsible bar owner?"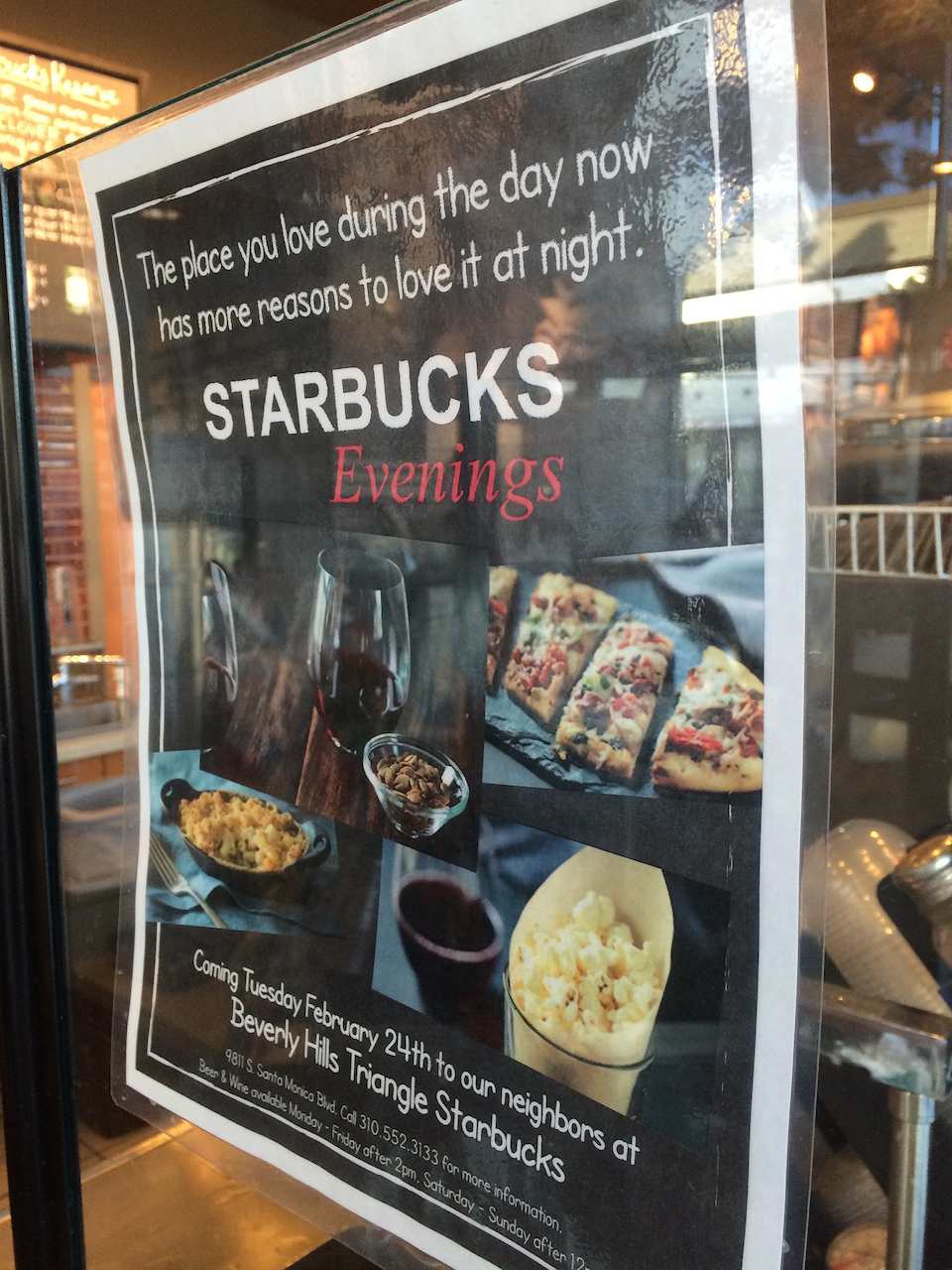 Promotional poster in Los Angeles. ( Ingrid Richter/Flickr)
Saeed Ghazi, owner of The Little Shamrock pub at 9th Ave. & Lincoln Way, was also unaware of Starbucks Evenings. "We think they should stick to coffee," he said.
Starbucks's new evening menu and wine lists will be region-specific; the Seattle-area menu includes small pates like parmesan-crusted chicken skewers and truffle macaroni and cheese, with wines available by the glass and bottle.
We've reached out to Starbucks' corporate office for more information on their plans for San Francisco, but have yet to hear back with specifics. The store's Facebook page indicates that additional plans in the works include "doggie day", board game nights and more.
"As a business owner, I'm not worried," Zimmerman said. "I don't think Starbucks can create the energy and atmosphere that can pull customers away, I don't see them coming up with the service and personalities that can really draw people in over the long term."
As ISMA president, Zimmerman said he'll spread word to other merchants that Starbucks plans to start pouring adult beverages. "Starbucks is a massive corporation, so there's not a whole lot we can do," he said. "But I'll try to raise some awareness."