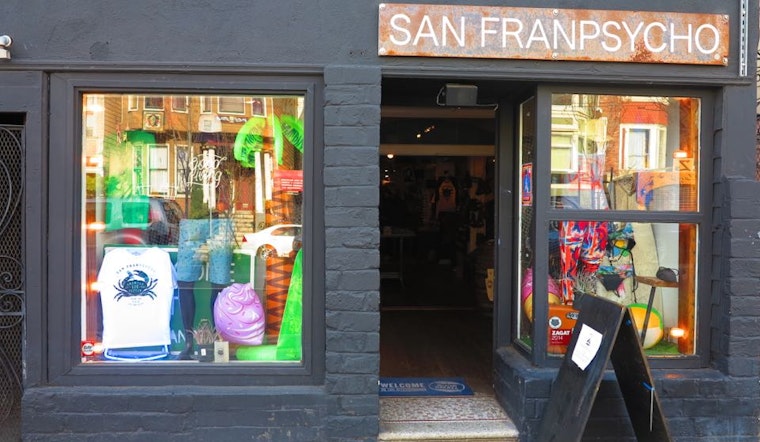 Published on May 14, 2015
This evening, the folks over at San Franpsycho will be hosting a soiree to celebrate the release of their new summer line, which is inspired by retro summer images and California beach and poolside lifestyles.
This is far from the first event hosted by Andy Olive and Christian Routzen, founders of San Franpsycho. In fact, the two seem to have developed something of a cult following for their company, which started from a group of buddies making surf videos at Ocean Beach. Today, they have three retail storefronts in SF and manufacture all of their goods within city limits at their workshop on Noriega and 45th Avenue.
Photo Courtesy of San Franpsycho
San Franpsycho's shop in the Inner Sunset (1248 9th St) just started selling De La Paz Coffee and Three Twins ice cream (the soft opening is this Friday, May 15th) and the Divis location is going strong as ever, selling locally made goods, showcasing work by local artists, and even playing host to a Kendama meetups every Tuesday, which make for a unique collection of folks on the sidewalk each week.

Stephen Jackson/Hoodline

The company now employs quite a few employees, many of whom are putting themselves through school, and its also very serious about supporting local artists, as well multiple non-profits, including Surf for Life, The San Francisco Surfrider Foundation, and Save the Waves, for which they raised money to build High Schools in Central America and even pitched in on some of the physical labor.
All of this from a couple of dudes making surf videos back in 2001. How'd they do it?
Routzen met Olive when he came up from Ventura County to go to San Francisco State in 1998. At the time, Olive, who grew up in the Sunset, was working at WISE Surfboards and the two hit it off. Along with some others, they made their first surf video entitled "San Franpsycho", which was released in 2001. Their second film, "San Franpsycho: Wet and Wreckless", didn't come out again until 2006. At that point, the idea dawned on them that they should start making some shirts with their name and logo on it, since people seemed to be digging the vibe they had cultivated.
Routzen (left) and Olive (right). Photo: Stephen Jackson/Hoodline
In 2007, Olive, a preschool teacher, and Routzen, a bartender, started throwing parties around the city. Then, in 2008, an artist named Rich Nyhagen taught them how to screen print and they began inviting people to bring shirts to their parties to be silk screened for a small donation. This proved to be a huge success, and before long they were doing the art fair and music festival circuit.
By 2009, the team was selling their clothing out of a big painted van with their logo plastered across it, and had begun to make a name for themselves. This led to their first storefront in North Beach (now closed), and their eventual move to the shop on Divisadero in the spring of 2011.
Throughout all of this, the folks at SFP have been picking up people and extending their team along the way. "It's cool to see the brand become such a showcasing umbrella," said Olive. "We're highlighting what we do, but we spotlight other people too. I think it's cool to see all the collaborations that take place. It's really cool to see a kid come in with a drawing, and that turn into an idea, and that idea turn into something on a t-shirt."
Photo Courtesy of San Franpsycho
For both Routzen and Olive, it's also been of utmost importance to keep everything local and high-quality as they've grown as a company. "You have to look at the integrity of your brand, and think of your community, what they think of you, and what they expect. We've had opportunities to make things for cheaper, but we wanted to keep everything in the city," Routzen told us. They encourage anyone to stop by their Outer Sunset location and watch the process of silkscreening and patchwork any time.
As for what's next, the pair are sticking with their laid-back roots as they look to the future. "We didn't know what was going to happen, but we knew it would all happen organically," said Routzen. "We don't know our next step either, but it's going to be awesome."
Tonight's party will introduce "Good Living," the new summer line showcasing the art of local artist Kevin Espeche. "San Franpsycho is a community-based lifestyle brand," said Olive. "Not only are we making clothing for ourselves as an art, but we're trying to support as many people as we can with what they're doing."
The party goes from 6pm to 9pm and will be held at the Divisadero location (505 Divisadero). Music will be provided by Subculture SF Djs Jack Nagz and Danny Green, and there'll be free beer on hand.