Jane Warner Plaza has been subject to significant changes since 2009, when it was closed to non-Muni traffic and transformed into the plaza as part of the Pavement to Parks program. It's had its fair share of positive and negative feedback—from those who enjoy the pedestrian area and added planters to those who dislike the use of the space by homeless individuals and who want it to open back up to regular traffic.
Photo: Roy McKenzie / Hoodline
Even after a recent redesign (and subsequent closure for re-redesign), there is a new proposal from Castro/Upper Market Community Benefit District (Castro CBD) to once again tinker with the space in an attempt to make it more welcoming for locals and tourists alike.
Last week, the BAR reported on the proposed changes, which include new chairs, new lighting, art installations, and expanded entertainment options. The proposed new chairs would be less cozy than the current options, and designed so that, while an hour at a time might be pleasant, it'd be uncomfortable to spend all day sitting on them.
The proposed budget for the project is $313,000 over a period of two years and would come from the city's general fund if approved.
The BAR interviewed Castro CBD Executive Director Andrea Aiello, who acknowledged the pessimism about plaza changes from neighbors, but wants the plaza to remain safe for pedestrians and become more attractive to everyone. "We have to make it an inviting space for lots of people and have some cool things happening there that make people want to come," Aiello told BAR. "You can't just leave it this empty place where nothing happens."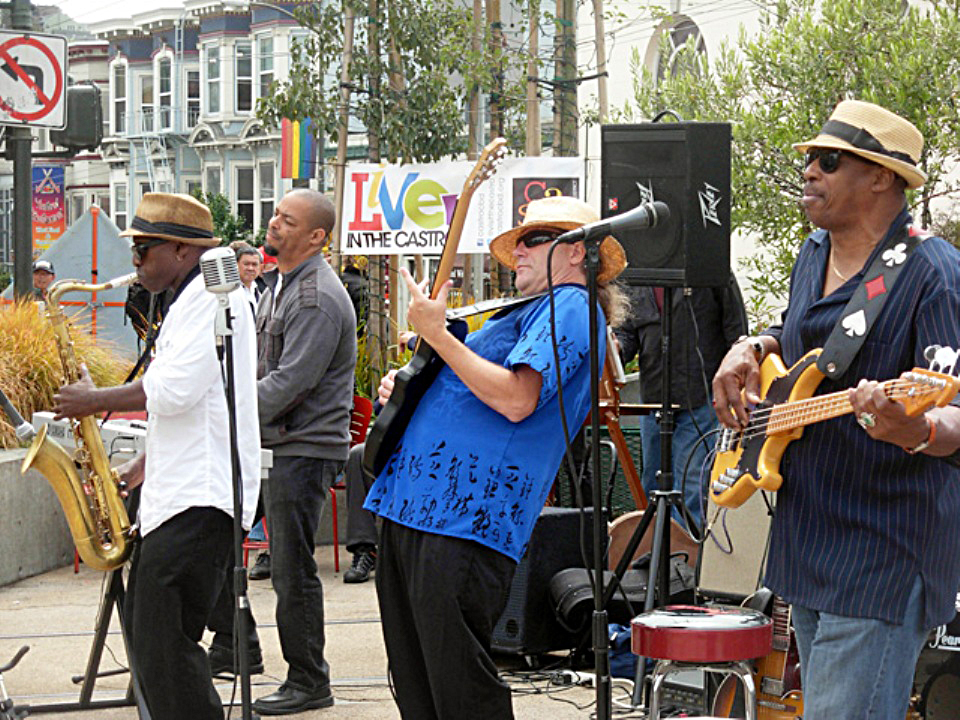 Photo: Live! in the Castro Performance / Castro CBD
In addition to the physical changes proposed to the plaza, there are also talks of bringing in a part-time employee to manage and plan activities for the space, including continuing the "Live! in the Castro" summer music series. Castro CBD is also exploring the option of working with an at-risk youth nonprofit to provide young people that can help with regular upkeep in the area.
"Hearty" plants are currently being planted in the plaza's planters, and are expected to be fully installed by May 23rd. The idea is to discourage people from "putting their junk" in the planters, said Aiello. 

The Castro CBD hopes to get funding approved for the first year by July 1st.