North Beach Neighbors, a non-profit group that provides a forum for community concerns, held a meeting Thursday night at the San Francisco Italian Club to discuss SFMTA's proposed "bulb-outs" to street curbs and sidewalks.
Bulb-outs, or street curb extensions, are traffic calming measures and are getting built as part of the city's "Walk First" effort, billed as "a data driven process to make San Francisco a safer place to walk." Those in favor say curb extensions enhance pedestrian safety. Because the bulge enhances pedestrian visibility and decreases the crossing distance. It also slows down vehicles making turns. (More information about the pro arguments can be found on SF Better Streets, although the city government organization had no connection with the meeting.)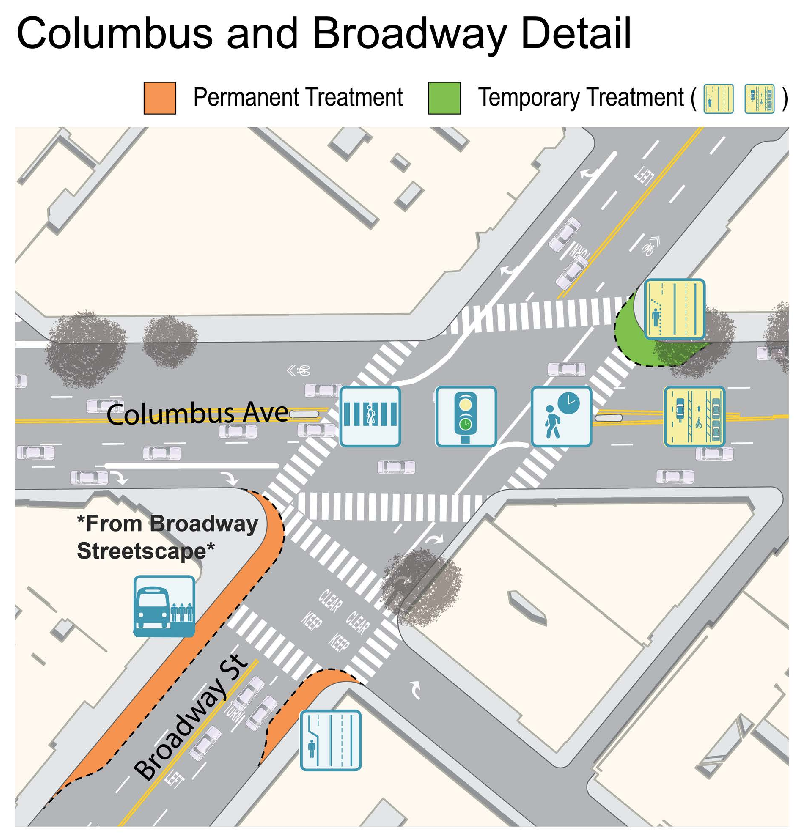 Overhead view of some of the proposed changes via the SFMTA plan.
SFMTA is proposing to put add bulb-outs at the intersection of Columbus Avenue and Stockton and Green streets; at Columbus Avenue and Vallejo street; at Columbus and Grant avenues and at the intersection of Columbus Avenue and Pacific and Kearny streets. It's part of the Columbus Avenue Pavement Renovation and Water Main Replacement Project slated to start in late August or early September, with construction expected to take about a year.
Neighborhood Opposition
Trish Herman, president of North Beach Neighbors, said she's asked SFMTA for the data behind the decision to add bulb-outs and hasn't received it. She wants proof that bulb-outs make the streets safer, and some at the meeting said they're worried that the extensions will slow down emergency response times. Herman said they'd like to delay the project until the community has more information and can give more input.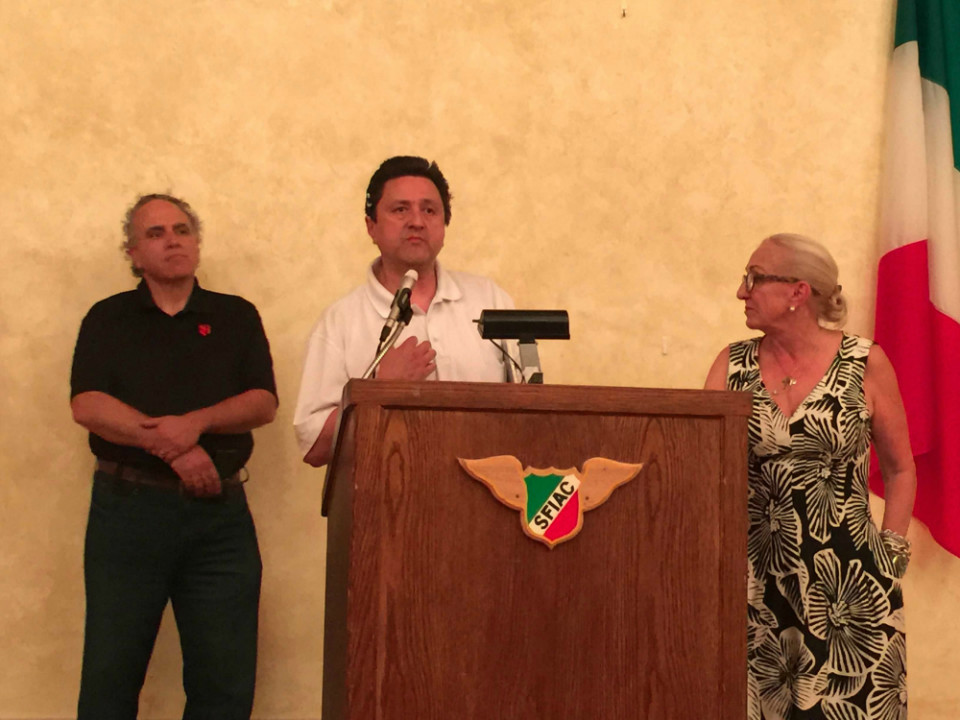 John Darmanin, Tony Rivera and Trish Herman. Photo: Geri Koeppel/Hoodline
Herman opened the meeting by saying SFMTA and the Department of Public Works has held only two open houses about curb bulb-outs. "They thought that was enough," she said. After she scheduled this public meeting, she said, SFMTA and DPW agreed to meet with the community again, but no date has been set.
Later, she added, "I think they were trying to bury this with the public forums. I was scolded for holding this without the sanction of MTA, DPW or the fire department. Now, MTA and DPW are willing to talk to us at a public forum and we're trying to get the fire department brass."
Three members of the San Francisco Fire Department spoke at the meeting as individuals and concerned community members, not as representatives of the department. First up was Adrienne Sims, director of San Francisco Firefighters Local 798."Increased traffic increases our time to respond to you," she said. "It impedes us when there's bottleneck traffic and we are stuck."
What the existing street looks like, via the SFMTA plan.
And as a mother of three and as someone with a mother and sister in the city, she asked SFMTA how this will affect families. "'They said, 'Well, there are not that many families in the city so we don't really factor you in,'" she said. That prompted a chorus of gasps and people saying, "What?!" 
Sims also said California has a response time goal of seven minutes for emergency calls, and in San Francisco it's 13 minutes. "North Beach is way over that," she said. "We have more than 500 calls a year that are over the 13 minutes. We're talking 20, 30 minutes for an ambulance to get on scene."
On top of that, Sims said, "The bulb-outs damage our rigs, which increases our budget." She said fire trucks commonly hit bulb-out sidewalks because they're too high, causing damage to tires,  axles and brakes. "This is money that could be spent on something else," she said.

What the proposed changes will look like, via the SFMTA plan.
Another fire fighter, John Darmanin, was up next and reiterated the damage bulb-outs do to fire trucks "Our fire trucks and engines are not meant to drive over curbs, and that's what we have to do quite often," he said. "Axles break, wheels are bent at a real big cost to the city and also puts our vehicles down out of service." That affects response times as well, he added. "Our response times are increasing because of these traffic calming measures."

Darmanin acknowledged that SFFD signed off on the plans to add the bulb-outs, but said, "Individual fire fighters I've spoken to know that we made a mistake."
Fire fighter Tony Rivera said bulb-outs also make it more difficult for fire engines to pull off the road and out of traffic, which causes back-ups. "We're going to block that lane for 45 minutes," he said. He also told about his son nearly getting hit because he was on a curb bulb-out and leaned down to pick up a penny, and the bulb-out placed him too close to the traffic.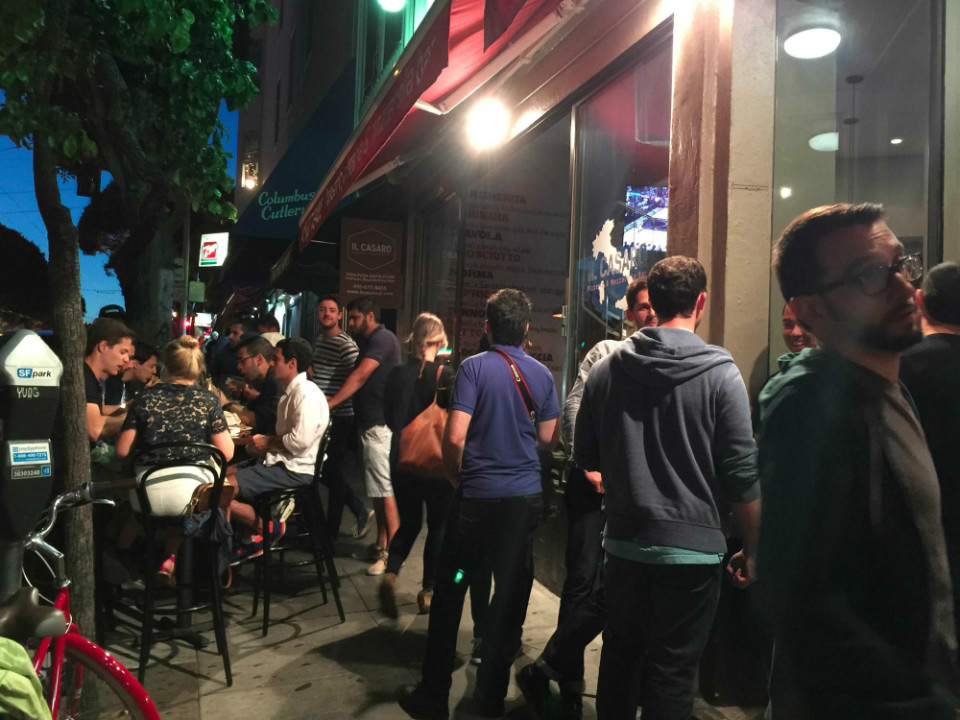 Sidewalk dining at Il Casaro. Photo: Geri Koeppel/Hoodline
Also, Rivera said, he hears people say to just buy smaller fire trucks. "We have the smallest fire engines in the nation," he said. "We have the strictest regulations on turning radiuses for our vehicles because of our hills."
Next Steps
Herman said she'll be creating a survey on bulb-outs for community feedback, but it was clear most in the room were against them. A long discussion followed the presentation, with audience members weighing in on safety concerns and bringing up related issues. Several expressed concern about worsening traffic in the city. One asked why signals can't be adjusted so pedestrians have more time to cross. Another brought up the difficulty of walking on sidewalks in North Beach due to restaurant tables blocking the way. 
Also in attendance were Kanishka Burns and Mason Lee, legislative aides to District 3 Supervisor Julie Christensen, and Aaron Peskin, candidate for District 3 supervisor. A few audience members chided Christensen for not coming. Burns said the supervisor had a prior commitment, and added, "Our office has been pressing [the SFMTA] all week for meeting. We've been pressing them for the rationale for these decisions."
Herman said she had met with Christensen earlier to discuss the bulb-outs and said, "She is not a proponent of bulb outs." She added that the supervisor "was supportive of a full Columbus Avenue plan rather than these bits and pieces." Herman also told the audience to check the North Beach Neighbors' website for updates.
According to the SFMTA, the scope of work for the Columbus Avenue Pavement Renovation and Water Main Replacement Project consists of:
a. Street base repair, grinding, and paving. Installation of reinforced bus pads at bus stop locations. Spot repairs to curb and sidewalk.

b. Upgrade of curb ramps to meet ADA requirements and guidelines.

c. Construction of bulb-outs at Columbus/Stockton/Green intersection; Columbus/Vallejo intersection; Columbus/Grant intersection; and Columbus/Pacific/Kearny intersection.
d. Water main replacement along Columbus Avenue between Via Bufano and Powell Street; Columbus Avenue between Union Street and Broadway; and Vallejo Street between Columbus Avenue and Grant Avenue.

e. AWSS (Auxiliary Water Supply System) replacement/relocation at the intersection of Columbus Avenue, Stockton Street, and Green Street.

f. Sewer relocation at Columbus Avenue and Grant Avenue. Sewer and drainage work at Columbus/Stockton/Green intersection; Columbus/Vallejo intersection; Columbus/Grant/Broadway intersection; and Columbus/Pacific intersection.
SFMTA plans to hold another public meeting in May to get input on the following proposals:
Transit only lanes from Stockton to Fillbert

Removal of a travel lane in each direction from Fillbert to Stockton and no parking loss

Temporary sidewalk widening from Union to Stockton – this would be temporary so the neighborhood can test it out and see if they like it

Replacing on street parking with temporary sidewalk/paint

Removal of 20 park spaces

Columbus Avenue bike lanes from Broadway to Washington

Replacing sharrows with dedicated bike lanes

Removal of one north bound travel lane from Jackson to Broadway and no parking loss

Several bus bulbs on Columbus north of Fillbert

5 bulbs on Columbus and 2 on North Point and removal of 2 stop pairs

Parking loss up to 8 spaces