On Thursday, the San Francisco Planning and Urban Research (SPUR) nonprofit organized a tour of Kirkham Heights, an 86-unit apartment complex in the Inner Sunset that was built in 1950. 
The plan has been generating intense local debate after it was announced last fall and as outreach rolled out over the winter. We decided to tag along to hear about the latest, and to see if we could talk to nearby residents. Here's what we came away with. 
Representatives of site owner Westlake Urban walked attendees through the 6.35-acre property to visualize proposals for transforming it into a 460-unit development without significantly increasing its footprint. The tour was co-presented by the San Francisco Housing Action Coalition.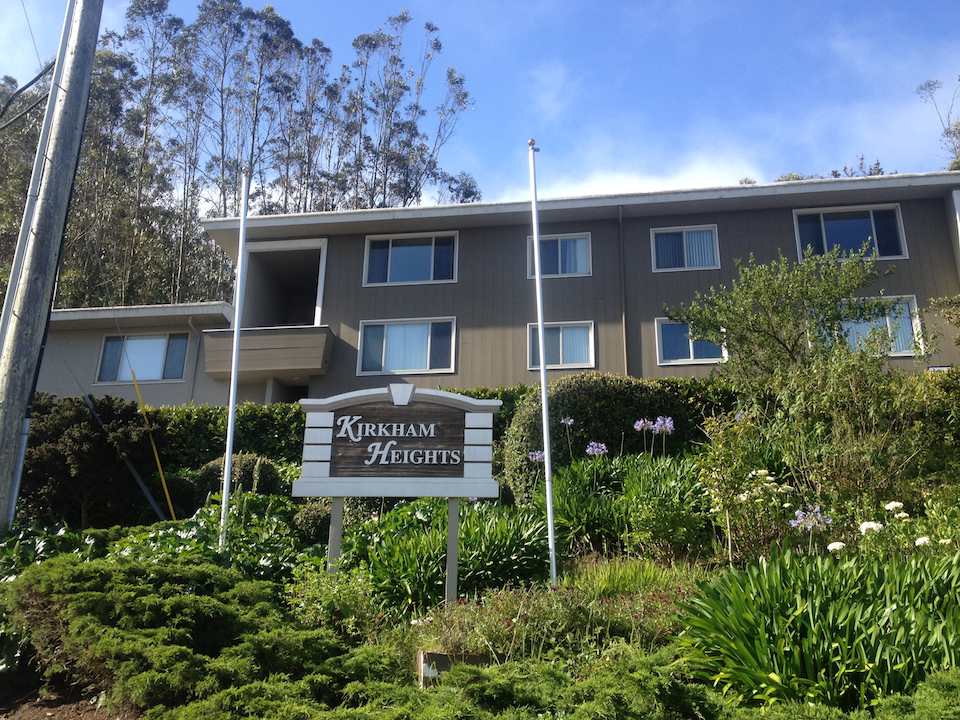 Kirkham Heights "was built for people who drove up to their homes and drove out," said Naomi Porat, co-founder of project development management firm
Transform Urban
. "Now, we're reorienting it toward community." The project is still in its early stages; pending environmental reviews and city approval, construction is at least two years away.
Today, the development is built into a steep hillside that abuts the west slope of the
Mt. Sutro Open Space Preserve
. Participants who walked or biked up the hill for Thursday's tour showed clear signs of exertion; plans call for the hill to be substantially graded to promote walkability and make it ADA-compliant. 
During the tour, Gaye Quinn of
Westlake Urban
shared an anecdote about a resident who'd once broken her leg and and had to scoot up stairs backwards. "We're transforming a site that is not wheelchair-accessible, where people cannot age in place, to a site that will be completely wheelchair-accessible," said Porat.
Carports are a major architectural feature at Kirkham Heights, but the new site will have .5 parking spaces per unit. "It's not just about having less parking, but all of the programmatic elements that are part of being able to make less parking work," said Porat. The developer plans to add secure bike storage along with bike- and car-sharing services.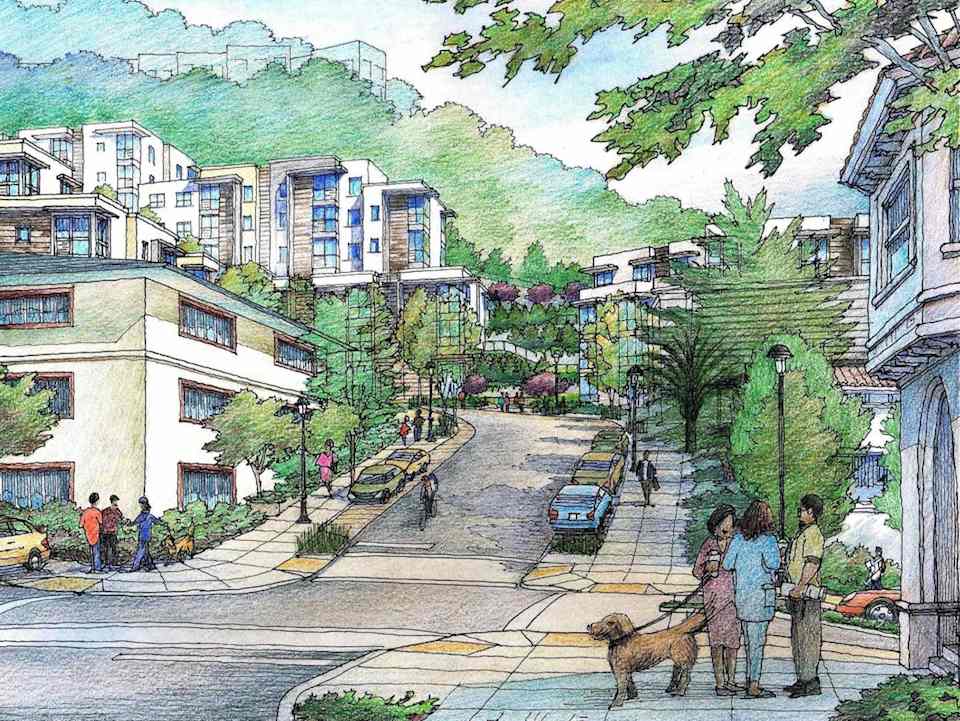 "What I've talked about are transportation management programs that include delivery services, farm-to table-services and all the things that would be needed to minimize needing a car," said Porat.
"A modern lifestyle is fine," said Maria Wabl, a Kirkham Heights neighbor for 27 years who we talked to as we were poking around the site. "But I think you have to be realistic at the same time. If you have a family up there, let's say just with one kid, how can you only have half a car?" Wabl said converting carports into enclosed garages would be more practical. "I think you should work with what you have, and if you have buildings that are pretty solid, invest some money into those."
Wabl expressed concerns that boosting housing density would worsen existing traffic and public transit problems and said some of the proposals, like large community terraces, just aren't practical. "I don't think people want plazas, they want a cozy space in the back where they might sit on a bench and have their privacy. I personally don't think that will be of great advantage for the neighborhood."
Porat said the redeveloped site will "have balconies and also rooftop space," but that most of the open space would be communal. "There's stoops that come right out into the street similar to how these Edwardians in the Inner Sunset are designed." Streetscaping inside the reimagined complex would complement the work that UCSF is doing on nearby Parnassus Ave., she added.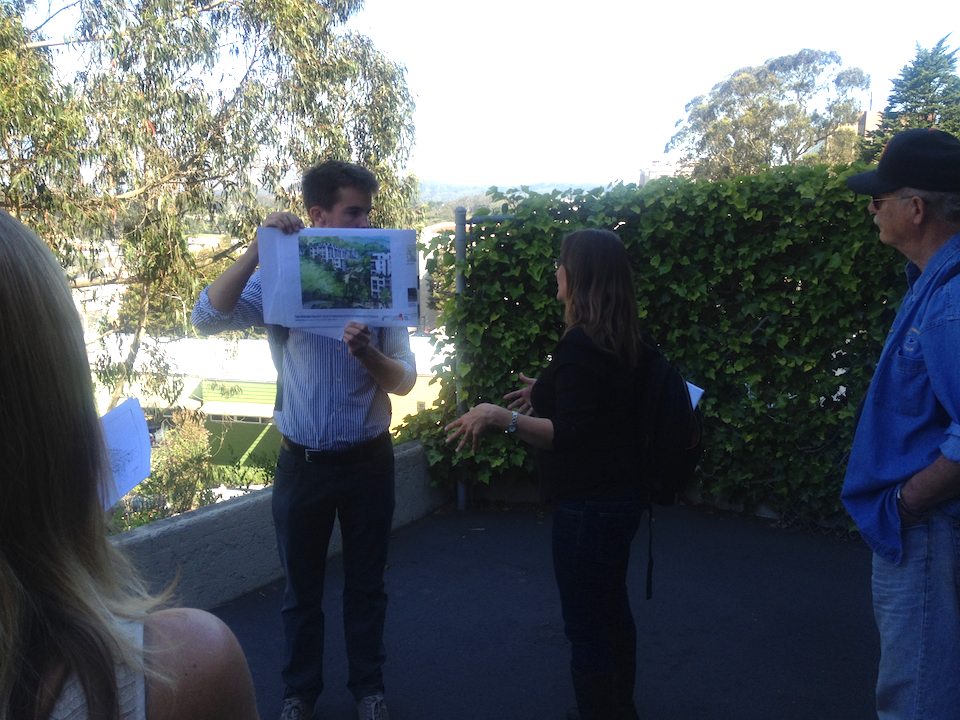 Visualizing the changes during the tour. Photo by Walter Thompson.
Post-renovation, residents could drive in or enter the complex via private elevators or a ridgeline stairway with public art installations like the 
Hidden Garden Steps
. Disabled residents will be "able to go up to the forest in a wheelchair through the elevator system," said Porat.
Wabl, who's discussed the project with some Kirkham Heights residents and nearby homeowners, remains skeptical. "They're only saying that because of what they want to build. That's the only thing they can offer; outdoor space." Neighborhood reaction to the renovation plans "is really mixed," said Wabl. "People feel that we need more housing, but they believe the developer because they're building it up so much with the rent control."
Current Kirkham Heights residents will have the option of a renting a new unit at the same rate for the apartment they have now, said Porat. "We're looking at phasing the development so people could potentially stay on site," she said. "We're also looking at relocating them temporarily and bringing them back." Transitional housing has yet to be identified, but "hopefully, we could find something close by in the neighborhood," said Porat.
Wabl told
Hoodline
that people living in rent-controlled units won't know how large their new homes might be, or where they'd be located. Although Westlake Urban hasn't indicated how much the new units will cost, Wabl said she doubted that anyone "with a salary under $80,000 to $90,000 will be able to afford the units."
In keeping with city mandates, 12% of the new units "need to be affordable at 55% of AMI (Area Median Income), so we're doing that for the net new units," Porat said, noting that "having a mixed community in terms of income, age and all other dimensions" is a project goal. According to the
Mayor's Office of Housing
, 55% of San Francisco's AMI is $39,250 for a 1-person household and $44,850 for two people.
Wabl said she believed the redevelopment plans would largely benefit "the young ones making a lot of money that don't have a family, work in the city and can afford to take cabs all the time. That's the new lifestyle," she said. "That's okay, but is it realistic?"