The article was originally published in Central City Extra's May 2015 issue. 
Safe Passage, the program to make the Tenderloin's grim sidewalks safe for school kids, got another infusion of cash when its April soiree raised $10,000 from a growing number of supporters sensing passage is a major influence on the long-sought turnaround in neighborhood safety. 
The goal had been to raise $5,000. "We got a late donation from Glide of about $400 that put us a little bit over," said Dina Hilliard, executive director. A matching grant from Twitter doubled the money. 
This will pay for 300 new vests for the growing stable of on-street monitors and more volunteers expected to join in, and for monthly stipends for corner captains, who stand on the sidewalks an hour and 15 minutes each weekday after school with walkie-talkies, watching over passing children and by their presence making the crowded corner look unavailable for drug dealing.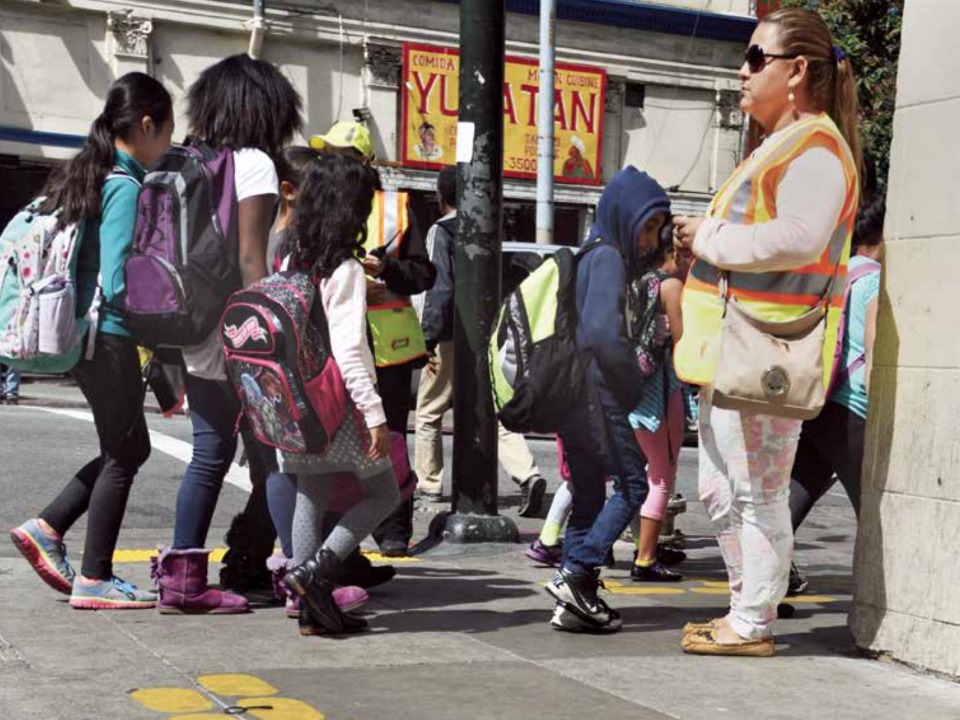 A volunteer monitors a corner along the Safe Passage route. (Photo: Paul Dunn)
The fundraiser keeps financial momentum going until Safe Passage receives $200,000 from the mayor's Office of Economic and Workforce Development.The money, originally announced in late 2013, included the cost for repainting the fading 11-block sidewalk route with the oversize yellow bricks that the school kids follow.The delay was due to staff changes, the OeWD told Hilliard, and the money is to arrive this month, she said. 
Meanwhile, a $150,000 donation late last year from the Tenderloin Health Improvement Partnership, headed by St. Francis Foundation, jumpstarted the paint job in March. Keeping the bricks looking fresh is artist John Elliot, who has gotten volunteers from the Department of Public Works, Square and Twitter. 
Tickets to the benefit cost $25 and 141 were sold, with 85 showing up. Among notables were TNDC executive Director Don Falk, Curry Senior Center CeO David Knego and tech liaisons Mo Tracy of Spotify, Adejire Bademosi of Twitter and Cristina Fink of Yammer. Spotify donated its spacious, glassy, fourth-floor corner room at the Warfield Building for the occasion. The crowd nursed wine and beer and munched hors d'oeuvres on a young sun-splashed evening above the changing street below. 
They heard District 6 Supervisor Jane Kim, Tenderloin police Capt. Jason Cherniss and St. Francis Foundation President Kevin Causey emphasize how important Safe Passage is to the well-being of the neighborhood's estimated 3,500 kids. Causey called the children's route "the spine of the Tenderloin." Starting at Golden Gate Avenue, it covers the midsection of what used to be called the Lower Eddy/Leavenworth section, the slums of the TL and the target of the Tenderloin's $1 million improvement project, a five-year effort 15 years ago that was funded by the Richard and Rhoda Goldman Fund. 
Safe Passage has become the focal point for safe Tenderloin streets. It has grown from a low-five-figure budget and lots of volunteers to about $400,000 a year, paid staff and lots more volunteers. 
All that in the last year, a reversal of fortune rivaling a fat contract for a forgotten movie star. Safe Passage has even become a bit of a growth industry in the TL, compensating more than a dozen residents part time as block captains. 
The program began in 2008 after neighborhood parents met to voice concerns about their children walking the high-crime streets to and from school and after-school programs. Along with TL Boys and Girls Club volunteers, they began escorting the kids. In time, the club, TL Community Benefit District and La Voz Latina became solid partners and sponsored the first painting of the route —"the yellow brick road" — on Martin Luther King Day, 2012.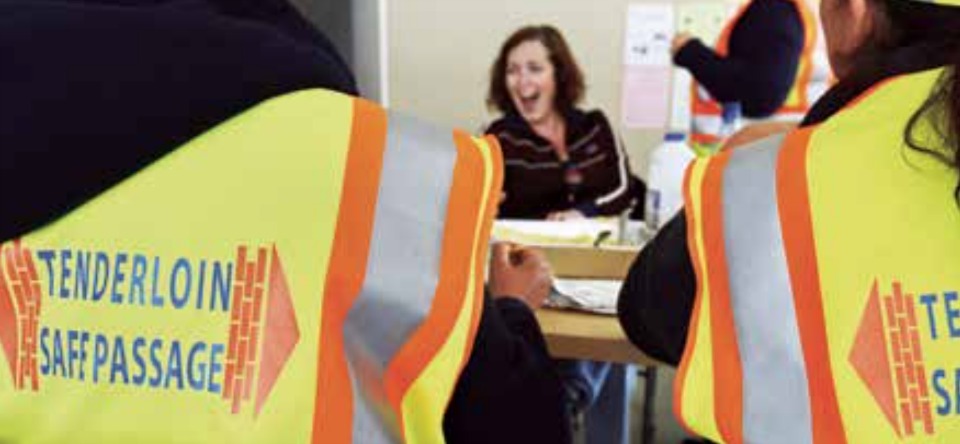 Safe Passage Program Director meets with volunteers at Boeddeker before they head out. (Photo: (Photo: Paul Dunn)
Major Turning Point
The pending $200,000 OEWD grant, written largely by then-TL CBD Executive Director Hilliard and Kate Robinson of Chinatown Community Development Center, was viewed as a major turning point for the organization. After the city announced it, Hilliard left the CBD and became Safe Passage executive director in October. The next month, Robinson, a longtime volunteer, became program director. Soon, the Health Improvement Project came up with $150,000. 
"We operated from 2008-14 on very minimal funds," Robinson writes on Safe Passage's website. "We received a few small grants in those seven years, but we operated mostly off of volunteer contributions and time, until the TL HIP process gave us this opportunity to grow. All of the organizations who made up the [original] Safe Passage committee are now board members." 
Volunteers for the streets meet weekdays at 2:15 p.m. in the Boeddeker Park Community building for assignments. They don the yellow vests with reflective orange and gray stripes, common among street workers, and pick up the walkie-talkies that they use to report street conditions to each other and warn of erratic behaviors. Varying their days, they are on their corners by 2:45 p.m. and stay till 4 p.m. 
Up to eight three-day-a-week corner captains typically work problem spots and get a $235 monthly stipend; a half dozen five-day-a-week corner captains earn $390. 
For the fundraiser's display table, Hilliard prepared photos to demonstrate what a difference a corner captain can make. One color photo shot in November at the worrisome southeast corner of Turk and Leavenworth streets, notorious for dope dealing, shows a motley adult crowd of 20 or so milling about while five little school kids in white shirts with backpacks and umbrellas try to maneuver through them.
The photo is juxtaposed with a shot she took there this February at the same time of day. It shows two corner captains standing in yellow vests holding walkie-talkies. No one is within 30 feet of them. 
"Sometimes dealers will only go 20 feet away," Hilliard said before the evening event. "I see it as a turf war. And some days are better than others. But we're a daily presence now, and it's an end to a time when we couldn't get enough people (volunteers)." Robinson explains on the website that Safe Passage monitors avoid "negative street elements." 
"It is not our goal to intervene," she writes. "We are a safety presence, and with us here people can focus on us and feel safer on the streets. There is something about seeing the yellow vest, seeing people waving with their walkie-talkies ... we know it has a positive impact." 
Because a dope dealer recently got hold of a yellow vest, likely stolen, and was wearing it while selling, Safe Passage has ordered blue replacement vests from Hong Kong,"and not easy to duplicate," Robinson jokes, sensing no one would go to the trouble a second time. 
Safe Passage, along with Boeddeker Park, have become the centers for neighborhood safety transformation in the last six months.  Hilliard calls St. Francis Foundation's Causey the "mastermind" behind the safety-first idea for the neighborhood to successfully deal with "decades-old issues." The TL HIP is committing $1 million this year: $150,000 to Passage, $250,000 for Boeddeker Park staffing and programs, $100,000 to Tenderloin Economic Development Project, $139,000 to Green Mobile Health Education Kitchen Project — Tenderloin-wide classes in eating well — and the rest to be determined.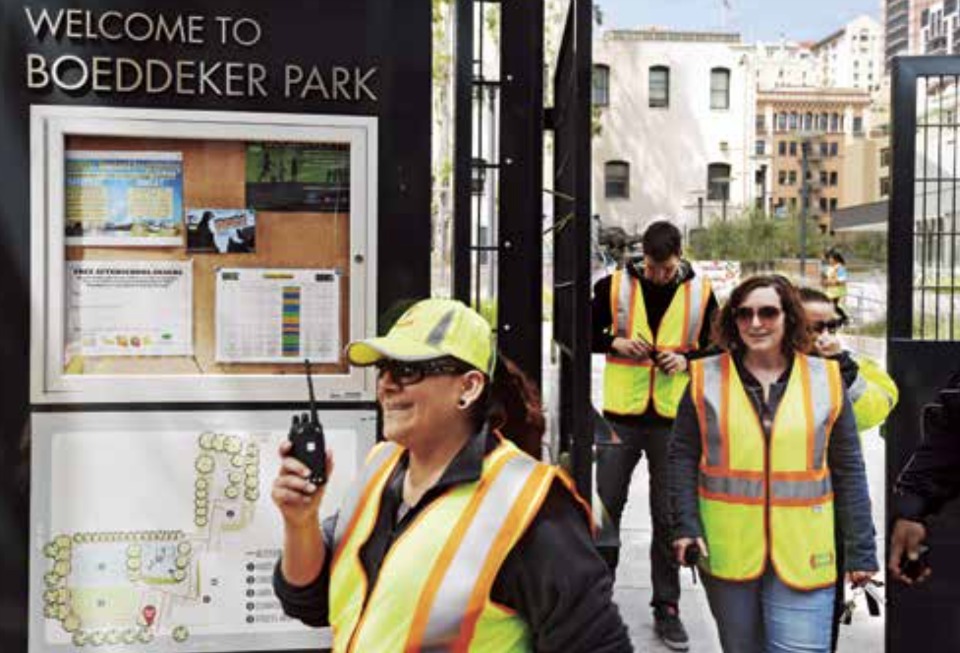 Safe Passage volunteers leaving Boeddeker Park to patrol the route. (Photo: Paul Dunn)
"We'd Cover It"

Before speaking at the fundraiser, Causey told The Extra his group planned for a year before committing the first $500,000 to the neighborhood and even offered Capt. Cherniss overtime pay if that was needed for Boeddeker Park safety,"and that could be plainclothes officers shooting baskets with youngsters — we'd cover it." But it wasn't needed. 
Causey said he had "no quantitative evidence" that the park is safer since opening December 10th, but he's certain there's less drug dealing. 
The idea was to start in a small geographic area and gradually spread out into the neighborhood, he said. "We're making (Boeddeker) an enlightened place. We have a real shot at making a fundamental change."
"There are a lot of groups around that individually couldn't make the needed changes alone, but by giving them the resources to do it together, we'll make a big difference." 
St. Francis Memorial Hospital has been heavily involved in the neighborhood "for many, many years," Causey told the Safe Passage group. A steady stream of indigent patients to their nearby doorstep costs "millions and millions" of dollars. (St. Francis Hospital gave away almost $10 million on charity cases in 2011-12, according to the Public Health Department's most recent Charity Care Report.) The way to reduce that is to help create a safe and healthy Tenderloin, he said. 
"There are 33,000 people in the Tenderloin and 3,500 kids, and they deserve a better life," Causey said. "It will never be a Noe Valley, but nobody wants that. People want to feel safe walking up Leavenworth." 
Cherniss later said that the old fortress-like Boeddeker was "an invitation" to drug dealers, but since the makeover it's more open and with so much activity that "it's awkward for criminals" to exploit it. He had no figures to show diminished arrests in and around the park, and wouldn't say what hours two of his officers work there, but he is convinced that drug dealers have shied away and possibly gone "to Turk Street to show an uptick" there. 
"It's the hub of positive community togetherness," he said of the park. "It's not necessarily police, it's community. It's ripe for that now. We're all getting more connected and sharing information." 
Hilliard, who started in the TL as a Christian Academy grade school teacher, said Boeddeker is "the model" of safety now and will have the biggest impact on the neighborhood. "I haven't seen anything like it in my 16 years in the Tenderloin," she said.