In yet another case of a beloved neighborhood business forced out due to a rent increase, the Emerald Tablet will shut its doors at the end of May. Cofounders Della Heywood and Lapo Guzzini had been struggling with the decision for months and made it official on Monday. The space is at 80 Fresno St., tucked away in an alley behind The Saloon just off of Grant Avenue north of Columbus Avenue.
"We just feel that after great deliberation and much hand-wringing, really, when you have to start chasing money, it's not fun anymore," Heywood said. She and Guzzini didn't earn money from the Emerald Tablet: "We were able to fund it and break even," she said. But facing a 33 percent increase immediately and 100 percent increase over the life of another lease, she said, "We'd have to start chasing grants and those would have to be administrated. It just changes the flavor." 
Instead, the founders hope to find collaborative partners and venues so they can be nomadic, but "continue to create series under the aegis of the Emerald Tablet," Heywood said. They envision doing what they've been doing and more throughout the city, hosting and promoting a cross-disciplinary, inspirational, creative community.
Billed on its website as a "creativity salon," the arts space, which opened June 1st, 2011, hosted up to 20 events a month, including education, exhibits and performances. Any given night could feature jazz, classical, folk, opera, flamenco dancing, spoken word, experimental film or a "punk renaissance." Classes on art and writing—even hat-making—have been popular.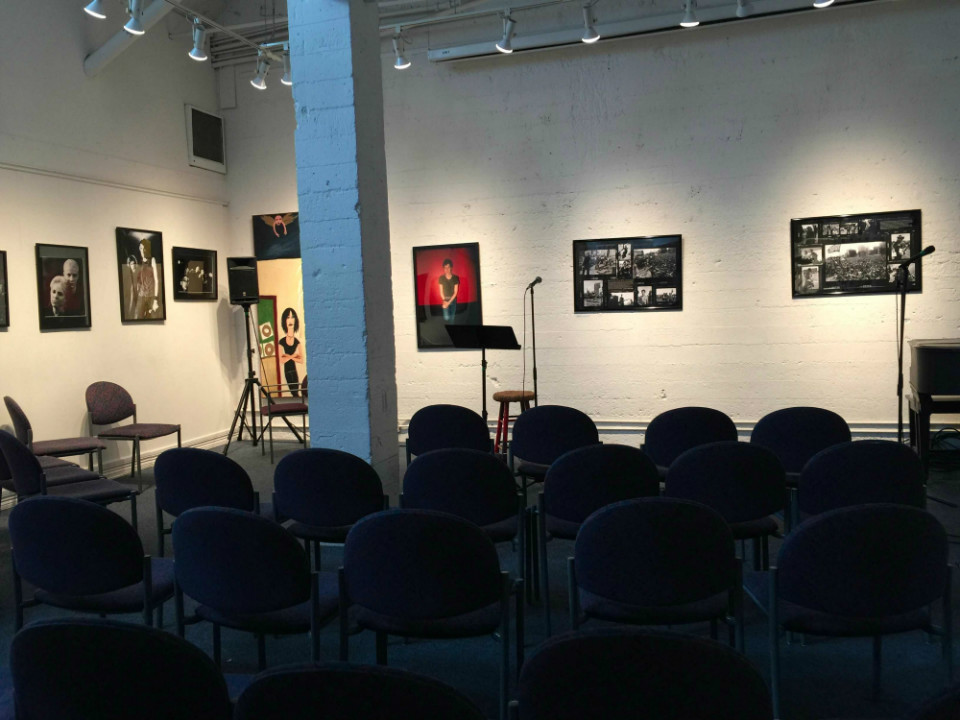 Performance space at the Emerald Tablet. Photo: Geri Koeppel/Hoodline 
A highlight for Heywood were the concerts by Classical Revolution, a group of classically trained musicians who began performing at Revolution Cafe in the Mission "for the joy of it," Heywood said, and for what they get passing a hat. Now, there are more than 30 chapters across the United States, Canada, and Europe.
Another proud moment was when Charles P. Stites won an award for best solo performance from San Francisco Bay Area Theatre Critics Circle in 2014 for The Island of Dr. Moreau. They're hoping the performance of King Lear with puppets by Independent Eye, staged in April, wins one this year.
Heywood, a painter, and Guzzini, a writer and artist, met in Europe, and he moved to the United States a week before Sept. 11th, 2001, Heywood said. When asked why they started the Emerald Tablet, Guzzini said, "Because for me, it's the way I want to live ... I've gotten an amazing cultural experience for the last four years." He said venues like theirs are incubators for artists and performers who might not have a huge following yet, but need a place "where other people are going to show up and find out about you. It's necessary to support the artists who are trying to establish themselves."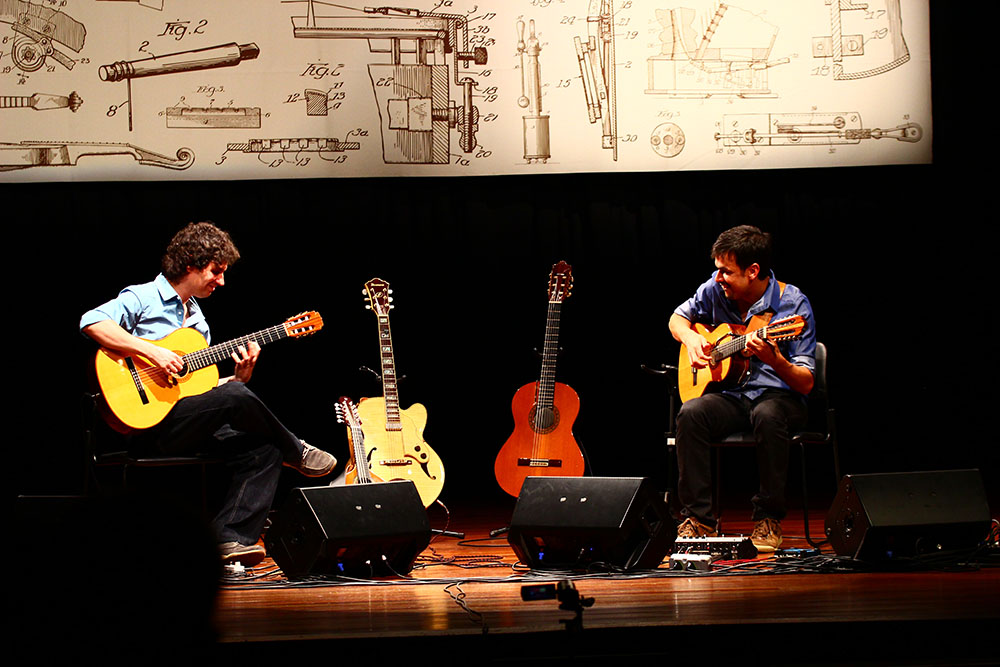 Duo Almir Cortes & João Paulo Amaral. Photo: The Emerald Tablet website
Heywood said the Emerald Tablet was "about bringing together right-brain and left-brain activities. We feel there's too much separation and too much specialization." She enjoys pairing physics with music, for example. She and Guzzini hope to take their shows on the road to other arts spaces, such as the Red Poppy Arthouse or Viracocha, or places such as nearby North Beach performance space/bar and restaurant Doc's Lab. 
"I don't believe there are enough venues like this in the city," Guzzini said. "There's not enough of it because the rent's too damn high." The current Emerald Tablet occupied a 2,650-square-foot space that had been empty for 18 months when the founders leased it for $1 per square foot. Heywood said she doesn't think the landlord has a new tenant lined up yet.
"We really exemplify what North Beach is all about with the intersection of cultures and all different kinds of people—from crusty old Beatniks to classical pianists to flamenco dancers," Heywood said. "The young writers community is here. It gave a lot of people in this neighborhood hope."