Founded in 1974, San Francisco FrontRunners is the founding chapter of what has become a worldwide organization of LGBTQ running and walking clubs, with more than 75 chapters worldwide, including clubs in Australia, Chile, Japan, Sweden, and more. To learn more about the club, its four weekly runs and walks, and the upcoming annual SFFR Pride Run, we chatted with members Bob Callori, Ned Moran, and Jason Brock.
Now in its 41st year, FrontRunners was the brainchild of Jack Baker and Gardner Pond, who created it as an extension of Lavender U, one in a wave of '70s "free universities" that offered classes in the arts, New Age subjects, and physical activity. The club's name originates from Patricia Nell Warren's 1974 novel The Front Runner, an honest portrayal of gay life that was the first work of contemporary gay fiction to reach the New York Times bestseller list. (It ultimately sold 10 million copies.)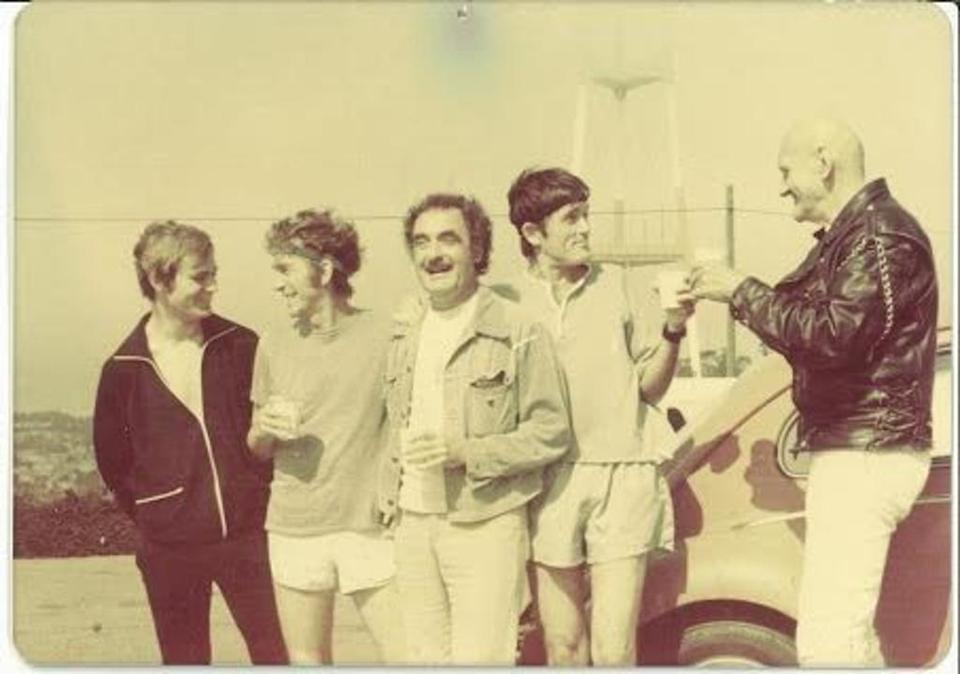 Early SF FrontRunners.
That sense of community has sustained FrontRunners for over 40 years. According to the FrontRunners website, the organization aims to offer "a fun and welcoming place to meet people who share your passion for running and walking. We are a gathering place for adults of all ages, sizes, genders, ethnicities, and speeds."
Callori, a retired architect and Noe Valley resident, wasn't a runner for most of his life. In fact, it took losing his job to kickstart his passion for the sport—despite being in his 60s. "I had been laid off, and a friend of mine said, 'Why don't you come with me on Saturday?' We walked around Stow Lake, and I never looked back."
He attributes the club's appeal to its welcoming environment. "It's like family, no matter where you go. The friendship and camaraderie amongst members forms a family environment where we can share the experience and pleasure of being active. Running becomes a community adventure."

Currently, the club holds four regular runs/walks each week, on Sundays, Tuesdays, Thursdays, and Saturdays. "Our Saturday run is our most popular, with about 40 to 75 people participating," says Moran. The group meets at 9am at the Stow Lake Boathouse in Golden Gate Park and runs/walks for about an hour, typically followed by a group brunch outing. "We all work very hard to make this a welcoming and active group for people looking for training and social interaction."
Each run/walk ranges from one to five miles; there's also a 60-120 minute long-distance option offered each Sunday morning, which meets in front of Fitness SF's Castro location. The club stresses that all levels of ability are welcome.
Little Black Dress Run, 2014.
"FrontRunners is both a dedicated running and walking group, and a social organization that sponsors civic and entertainment activities for the benefit of the whole Bay Area community and its members," says SFFR president and recently retired technologist Ned Moran. In addition to its four weekly meetups, San Francisco FrontRunners holds monthly social events like movie nights, cultural outings, volunteering at race water stations, and mixers with other LGBTQ clubs. There are also annual traditions like the New Year's Golden Gate Bridge run and waffle breakfast, Oscars viewing party, the Little Black Dress run, and the End of the Year Banquet.
FrontRunners' global reach speaks to its foundation of inclusion and connection. Many members joined FrontRunners in other cities, then used the club as a way to build a new community once they moved to San Francisco. "I started with FrontRunners in Tucson, Arizona, where my friends got me into it," says chapter vice president Jason Brock. "When I moved to SF, my boyfriend at the time took me to the Saturday morning run, and I was hooked."
Brock says that groups like FrontRunners are vital to the LGBTQ community. "There needs to be a healthy way to meet with other LGBTQ people, outside of just drinking at a bar or hooking up."
Pride Run starting line, 2013.
As one of San Francisco's longest-standing LGBTQ organizations, FrontRunners takes pride in giving back with its annual Pride Run, founded in 1979. The event benefits a different LGBTQ community group each year; 2015's beneficiary, the Pacific Center for Human Growth, provides affordable mental-health and wellness services to LGBTQ people, fostering and enhancing their self-respect and well-being. A sanctioned USATF (USA Track and Field) event that typically draws 400-500 runners, the Pride Run will take place this Saturday, June 27th, at Metson Lake in Golden Gate Park. Both a 5K and 10K race are offered; online registration has closed, but runners can register on-site for $40. 
For its weekly runs, FrontRunners welcomes new members at every level; no previous experience is required. Participants don't even have to run—walkers, joggers, and wheelers of every speed are welcomed. "Just show up at one of our runs/walks and we will solicit for new or visiting runners joining the group," says Moran. "We have an outreach committee and make every effort to welcome new runners to the group and make them feel at home."
Learn more about SFFR's history, regular events, locations, and start times on their website. Those interested in joining can also contact outreach members Bob Callori at (415) 821-7988, or Diana Sisneros at (415) 387-7523.