A new lounge and nightclub is getting ready to open at 447 Broadway between Montgomery and Kearny, and the owners hope it will help revitalize a strip that's struggled in past years.
Hue Lounge and Nightclub will open on July 10th in the former A3 Atmosphere dance club. It aims to be a good neighbor by bringing not just a chic weekend dance club, but a low-key lounge for happy hours Wednesdays through Saturdays and an adjacent restaurant that will serve lunch and activate the street during the day.
"We are aimed at the after-work young professional cocktail scene with food and a nice craft beer selection and great wine selection," said Terrance Alan, a consultant for Hue and founding member of the San Francisco Entertainment Commission. (He is no longer on the commission.)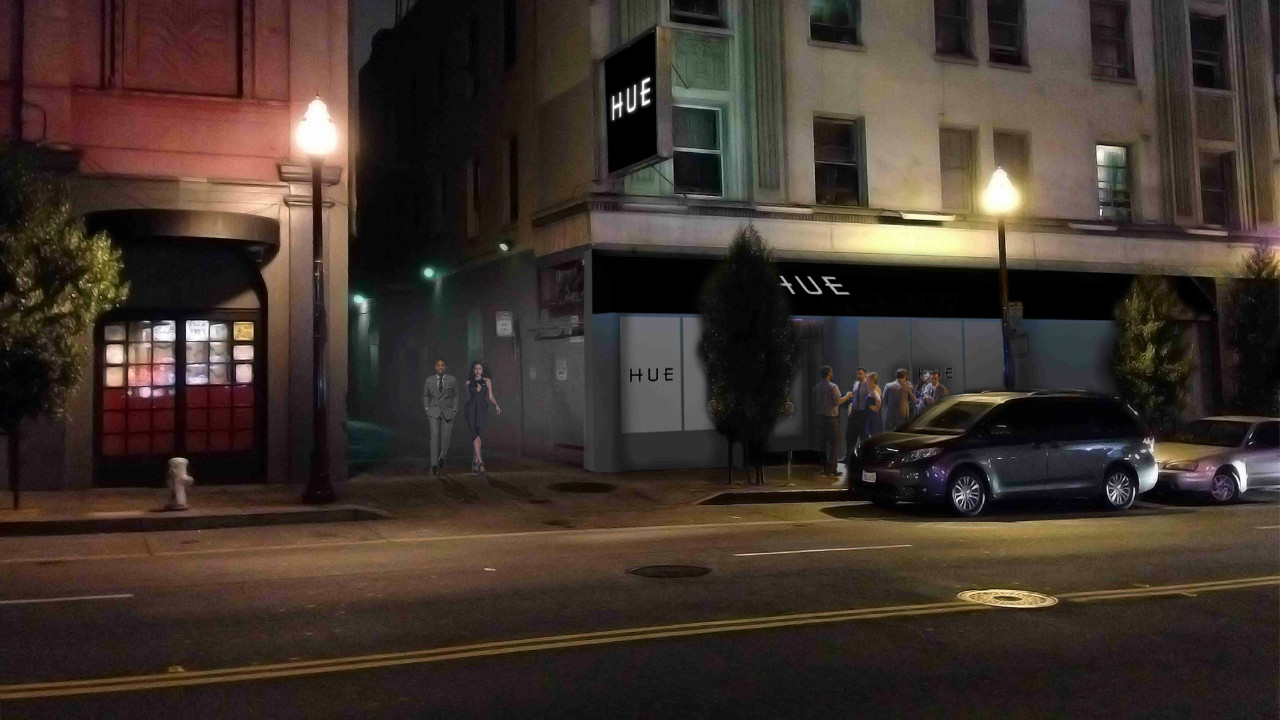 Hue facade. Image: Courtesy of Hue
Alan continued, "The businesses on Broadway need to see themselves as destinations so that people come for the food, they stay for the dancing and nightlife, and those that are so inclined may go to the adult clubs. This could truly be a destination spot where someone could spend an afternoon and evening. Broadway can be a bright spot."
The Hue team includes Justin Arowcavage, chief operations officer; Guy Carson, acting general manager; Bennett Montoya, talent buyer; and John Windsor, security specialist. Carson co-owned and managed Café du Nord and the Swedish American Hall from 2003 to 2014 and Montoya owned Atmosphere, which saw large numbers of police calls and complaints from neighbors, and also owns Hue.
"We expect Bennett and his team to actively participate in our Top of Broadway CBD Services and Safety Committee meetings, to communicate regularly with SFPD Central Station and our security team and to follow through on their commitment of better venue programming and no longer accepting party buses," wrote Top of Braodway CBD president Stephanie Greenburg to Hoodline. "I am cautiously optimistic."
"Absolutely no party buses" will be allowed to patronize the club, Alan promised in an interview with Hoodline. This issue has been a sore spot among neighbors for the unruly behavior party buses often bring to the area.
The front of the building, called The Blue Room, will house the lounge, intimate white vinyl sofa seating areas, large video screens and high-top bar tables. It'll be open 6–10pm Wednesdays through Saturdays and will feature Top 40 and popular tunes, but not at ear-splitting levels. "The one promise that I will make is you can sit here like you and I are doing and you can talk and you can hear me and you won't have to shout at me," Alan said during our interview. During nightclub hours, parties can reserve the lounge areas and order bottle service. The white walls and seating will be imbued with an array of color from strings of programmable LED lights (thus the name Hue).
There be no more dark, cavernous gymnasium-like dance floor in the back. Instead, the Red Room, as it's called, boasts multi-level LED-lit white seating areas, a raised stage for live performances,  and mirrored walls to better reflect the colorful lights. On Sunday nights, the space will host bachata dance lessons from 5–7pm and a dance party after that. (Bachata is a social dance that originated in the Dominican Republic.) The room will also be rented for special events.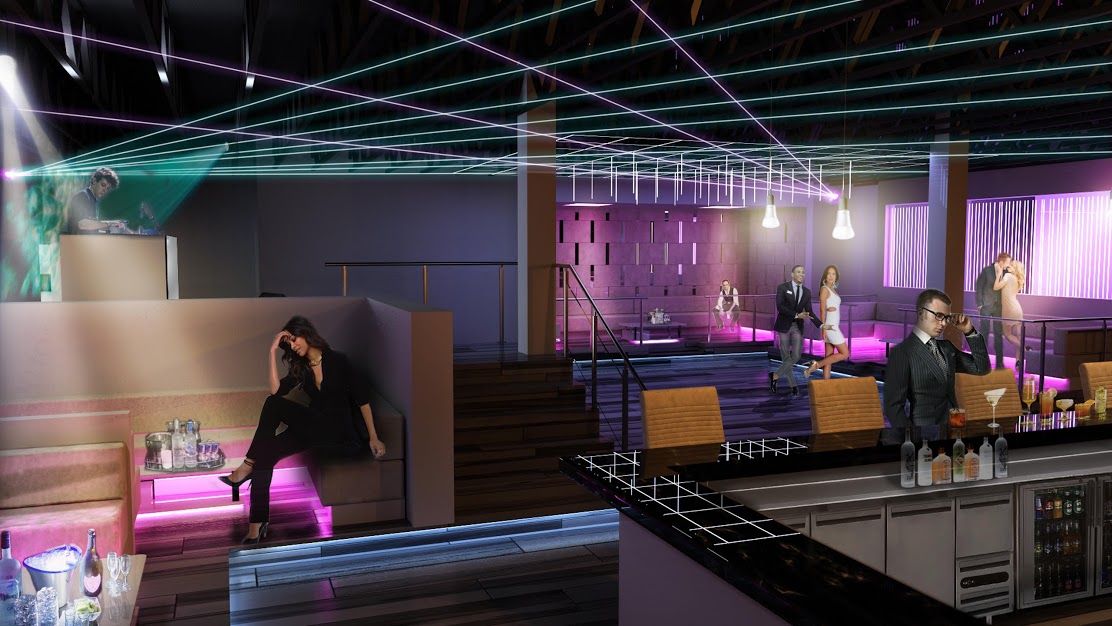 The Red Room. Image: Courtesy of Hue

Alan said the lounge will serve catered light bites such as sushi until they find a partner for the next-door restaurant and get it up and running. The lounge has large front windows with drapes that will be open during the day to present a more welcoming appearance than the monolithic walls of neighboring buildings.
Though vacancies with shuttered and locked storefronts continue to plague the strip, Alan hopes Hue will be a step in the right direction to continue to attract businesses and foot traffic. "Broadway had a very low point that it is now leaving at record pace," he said. "We have the CBD to thank, and we have leadership in the community to thank."