As we noted briefly this weekend, the new SoulCycle has debuted in the historic former Bank of American building at Castro and Market, just in time for Pride.
We first caught wind of plans for a Castro SoulCycle location back in September, and a conditional use authorization in December cemented plans for the indoor cycling gym to move into the former Diesel storefront, which has been vacant since January 2013.
Opinions have been divided over the arrival of SoulCycle, which has gained notoriety for its cult-like following of devotees. Among Hoodline commenters, some have applauded the prospect of a business that will bring foot traffic to the corner, while others aren't pleased about the high cost of classes and additional formula retail in the neighborhood.
Soulcycle's initial outreach to the Castro and LGBTQ community included sponsorship of the recent Frameline Film Festival, and an energetic float in Sunday's Pride Parade:
Last week, however, Soulcycle ran into controversy when the company flew five flags with the SoulCycle logo overlaying the classic rainbow design. Vicky Land, Soulcycle's Senior Public Relations Manager, told us that after receiving negative feedback from members of the community, SoulCycle decided to take down the flags and replace them with rainbow flags, sans logo.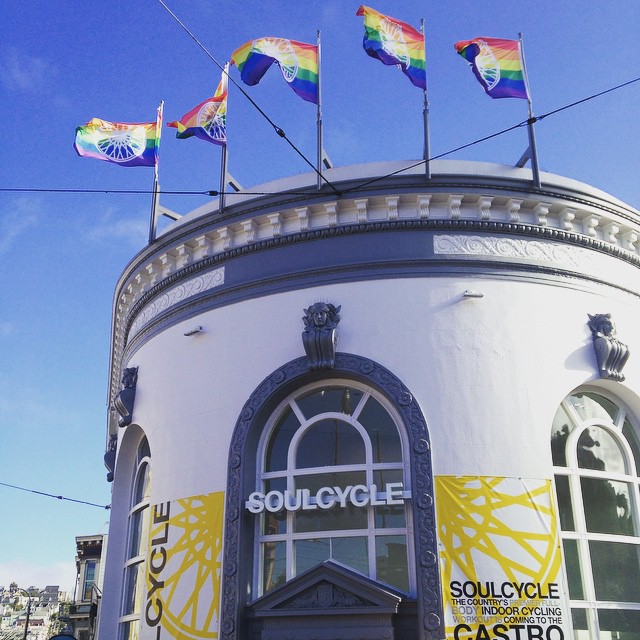 "We have used flags with our logo in other cities and have never received complaints, but understood the importance of making the change in the Castro and quickly removed them," Land explained. "Soulcycle is trying its best to be a part of the community and in no way meant to disrespect the Pride flag." The rainbow flags without the logos will continue to fly above the building.
We stopped by the new space, open since Thursday, to check out what's inside.
When you enter the noticeably remodeled interior, patrons can check in with front desk staff members and rent shoes for class, as well as browse a small selection of branded apparel. After that, you head straight back to the locker rooms to store items. Each locker has a USB port as well for easy device-charging while you're working out.
Bathrooms with showers are located upstairs from the main level, and include towels and changing space.
If you're taking a class, you head back to the front of the building and walk inside the 50-bike studio space. The bikes, which are placed close together, can be adjusted to fit the rider (instructors can assist you with if you're new).
With each class, expect a 45-minute workout to a soundtrack of high-energy music led by a Soulcycle instructor. The workout costs $30 per class, with an additional rental fee for shoes if you need them.
If you're interested in checking it out for yourself, you can register and reserve a space online. (You can also stop by the front desk and see if they have any openings.) There are four-eight daily classes that start between 6am and 7:30pm.
What do you think of the newest addition to the neighborhood? Let us know in the comments.