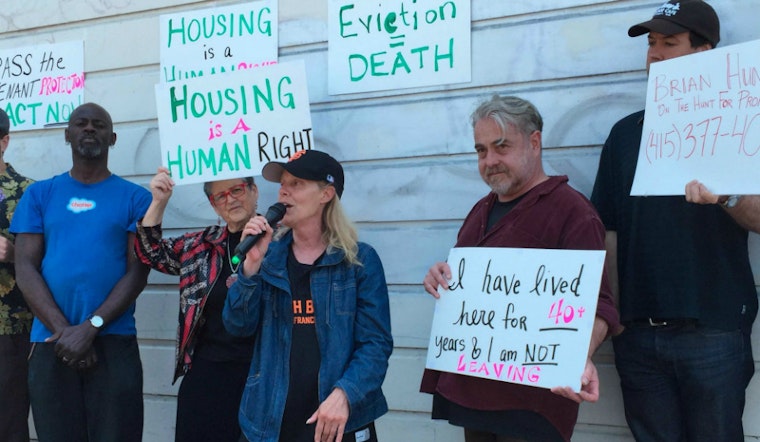 Published on June 26, 2015
District 6 Supervisor Jane Kim and Board of Supervisors District 3 candidate Aaron Peskin organized appeared at a protest on Thursday at a multi-family dwelling where tenants, including a gay cancer survivor with AIDS, received Ellis Act eviction notices.
The building at 1964–1968 Larkin St., adjacent to the western opening of the Broadway tunnel, includes three apartments. It's the latest to be in the crosshairs of housing activists and politicians fighting Ellis Act evictions. The Mission has been "ground zero" for Ellis Act evictions, Peskin said, but Chinatown, North Beach, Nob Hill and Russian Hill are seeing more.
To help discourage these evictions, Kim, who supports Peskin's bid for the Board of Supervisors, introduced legislation on June 16th called the Tenant Protection Ordinance. The protest, which drew about 11 demonstrators—including some of the residents being evicted—drew attention to the proposed new law and the plight of those displaced.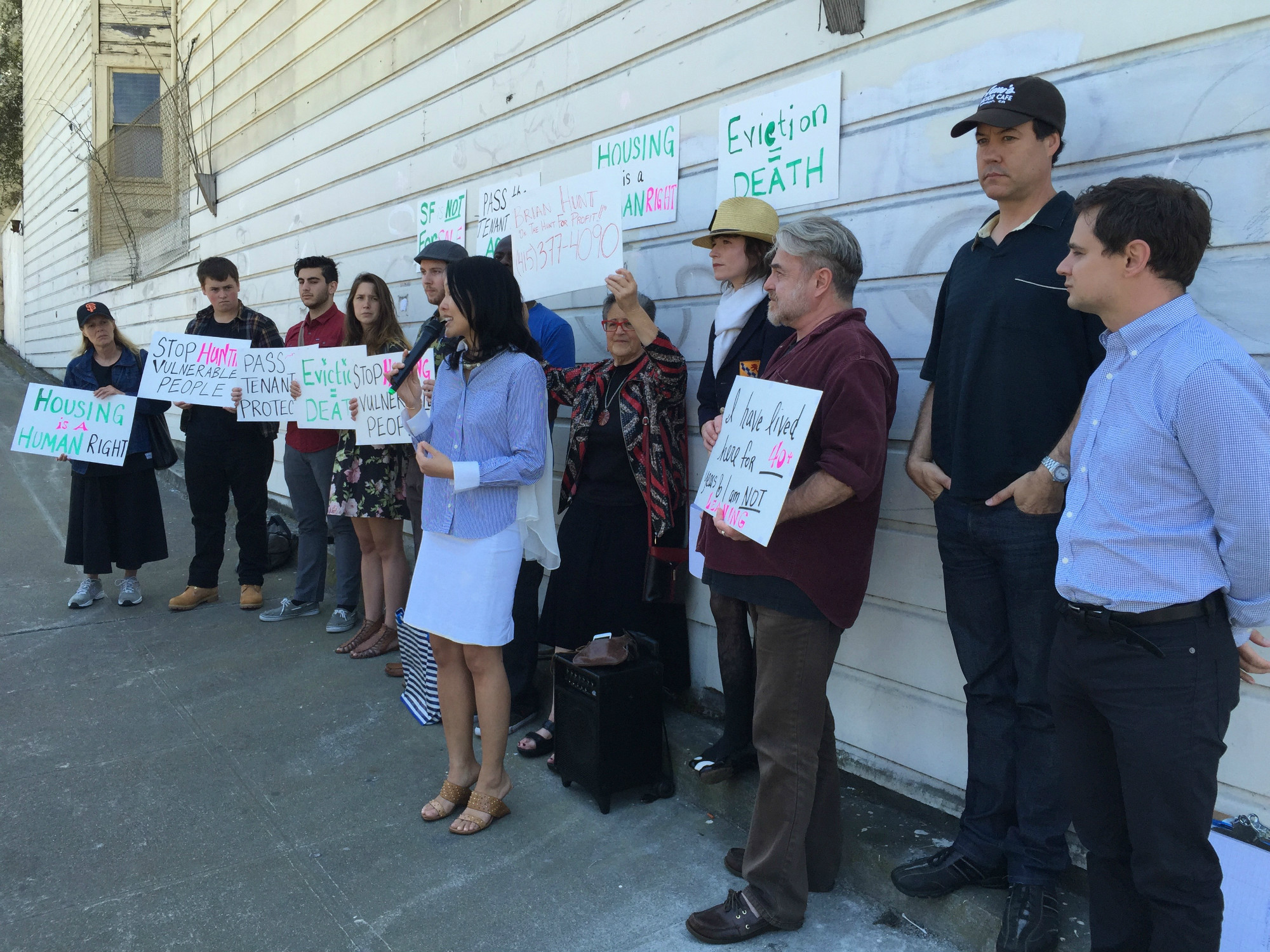 District 6 Supervisor Jane Kim addresses protestors.
Kim's legislation, if passed, would ensure that the next tenant moving in after certain types of  evictions would be entitled to the pre-eviction rent prices. It would also crack down on  "gotcha" evictions. At the protest, Kim mentioned cases where tenants got the boot for minor infractions such as leaving a stroller in the hallway or a bike in the lobby, or for hanging laundry outside. The legislation would also prevent landlords from evicting tenants living in illegal units, sometimes called "granny flats" or "in-law flats" because part of a dwelling—such as a garage—was initially converted to house a family member or members.
Kim said so far, only three other supervisors—John Avalos, David Campos and Eric Mar—are co-sponsoring the legislation, and she isn't sure if she will get enough support to pass it. The Land Use and Transportation Committee, consisting of Kim, Malia Cohen and Scott Wiener, is supposed to vote on it before the summer supervisors' break.
"What's going on here is unconscionable," Peskin told Hoodline. "From 2010 to 2013, Ellis Act evictions doubled." There were more than 2,000 recorded evictions in 2014 and "probably three times that," he added, from buyouts, threats and other "no-fault" evictions. The tenants at 1964 Larkin are fighting their evictions with pro bono legal help from the Tenderloin Housing Clinic.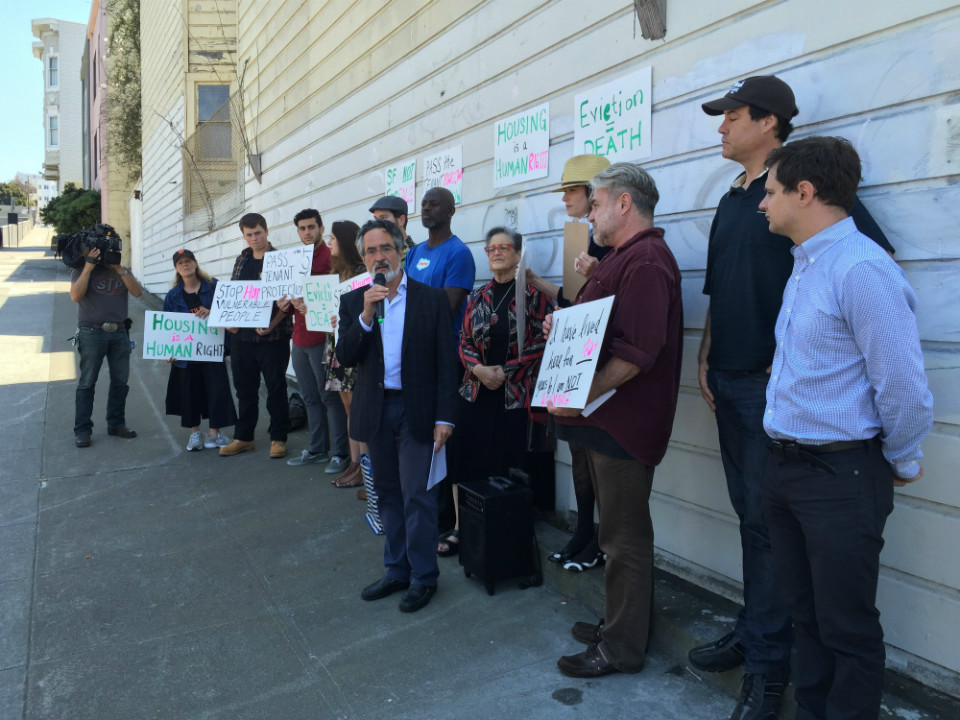 District 3 candidate Aaron Peskin speaks at the eviction protest.
Theresa Flandrich of the North Beach Tenants Committee was at the protest in support of the residents of 1964 Larkin. "These are speculators mostly from out of state, many from out of country, and they are destroying our neighborhoods," she said. Flandrich had flyers listing a network of agencies that help tenants fight evictions and giving tips such as, "Keep a written record of any incidents of harassment."
One of the tenants, Robert Dodd, who has AIDS and is a cancer survivor, worries that the stress of an eviction and move will take a toll on his health. "If I don't have this apartment, I don't know what I'm going to do," he said. He said the building's owners, Brian and Erica Hunt, offered him $50,000 to move out. The Hunts own seven other properties in the city.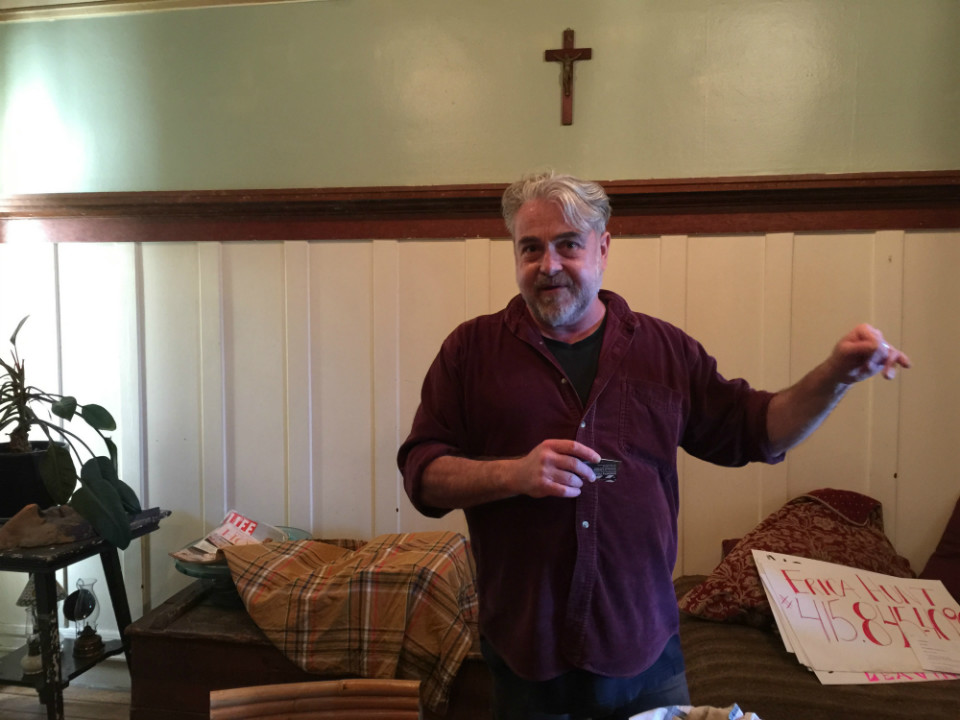 Robert Dodd, a resident of 1964 Larkin St., invited guests into his home after the protest.
When the Hunts couldn't get the tenants to accept buy-outs, on Feb. 13th they filed intent to withdraw units from the rental market pursuant to the Ellis Act. According to Zillow, the building was sold on May 21st, 2014, for $1.65 million and is now possibly worth more than $2.6 million. Hoodline reached owner Brian Hunt, who said he lived in San Francisco for 25 years and now lives in Marin County.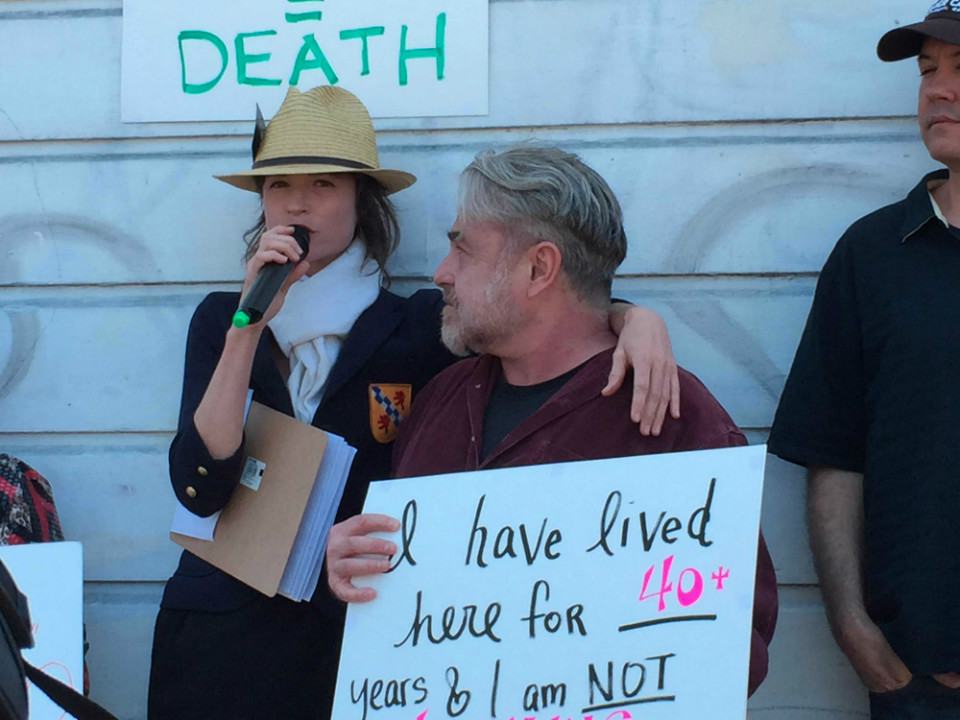 Jean Yaste and Robert Dodd
Hunt said he was not aware a protest was scheduled, but did say someone had previously posted a vinyl sign on the building with his home address, "which feels like an intimidation." Protestors also held signs with his phone number. When asked what his intentions were when buying this building, he said, "My intention is first to renovate the building and get it in good shape. It's an ongoing process." When asked if he'll sell the units, he said, "Now with the Ellis Act, I can't keep it as a rental. I can keep it as a vacant building, which doesn't serve me or the community. I can keep it vacant or pass it on to someone else."
Hunt also said tenants displaced by Ellis Act evictions aren't losing their homes. "I'm displacing them from the residence," he said. "It's their rental; it's not their home. It's where they live. If I don't own it, it's not my home." He also suggested people who are displaced should seek roommates to help cover the rent or look into programs for lower-cost home ownership through the city. " There's certainly TICs for $250,000 or $300,000," he said. "It's not going to be huge, but I believe there are places like that in San Francisco." He also disputed the statistic that the average rent in the city is $3,500.
When asked if he felt a sense of responsibility to the community, Hunt said yes, but also said putting the onus of affordable housing on property owners isn't fair. " It could've been great if we could've worked out something that was mutually beneficial," he said, adding that cities and communities should come up with solutions. In fact, he told us Peskin called yesterday and told him, "I think we can find a buyer for your building and stop the Ellis Act." Hunt added, "I said great; let's do it."
"I met with Whitney Jones [director of housing development for Chinatown Community Development Center] late yesterday and conveyed the information regarding 1964 Larkin," Peskin told us. "He is researching it to see if the site could be acquired under the small site acquisition program. I should know more next week." The Small Sites Program provides for acquisition and rehabilitation financing for the multi-family rental buildings of five to 25 units, but Peskin wrote that they're now beginning to include buildings with fewer than five units.
An aide for Julie Christensen said she couldn't comment on whether the District 3 supervisor would support Kim's legislation. When asked for input on her efforts to address the housing crisis, Christensen offered this emailed statement: "My office has been in contact with the tenants at Larkin & Broadway, and others throughout the district. We are working on a number of avenues towards affordable, middle income, senior, and accessible housing throughout District 3—both current and long-term solutions to creating and retaining housing. We have been able to prevent and delay a number of evictions since I took office. While political theater has its place, we find that aggressive enforcement of tenant's rights, providing resources for legal representation, and communication has been much more effective in providing results."