For Gianluca Legrottaglie, opening Montesacro — the newest eatery in the Sixth Street corridor — has been quite the roller coaster.
With dreams of opening a pizzeria, $3,000 in the bank and not a single investor lined up, Legrottaglie — a partner and the wine director at neighboring Italian restaurant 54 Mint — drained his family's bank account to lease a storefront at 510 Stevenson St., just around the corner from ever-popular brunch spot Dottie's True Blue Cafe.
At first, there was nothing appealing about the storefront except its size and affordable rent, Legrottaglie said. The abandoned space had a series of walls that looked like a back room, but there was no entrance. The landlord willingly knocked down the walls, and both he and Legrottaglie were amazed at what they found: two 100-year-old coal-fire ovens, in perfect condition.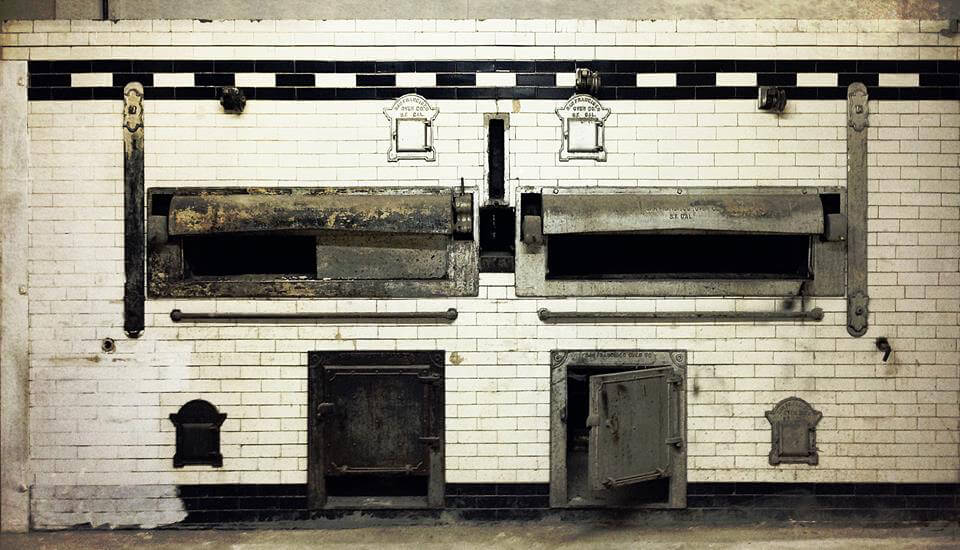 The newly discovered ovens. (Photo: Montesacro / Facebook)
Enamored by this discovery and the building's history, Legrottaglie leased the shop. After five years at 54 Mint, Legrottaglie was no stranger to the neighborhood. But soon after construction on the space began, the location's current reality settled in.  While "54 Mint is like walking into a movie set," he said, "it's a completely different environment." People camped, had sex, did and sold drugs, and engaged in other illegal activities at all hours of the day and night on his block of Stevenson. "At night, it was like watching zombies."
Despite mounting construction costs and anxiety, Legrottaglie decided to move forward, reasoning that the area's residents needed help improving the environment, and businesses like his could help. "If it failed, at least I could say I tried," he said.
Legrottaglie is exactly the type of small-business owner that economic development nonprofit Urban Solutions seeks to fill the Sixth Street corridor's many vacant storefronts, said Helene Sautou, the organization's director of neighborhood services. For more than 20 years, Urban Solutions has been working with building owners and small businesses to build sustainable neighborhoods in San Francisco's underserved communities, including Central Market, the Tenderloin and Lower Polk. The organization offers business attraction and retention services to both landlords and potential tenants, from negotiating leases to helping small businesses secure grants, loans, and permits.
Just because you see empty storefronts doesn't mean they haven't been busy working on the space, Sautou explained during a walk down Sixth. "It takes a long time to fill or replace a blighted business."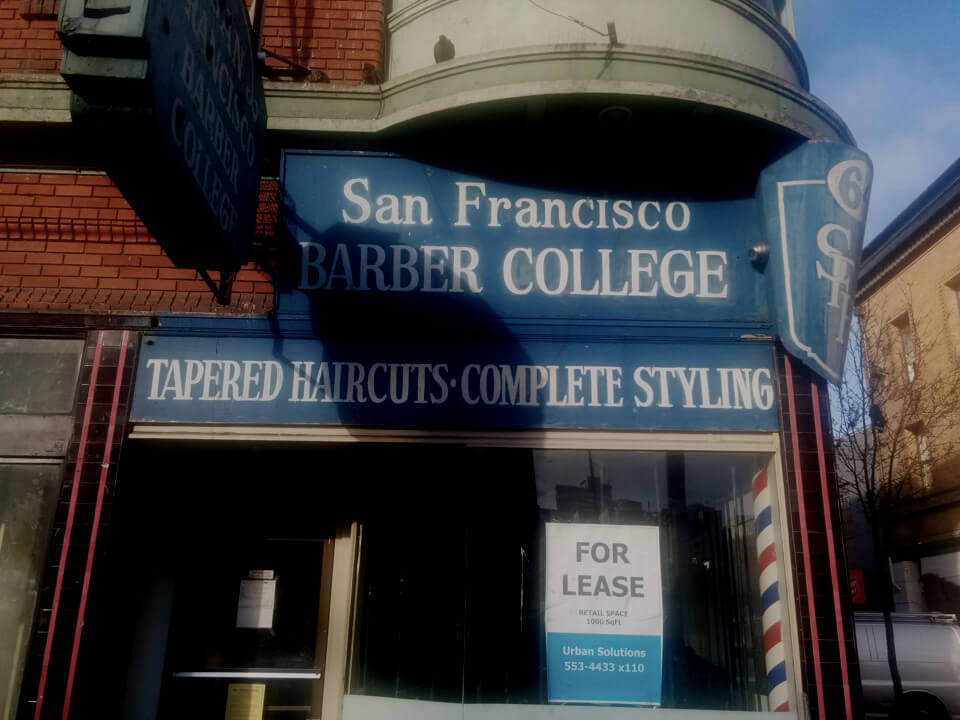 Urban Solutions spent more than a year negotiating a lease for this space, which ultimately fell through. (Photo: Brittany Hopkins/Hoodline)
Timing is everything, she says, and building owners will keep storefronts vacant for a variety of reasons. Some are holding out for just the right tenant, while others are focusing on filling or remodeling their upstairs residential units first. Many have rent expectations that — when combined with structural issues like a history of leaks, non-ADA compliant entrances, or health and fire code violations — make them unattainable for many upstarts.
Retaining existing businesses is always a constant battle, Sautou added, and changing the perception that the street is too dangerous to walk on is a key component of her organization's efforts.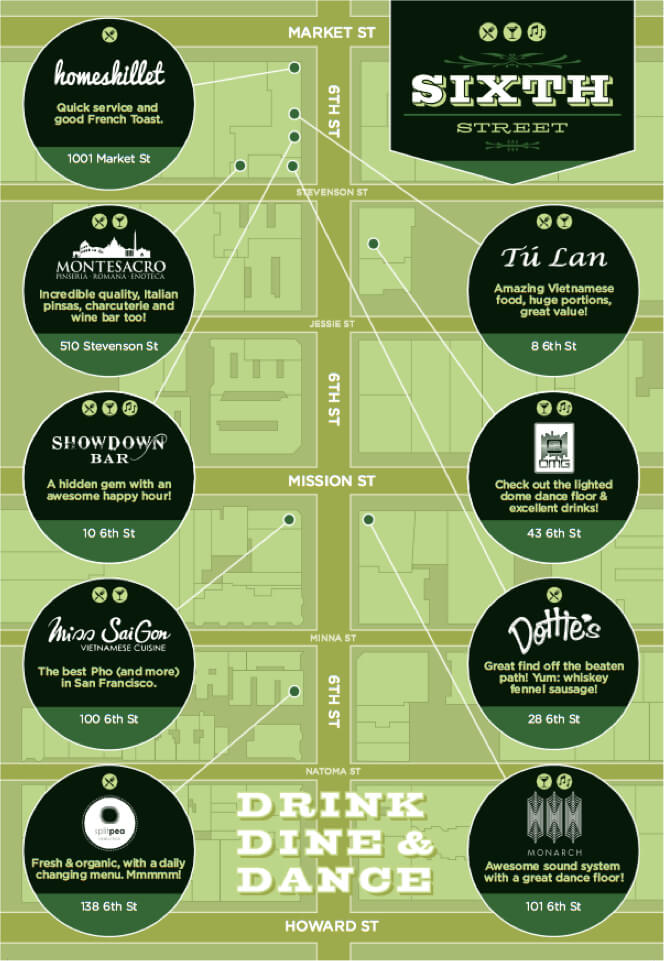 Urban Solutions' Drink, Dance & Dine on Sixth Street flyer, which aims to drive foot traffic to the corridor. 
While Sixth Street doesn't have a formula retail ban, Sautou thinks formula retail isn't necessary—or desired—to turn the corridor around. She says formula retail stores can be a boon to blocks that "need extra help" without displacing or competing with existing small businesses, citing the CVS at the southern corner of 7th and Market, which replaced a check-cashing institution with a pharmacy and affordable groceries.
The corridor's vacant storefronts are generally too small to support formula retail operations. What the area does need, she argues, is "experienced owner-operated businesses" that are "unique destinations" for neighbors and tourists, like Dottie's, Vietnamese restaurant Tú Lan, and now, Montesacro.
Legrottaglie says he wants his restaurant to be the "Volkswagen of food" — a restaurant with a menu whose appeal supersedes its location, and an atmosphere where people feel completely comfortable, and not pushed out, without spending too much money.
As the menu features a play on pinsa, an ancient Roman flatbread, Legrottaglie likes to say that Montesacro is the U.S.' first "pinseria." Made with a special blend of flour imported from Rome, the dough is proofed for three to five days, then stretched and either topped like a pizza or stuffed like a panino. Montesacro also serves a selection of cured meats, cheese, and marinated vegetables, and offers an extensive international wine list.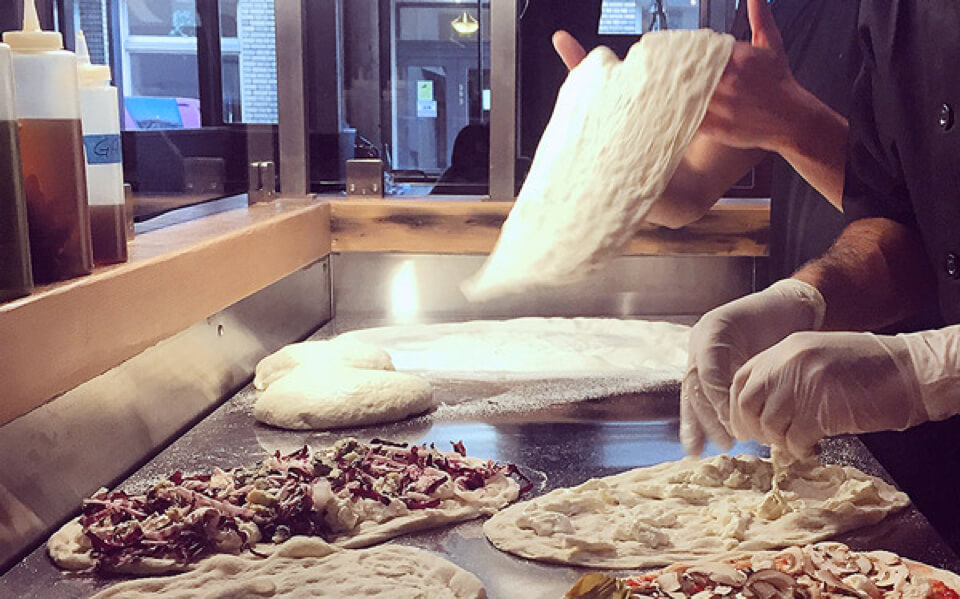 Pinsa being made. (Photo: Montesacro)
So far, Legrottaglie is seeing "an enormous amount of return customers, which is the biggest compliment a restaurateur can get." While he's already seen some improvement in the area's quality of life, he says he still calls the police three to five times a day, six days a week. He's discouraged by the department's response rates, but has seen positive results from teaming up with neighboring merchants to address some of the area's problems. So far, they've had one meeting to brainstorm solutions, which include starting a petition to remove some parking spots on Stevenson Street and installing string lights to illuminate the alley after dark.
Despite the neighborhood's continued challenges, Legrottaglie is actively trying to recruit friends to open businesses nearby as well. So far, he's says he's received just one response: "How long until it's cleaned up? Call me then." He's certain the corridor will become a completely different place in two years, but by then, he says, it'll probably be too late to claim the available real estate.