Thanks to a tip from reader Michael A., we recently learned about a constantly evolving installation of mobiles hanging outside a home on McAllister Street. According to artist Miguel Gutierrez-Ranzi, the mobiles have been up since 2000, with a new one appearing at the end of every month, installed under cover of night. 
Gutierrez-Ranzi has been living at 1269 McAllister Street since 1984, when he joined his partner Alan in the old Victorian home. Built in 1887, the house is one of only a few in the neighborhood to have survived the Urban Renewal Project, which knocked down old Victorians and replaced them with modern buildings. According to Gutierrez-Ranzi, the planner for the project used the house as his office, thereby preventing it from being demolished. 
But for the past 15 years, 1269 McAllister has offered more than just history: it's also home to an ever-changing collection of large-scale mobiles, which hang from the second-story window.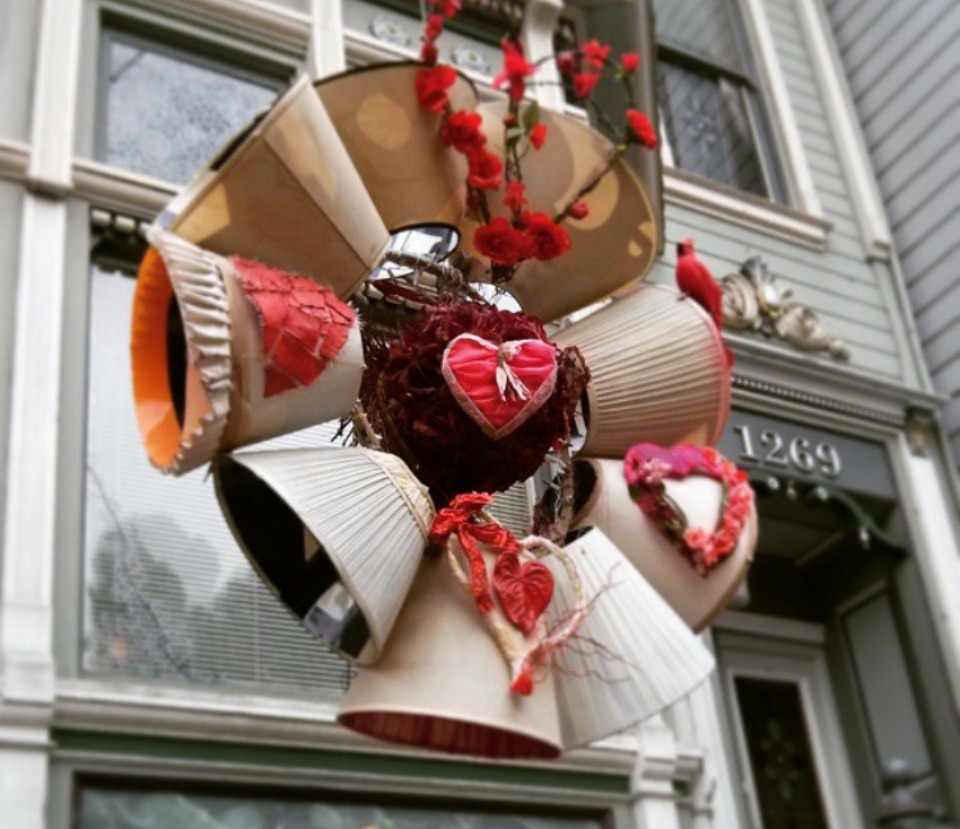 A Valentine's Day mobile made out of lampshades. Photo: Michael Renee Armida
Gutierrez-Ranzi, who originates from Colombia and came to San Francisco by way of Boston and Key West, is a former theatrical costume and set designer. He's worked on theatrical projects at the New Conservatory Theater and the Tennessee Williams Center, floats for the Pride parade, and fashion shows for drag queens. His love for colorful creations and repurposed materials inspired him to create the monthly art installation outside his home.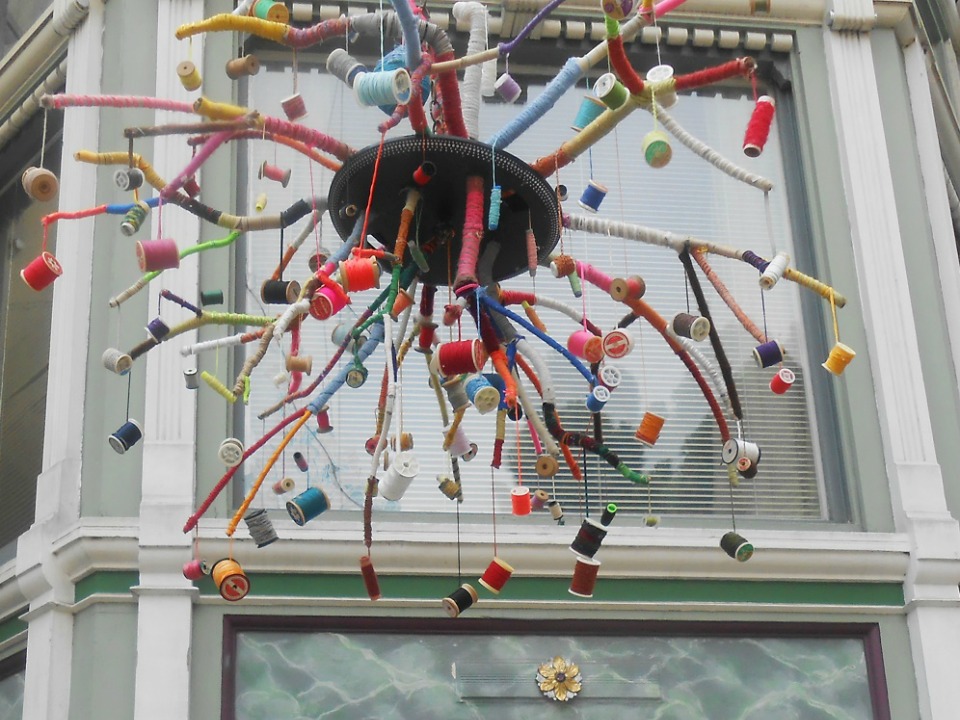 Photo: Miguel Gutierrez-Ranzi
His mobiles are made from a wide variety of items—spools of thread, branches from the backyard, plastic bottles, plastic strawberry baskets, CDs, light bulbs, and broken rocking chairs have all been used. An expert at finding things, Gutierrez-Ranzi peruses local flea markets and garage sales for inspiration. "Everything I see has potential," he says. "Some see trash, I see materials."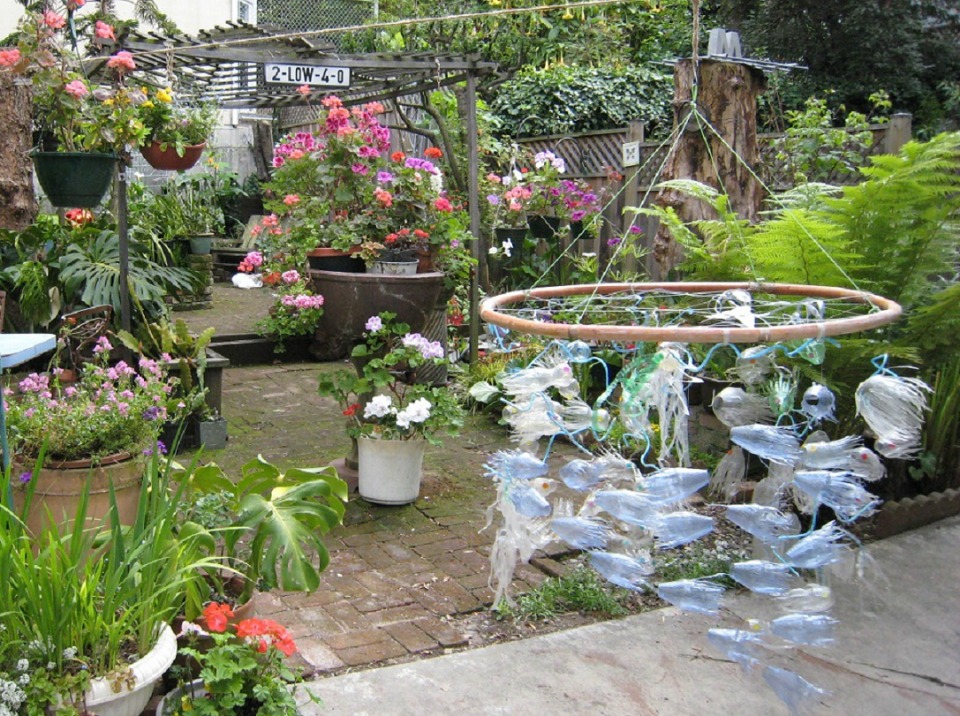 A plastic bottle piece in the backyard. Photo: Miguel Gutierrez-Ranzi
Though he's received offers to buy his mobiles, Gutierrez-Ranzi saves each one, repurposing the materials. His garage is brimming with stuff, and a basement storage room is jam-packed with former creations. The upstairs attic is where the magic happens, with stacks of CD cases, baskets of dry pens, and the occasional antique, like an intricately-carved wooden horse, used as materials. "It's a curse to have a big house," he says. 
One room in the basement is reserved solely for materials for his annual Christmas-themed piece. Last year's creation, a Christmas tree made of old credit cards, drew media attention from CBS. 
Gutierrez-Ranzi enjoys creating pieces for various holidays, and has made mobiles celebrating the Olympics (he builds a new piece every four years), Gay Pride, Easter, and Halloween.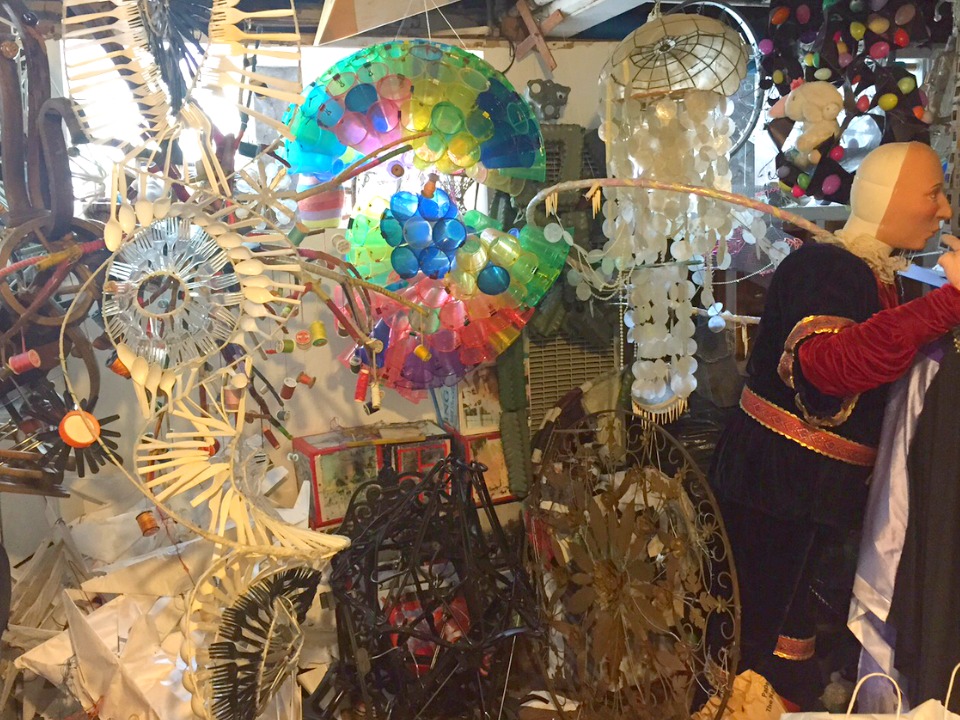 A few mobiles from years past. Photo: Nuala Sawyer / Hoodline
Gutierrez-Ranzi tells us that he's currently 67 years old, and that he plans on dying at age 88—an age, he points out, that is rife with infinity symbols. That means neighbors can look forward to 21 more years of mobiles along McAllister, a gift to us all.
We suggest swinging by to take a look at the current piece, which will be up through the end of June. It's constructed out of pieces of magazine pages, folded and flattened. If you like what you see, leave Miguel a note in his little orange mailbox; he keeps all the comments he's ever received in a shoebox in his attic. "Some make me cry," he confides. "It's wonderful to hear that someone was having a bad day, and that the displays make them feel better."