Next Tuesday, June 30th from 6:30-8pm, North Beach Neighbors is hosting another meeting at the San Francisco Italian Athletic Club (1630 Stockton St.) to discuss traffic-calming measures slated for the community.
As part of the Columbus Avenue Safety Project, SFMTA is proposing bulb-outs at four intersections in North Beach, and some neighbors are concerned they'll slow down response times for emergency vehicles. Others say the bulb-outs will help reduce pedestrian injuries and fatalities, as they slow down traffic and improve pedestrian visibility.
Either way, North Beach Neighbors President Trish Herman wants more information presented to the community before bulb-outs are installed. "In my opinion, they're trying to shove this down everybody's throat," she said.

The previous meeting, on April 30th, included testimony from three firefighters opposed to bulb-outs (they did not speak on behalf of the Fire Department, but as individual citizens). They expressed concern about potential delays in emergency response times and damage to fire trucks. Among the crowd of a few dozen neighbors, several shared concerns that the bulb-outs would further clog traffic, and one was worried about bulb-outs placing pedestrians closer to traffic, which would actually decrease safety. 
At this next meeting, representatives from the San Francisco Fire Department and SF Public Works will speak. Herman hopes a representative from the SFMTA will be there as well, though she said there was some confusion on that, because they initially scheduled a meeting for the same time and date upstairs from the North Beach Neighbors meeting. "We're unsure whether the MTA will come and speak," she said. "If they don't, I'll present what they presented to us at our board meeting."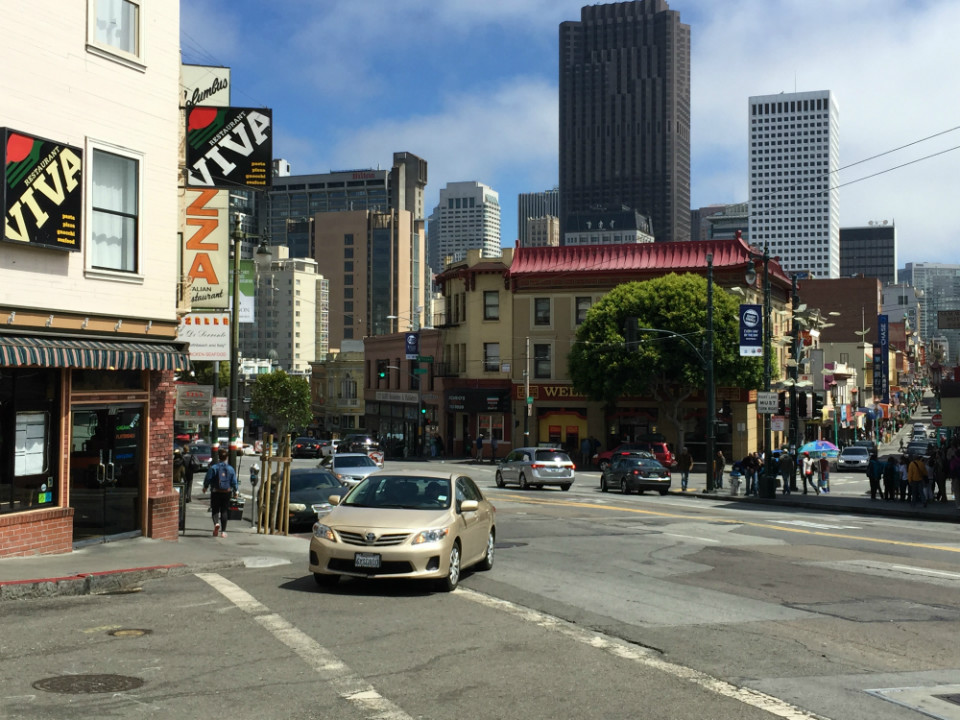 The intersection of Columbus and Grant. (Photo: Geri Koeppel/Hoodline)
Herman said her goal is to get hard facts on the effects of traffic calming on a community and to determine whether it will be good, specifically, for the complex intersections in North Beach. "I'm saying that one size does not fit all," she said, noting that bulb-outs in the Castro have caused traffic back-ups. She said she filed a Sunshine Ordinance request with the SFMTA for documents with proof that bulb-outs work, and the packet she received consisted of studies from 2001 and 2005. "We're dealing with old data," she said.
Removing parking spaces for the bulb-outs is another concern. "They're not considering the vehicle public," Herman said. "Parking has been removed at high rates throughout the city." She expressed particular concern for elderly and disabled people, for whom walking and biking isn't always a realistic option. Another concern is people coming from across the Bay Area who support the business base in North Beach, and need to park to frequent shops and restaurants. "Muni is so grossly inefficient," she said. "North Beach is a difficult neighborhood to get to using Muni."
Herman also said she's never seen data on how many accidents are caused by pedestrians and bicyclists not following the rules of the road. "We all have an obligation to be responsible citizens," she said.
Other neighbors, however, are welcoming the bulb-outs, saying concerns about traffic, parking and the behavior of pedestrians and cyclists divert attention from the real issue, which is making streets safer for the most vulnerable: those on foot and on bikes. "I have three school-age kids, and having walked them to school for the past number of years, [it] scares me to death, because of the way people drive and the way streets are designed," said North Beach Neighbors member Tony Wessling, who's also a member of the San Francisco Bicycle Coalition.
Wessling said he was out of town for the first meeting, but will attend next week to share his views, which are that more pedestrian- and bike-friendly streets create more livable cities. He said he thinks others believe that "the convenience of drivers to drive through our neighborhood is more important than the safety and livability of the people who live there."
As for hard proof that bulb-outs work, Wessling says it stands to reason that cars traveling more slowly around corners would result in fewer deaths and injuries. "Cars are the ones that are killing people ... What they are basically saying [is that] pedestrians and bicycles need to get out of the way and let cars through. In [the] history of San Francisco, there are only three recorded instances of bicyclists killing people."
Regarding emergency-response times, Wessling said double-parked cars and traffic are the real reason for slowdowns. He questioned the need for huge hook-and-ladder trucks to respond to every call, and also asked why the city can't buy European fire engines that are smaller and more nimble for narrow streets and twisting mountain roads. "It makes no sense to design the city around the fire equipment," he said. "It makes better sense to design the fire equipment around the city." He added, "The San Francisco Fire Department needs to think a little more outside the box. If response times are such a big deal, how about a paramedic on a motorcycle? I guarantee it's done in other cities."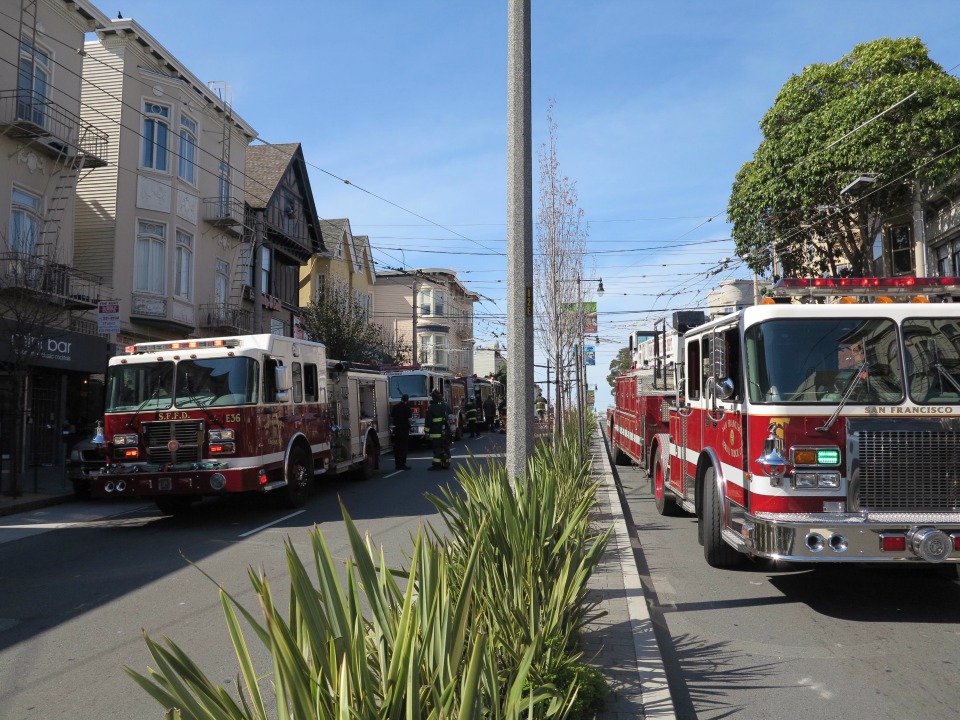 (Photo: Stephen Jackson/Hoodline)
Wessling also doubted the three firefighters' claims in the first meeting that bulb-outs cause costly damage to trucks. "I would love to see what the actual cost is attributable to," he said. "Ask the Fire Department to produce their budget and tell us how much they spend every year repairing axles due to bulb-out damage. Come on. These are incredibly heavy-duty vehicles running over a six-inch curb. Piece of cake. I don't believe there are any significant costs associated with that."
As for the the claim that the North Beach commercial district would suffer if it had fewer parking spaces, Wessling cited a recent study of Fisherman's Wharf that showed business actually increased after parking spaces were removed on Jefferson Street. Pedestrians now often step into the street to get a better view of oncoming traffic, he said, so bulb-outs would help prevent that. He says they'd also decrease crossing distances: "It certainly makes it safer for older people, children and people with disabilities, because they're not in the street as long."
A few of the studies Wessling cited as having influenced his views include Pedestrian Safety Impacts of Curb Extensions: A Case Study (2005), a document from the North Central Texas Council of Governments, and an Urban Street Design Guide from the National Association of City Transit Officials.
Given the variety of stances on traffic calming, the June 30th meeting is intended to provide a forum for neighbors to express their views. "I think information is power," Herman said. "I do believe it's incumbent upon all of us to provide information that can be understood, so people can make a decision."