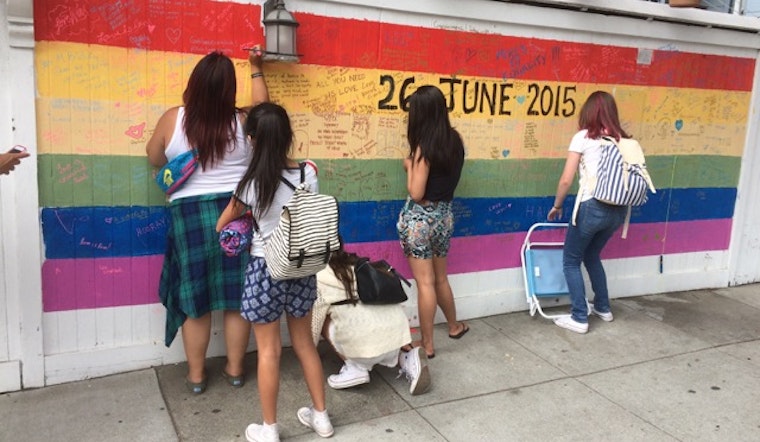 Published on June 30, 2015
After Friday's historic Supreme Court ruling on marriage equality, many people took to the Internet to tweet and post their thoughts on the subject. Folks in the Inner Sunset have the option of taking a more analog approach: Instead of adding a rainbow flag to her online profile photo, a woman on Irving Street near 6th Avenue has added one to her fence and invited anybody walking by to write their comments on it.
The flag mural went up on Friday afternoon, complete with the date "26 June 2015" to commemorate the occasion. Pens were attached to the fence on Saturday morning, and over the rest of Pride weekend almost every available inch of space was filled with messages from the neighborhood. In addition to inscriptions in English, messages in Chinese, Farsi, French, Korean, Spanish, Swedish, and Turkish have been added to the wall.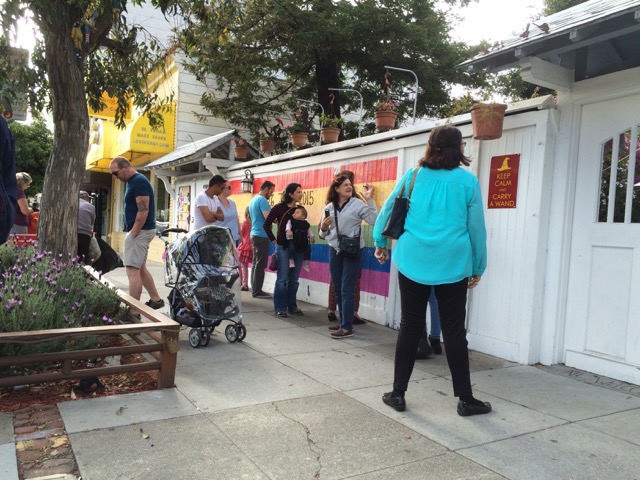 Many people have written their thoughts on the universality of love, while others remember departed friends and family that never got to see this day happen. "I can't wait to go to my brother's wedding!" wrote one exuberant posting. Tears were visibly shed as some of the notes were written.
Though support for the mural and the news was far greater than the court's close 5-4 decision, not every reaction was a happy one. Some vocal opposition marred the mostly positive gathering over the weekend, and at least one written comment was so hateful that it had to be removed from the wall.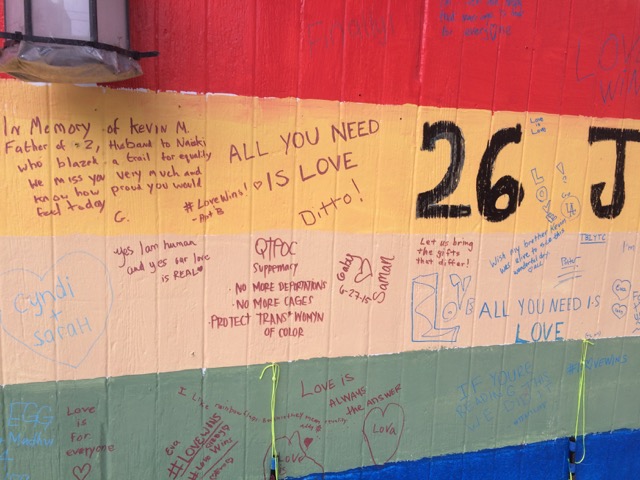 This is not the first time that the fence has been decorated. Before both the 2008 and 2012 presidential elections, the fence displayed a large "Yes We Can!" banner, and late last December, it invited the neighborhood to share wishes for the upcoming new year.
"When I heard the news today from the Supreme Court, I wasn't sure how to express my feelings about it," explains the woman who lives on the other side of the fence, who asks to remain anonymous. "Then I realized that it was a great opportunity for us all to share our feelings with each other."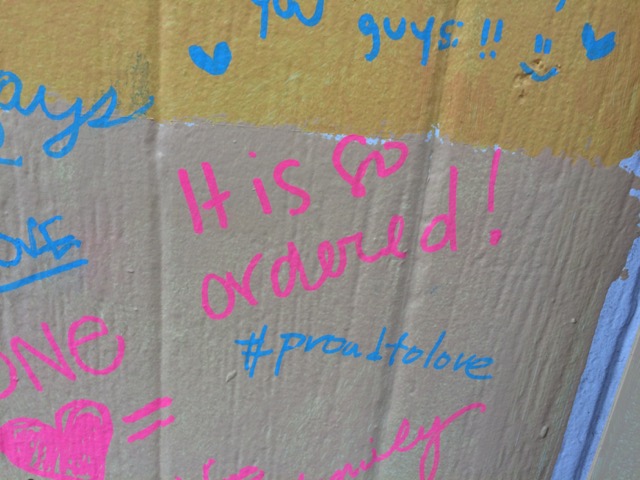 If you want to join in the celebration, stop by the fence at 6th and Irving to add your message to the many that have been shared by your Inner Sunset neighbors.