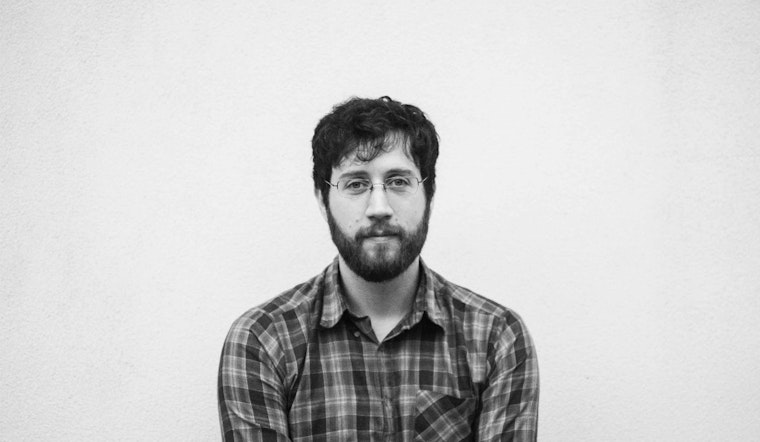 Published on June 02, 2015
In our ongoing effort to tell you about regular Haight Street folks doing incredible things, we wanted to introduce you to Colin Winnette, writer, former Booksmith employee, and local treasure. (We are slightly biased because in full disclosure, the writer of this article works at the Booksmith and hosts Shipwreck.)
Colin Winnette was born in Denton Texas, and moved to the Bay Area in 2012 after years of flirting with the idea. He started working on Haight Street at Booksmith and became a darling in the San Francisco literary scene in no time. Winnette eventually left Booksmith for bigger and better things (although he occasionally pitches in writing for Shipwreck), and tomorrow night, at 7:30, he'll be back at Booksmith to celebrate the launch of his new book, Haints Stay, which is a bloody, glimmering, visceral Western that redefines the genre.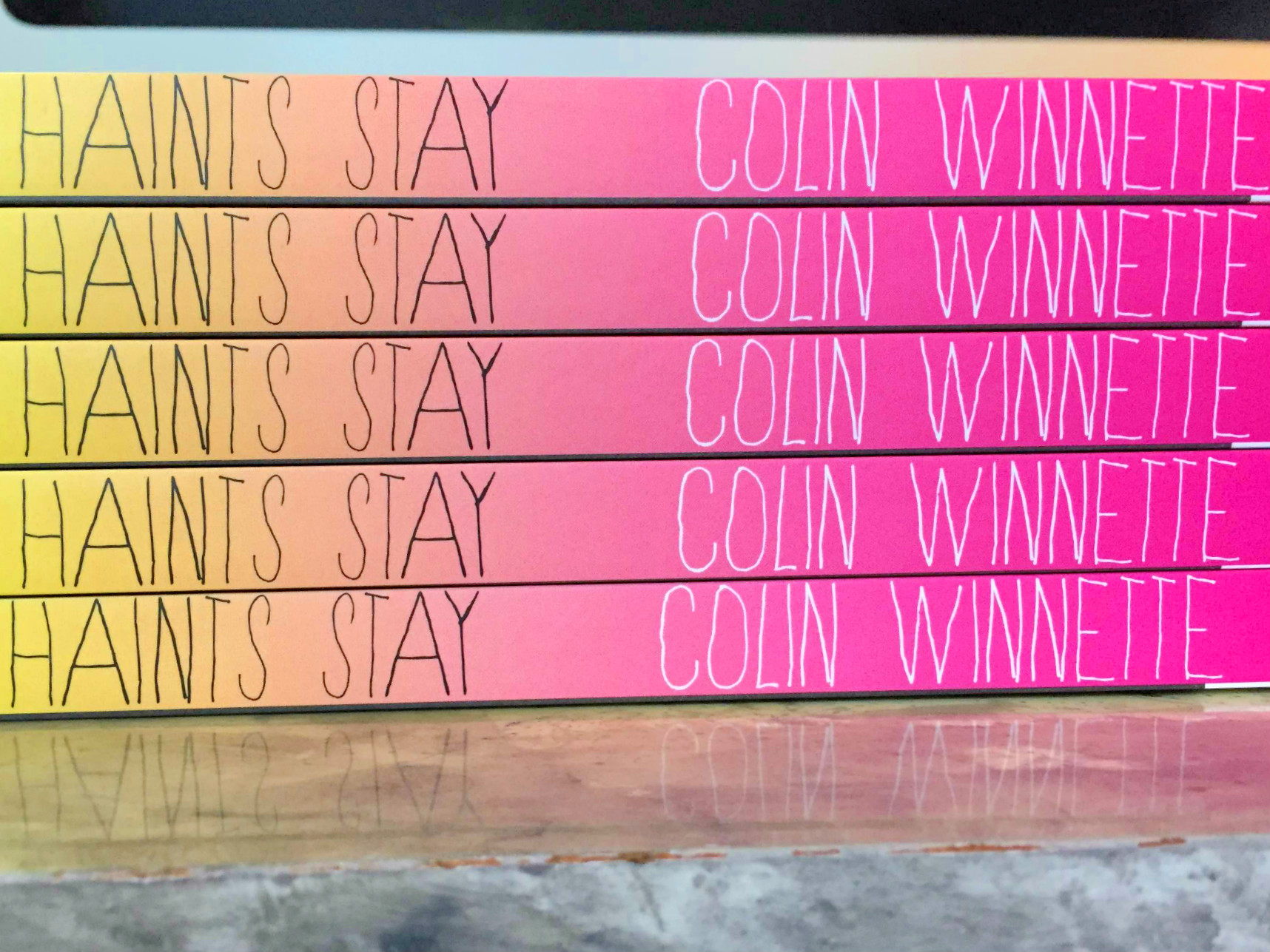 In addition to a reading from Colin, there will also be guest readers, including Lauren Traetto, Sam Riley, Allen Hough, Jenn Yin, Eli Horowitz, Mauro Javier Cardenas, Peggy Lee, Rachel Khong, Evan Karp, Ryan Brent, and current Booksmith bookseller Na'amen Tilahun, whom Winnette has asked to retell sections of Haints Stay from memory. There will also be a musical interlude courtesy of KC & the Moonshine Band. 
We sat down with Colin Winnette to find out more. 
---
Hoodline: So, you wrote a western. You're from Denton Texas, but you've been in SF for a while now. What about Westerns appeals to you? 

Winnette: So much! I mean, it was all around me growing up — partly because I grew up in Texas but also because it's such an incredibly popular American genre. But cowboy shit was a huge part of my upbringing, even though my parents weren't at all "Texan." When I was in grade school I had to dress up as a cowboy with all of my classmates and do a line dance for all the parents to "Boot-Scootin' Boogie" and "Achey Breaky Heart." That was just like…part of going to that school. Then, in high school, I AUDITIONED to be part of a school-sanctioned extracurricular group of doofuses who dressed up in starched Wranglers, red Levi pearl snaps, and black cowboy hats at the football games. Then, for some inexplicable reason, we had to do push-ups in the end zone whenever the football team scored. It was all just so ludicrous. You'd see old men and 2-year-olds in cowboy hats and cowboy boots stopping by ColdStone Creamery on their way to watch Transformers in 3D. So there's that. But when I imagine the "West" I picture this really fucking tough and miserable place, with all of this chaos just bubbling out from under a real thin layer of what was a pretty problematic and rickety structure of "law and order." So, these two distinct impressions of the "West" were just swimming around in my head and then I started writing this world and seeing all the fun and dark ways it could articulate itself.
Hoodline: You've got a killer lineup for tomorrow night. What about having other writers read at your book launch appeals to you?
Winnette: At its heart, all of this book stuff is about wanting to connect with other people, granted in a pretty warped way. At least for me. When I put together the list of people I wanted to involve in the book launch, I was primarily thinking about people I just really like, for whatever reason(s). Some of my favorite minds and hearts, and people I thought might have some fun with something weird like this event. I just selfishly wanted to put them all in a room together and give them an assignment and watch them go.
(Each participant was given 15 pages of the book beforehand. They've been tasked with narrating the events of those pages from memory. We'll go in order and after about 35 minutes or so (I'll be keeping time) we'll have "retold" the story of Haints Stay. I thought the whole oral storytelling thing was a good fit for the book, as well as the elisions, confusions, and frustrations the constraint is sure to yield.) 
Hoodline: What's it like for you doing a launch at a bookstore you used to work in? You did it with Fondly, and I'm curious if that was a little surreal to you. Does it mean something to you to have other Booksmithees on the roster for tomorrow night?
Winnette: When I first showed up in San Francisco, the Booksmith took me in. You guys gave me a job, a set of new friends, a place where, after I got over my initial social anxiety, I could start to feel like I fit in (or at least that there was room for me). I was super nervous about approaching the store for the Fondly release. It just felt so silly to be like, hey can we dedicate a huge percentage of the store's time and energy on me for a little bit? But, when I finally did ask, everyone was just like, "Oh yeah, of course. Awesome. Let's do it." Then we did it and it was a wonderful night. One of the best nights of my life, really (similarly to the HS book release, I asked a handful of writers and musicians to perform a "response" to the book, and they were just incredible and really touching and brilliant responses). So I knew I wanted to do the next launch at the Booksmith, and do something with similarly good vibes. And it means a lot to have other Booksmithees on the roster, but Na'amen Tilahun is just a really charming and smart performer (I actually met him at a reading he gave in Oakland, before I knew he worked at the BS). I reached out primarily because I'm excited to see what he does with the project.
Hoodline: Any crazy memories from working on Haight Street? 
Winnette: Haha, it's all a blur of plastic inmate bracelets, bandanas, sleeping bags, tiny, mobile guitar amps, swear words, excessively cheap lox bagels, and like pretty stunningly beautiful foggy mornings. But, two of my favorite "crazy" moments were: excavating an Easter-egg-sized pelvis from beneath the shelf of a certain business while sweeping one morning, and this one late night working the counter with the brilliant Sean Chiki. A man wandered in from off the street and he was just in shambles (but still upright and not hurt) and he made a bunch of incredibly loud sounds, just standing there in the doorway, and then he turned and walked off into the night. I was new there, it was maybe my first month, and I was just totally stunned, but Sean, quick as a whip, looked up from a fat copy of the Faerie Queene and said, "And a merry 'oogabooga' to you too, sir." And I just lost it. Maybe you had to be there, but I still laugh out loud just thinking of it.
There was another time where I showed up super early in the morning to open the store and there was a guy camped out and sleeping in the doorway. I spent a minute or so trying to figure out what to do and finally just decided to see if I could politely nudge him awake. When I reached to do so, a pit bull appeared from inside the sleeping bag, which was super terrifying, but then the dog was just friendly and excited to be up. The guy was a little startled, but was really nice and polite and just like, "Oh, excuse me." Then he bundled up his stuff and left. So, it's probably pretty obvious to most people already but it was a good remind that, while there's a lot of insanity in the neighborhood, and danger, I think, there's also a lot of decent people just trying to get by and enjoy themselves a little bit.
Hoodline: Tell me about KC & the Moonshine Band and why you chose them for Haints Stay.
Winnette: KC & the Moonshine Band is a revolving door group spearheaded by Karen Celia. They do a monthly contra dance event at Alley Cat Books, called Feral Fridays. I just wandered into Alley Cat about a month ago and there they were. They were picking out a tune and a roomful of people were line dancing and yipping. It reminded me of my days in Vermont and I immediately wanted to do something with them.
This time around, it'll just be a Karen Celia on the fiddle and a friend on the banjo. It's going to be great. 

Hoodline: Any surprises we should expect? 
Winnette: Definitely.