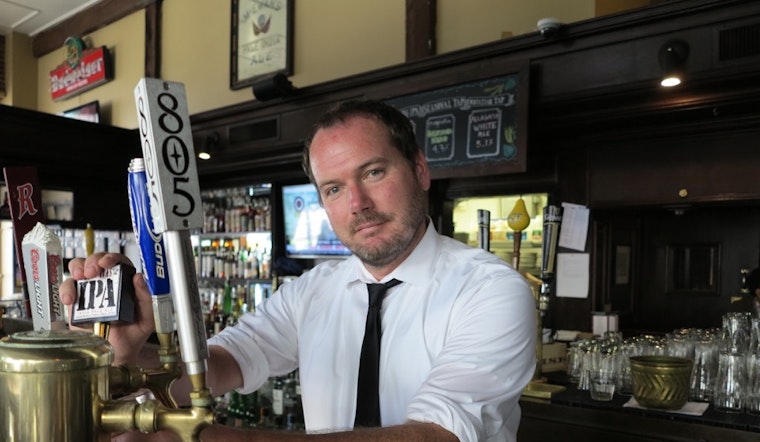 Published on July 03, 2015
If you work in the Financial District, chances are you've had a drink at the Royal Exchange. Located at the corner of Front and Sacramento, this downtown watering hole has been supplying thirsty happy-hour seekers for over four decades. We caught up with bar manager Andy Mott to learn a little bit more about the man behind all those taps.
Where are you from, and how did you get here?
"I'm from Rhode Island. I moved here about 15 years ago, and I've been working here for almost all of those 15 years—a little over 14. I started working here because my brother worked here and was like, 'Why don't you come here and bartend with me?' So I figured, OK, maybe I'll do it for a year. It's been almost 15 now."
What's made you stay here so long?
"I love this place; it's become a family for me. I've seen a lot of people come and go, but we've got a crew that stays around for a while. The big draw at this gig is that we're only open Mondays through Fridays, so we have our weekends off. We also close at 11pm every night. Most bartending jobs, you're working Friday and Saturday nights 'til 3 in the morning, but here, I actually have my weekends off and can live a somewhat normal life."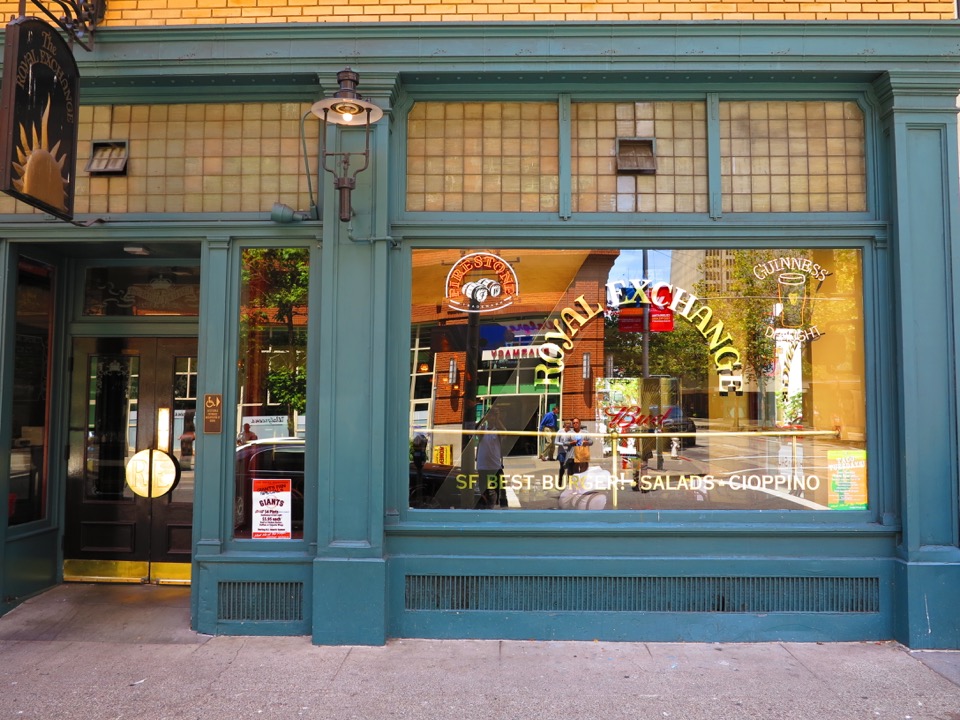 Tell me a little bit about the history of the bar itself.
"Royal Exchange opened its doors in 1972—we're about 42 years old. Before that, it was Victoria Station, which was a smaller chain. It's been owned and operated by the O'Brien family for over 30 years now. It's a family-run restaurant, right in the heart of the Financial District. It's well-known amongst all the people that work around here.
"We do a great lunch and a great happy hour every day. The general layout hasn't changed much in the last 40 years. We've tweaked a few things, but when you walk in, you get a sense that this place has been around for a long time. When they opened up, it had a rustic look to it, and it's just gotten more and more of that old-fashioned look over the years."
In your opinion, why has Royal Exchange become such a Financial District institution?
"A lot of places, especially in the past 10 years, have popped up around us, and some have come and gone. We've been around for 40 years. I have people come by who used to come in the '70s and '80s—this happens weekly—and they say 'Oh my god, I used to work down here, I used to work at a firm down here.' You can just see the nostalgia; their eyes light up just walking in.
"We get people telling us how they met their wife here 40 years ago, or customers now that are in their late 20s or early 30s who say 'My parents met here, and I just had to come check it out while I was in San Francisco.' We get a lot of that. We've basically just been providing great food and great service for so long, and people know us around the neighborhood."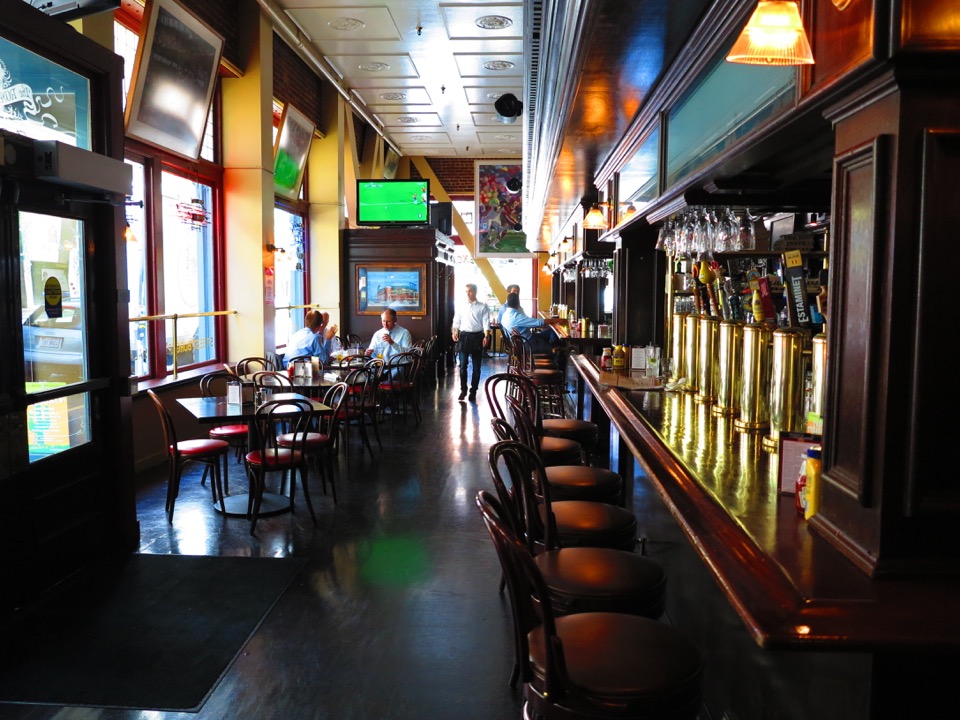 What's your favorite and least favorite part about working downtown?
"When I first started working here, I was in my mid-20s, and it was strange for me, being in the Financial District. As someone who's never really been around the industry of finance and law firms and stuff like that, I had trouble adjusting to the people I was serving. I really struggled with it, but eventually you get the hang of it.
"I've met a lot of great people in the service industry, but also great customers that come in who couldn't have a more different lifestyle than I have, and at the core of it all, we're just people. You end up shooting the shit with them, and you realize you like to do the same kinds of things. You like to go out for a beer after work, you like to play golf on the weekends. You know, little things that we all do.
"It's been great to connect with so many different people that I probably wouldn't have had the opportunity to meet otherwise. At the same time, the best thing is also the worst thing. This is a stressful environment, and if someone has a bad day in their high-stress job, they can at times take it out on the nearest person."
What's your favorite kind of barfly?
"The kind that spends a lot, tips a lot and doesn't cause too much trouble. I know that's kind of general, but basically the kind of people I like are the people that like to shoot the shit with me, as opposed to the kind of people that see me as just someone who's going to bring them stuff."
What would you say was the most remarkable thing you've seen in your 15 years working here?
"The most remarkable thing would probably be when I was still kind of new here, and it was right after 9/11. I remember I got the phone call that it happened, and we shut down for the day. The next day, we were open and I came in, and just the way everyone was reacting, and watching the coverage here ... just the way everyone kind of came together. That was really special, just to see that."

What are some things you like to do outside of bartending?

"I'm an avid golfer; I play all the time. That's one thing that's great about having my weekends off, because I play a lot. Otherwise, I'm into following sports, playing sports.
"Because of this place, I've become something of a beer and cocktail connoisseur, and I'm constantly tinkering with stuff for both my own benefit and to make our business better. You know, we're a place that has 32 different beers on draft and we're constantly rotating new ones in and out. I'm constantly trying to keep up with the trends, and that's always fun homework to do, going out to bars and trying different things. " 
For more Tapping In with local bartenders, get to know Patrick Connolly of the Independent, Giday and Nebiat of Waziema, Michael Wieck of Bar 821, Caleb McGehee of NOPA, Chris Libby of Madrone, Racquel of The Page, and Remy Nelson of Mojo.