It's been a long time coming, but beginning tomorrow evening, Black Sands Brewery will officially open for dinner service. 
As a reminder, the brewery, bar and restaurant opened for breakfast and lunch earlier this month, serving De La Paz coffee, pastries from Jane on Larkin and a select few menu items made in house, like spiced granola and a chorizo and egg breakfast torta. Business is going well, with a line often snaking from the counter back towards the brewing space.
But for many, the real excitement rests with what Black Sands will be offering in the evening: its beer, cocktail, and dinner menu. We met with partner and co-owner Andy Gilliland to get the lowdown on what will be on offer.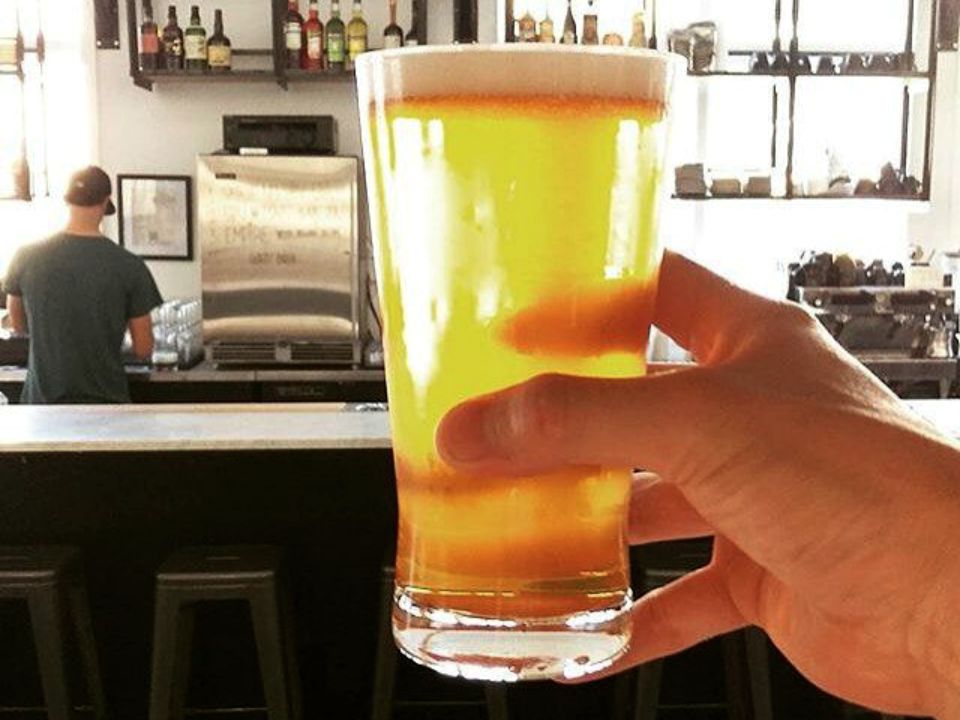 Photo: Carlos Chavarria/Black Sands
First and foremost, the beer. Black Sands has six taps, three of which are currently devoted to their beer, and three to guest breweries. On tap tomorrow night will be SMASH Nelson IPA, which was the first beer ever brewed at Black Sands. SMASH stands for "Single Malt And Single Hop," and as with any of the beers made in-house, the recipe is available to homebrewers who may want to try to replicate it themselves. In the next year Black Sands plans to release 12 SMASH-style beers, so swing by and try the Nelson while it's available. 
The other two house brews will be Son of Man, a hoppy, dark Black IPA that's big on flavor, and Empire, a petit Belgian saison, with a low 3.5 percent ABV and a light, sweet taste. In addition to local brews, Black Sands also carries three draft beers from other breweries: Poffo Pilsner from Against The Grain, Monkish Belgian Blonde from Uinta, and Cuvee des Jacobins - Red Sour Ale.
The draft offerings will change according to popularity, but if you're wondering what's available at any given time, just head over to Black Sands' website, where the tap list will be updated regularly. New brews will be introduced on a regular basis: at the moment, all three of the bar's fermenters are full of beer, which they'll be kegging shortly.
Black Sands' brewery. (Photo: Nuala Sawyer/Hoodline)
But beer isn't the only alcoholic beverage Black Sands will be serving. The brewery hired Nicolas Torres of Dalva and Lazy Bear to create a unique cocktail list that sources ingredients from small distillers (you won't find any Maker's Mark on the shelf).  
Black Sands will start with a list of eight cocktails. The drink list includes concoctions such as the Quinine n' Pine, with Genepy, amontillado sherry, lime, cherry and pine shrub, bitters and tonic. The Nana Knows Best combines peated malt-infused bourbon, Barolo Chinato, banana, and coffee bitters.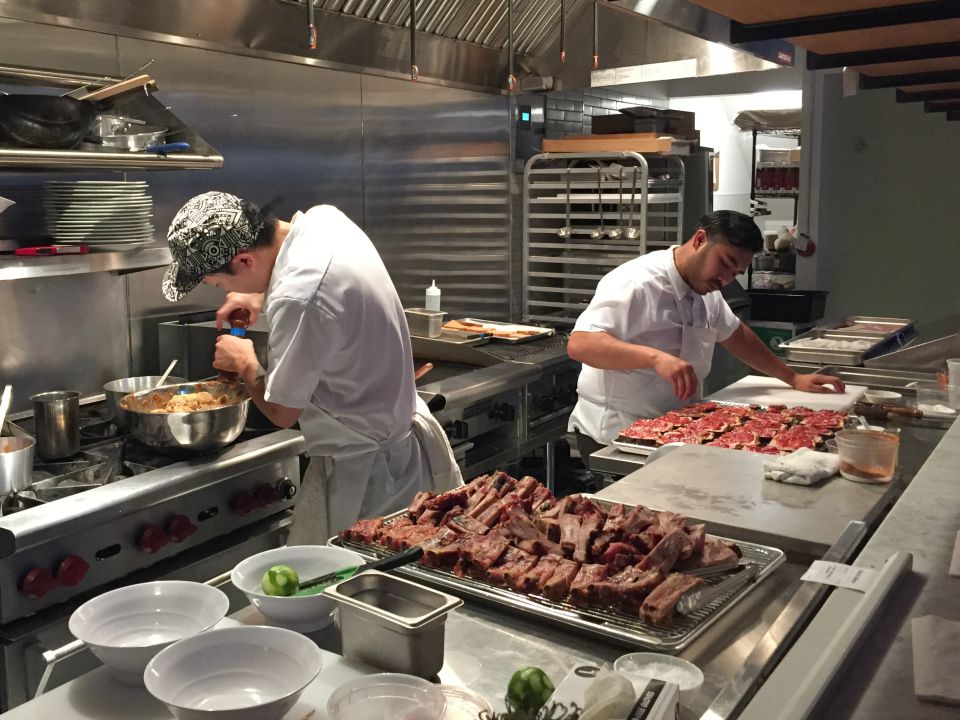 Chef Eric Ehler (left) prepares food in the open kitchen. (Photo: Nuala Sawyer/Hoodline)
Last, but certainly not least, is the evening food menu. Short and sweet, it's designed to be familiar, but with a California twist. Grilled corn is served with quinoa furikake, mayo and spicy lime ($7), and a "crudite" combines Sichuan eggplant, chile oil, cilantro and rice crackers ($9). Meat lovers can opt for a good old-fashioned "smashed double double" burger will also be served, tomato, grilled onions, special sauce and homemade BBQ chips ($14). 
Although the evening menu is small, with only six items, Gilliland tells us the goal is to do "a few things really well." 
Morning service from 8am to 2pm will remain a counter-ordering system, so you'll have to go up to the bar to order breakfast or lunch. But starting at 4pm, dinner will be table-service, with waiters bringing food to patrons.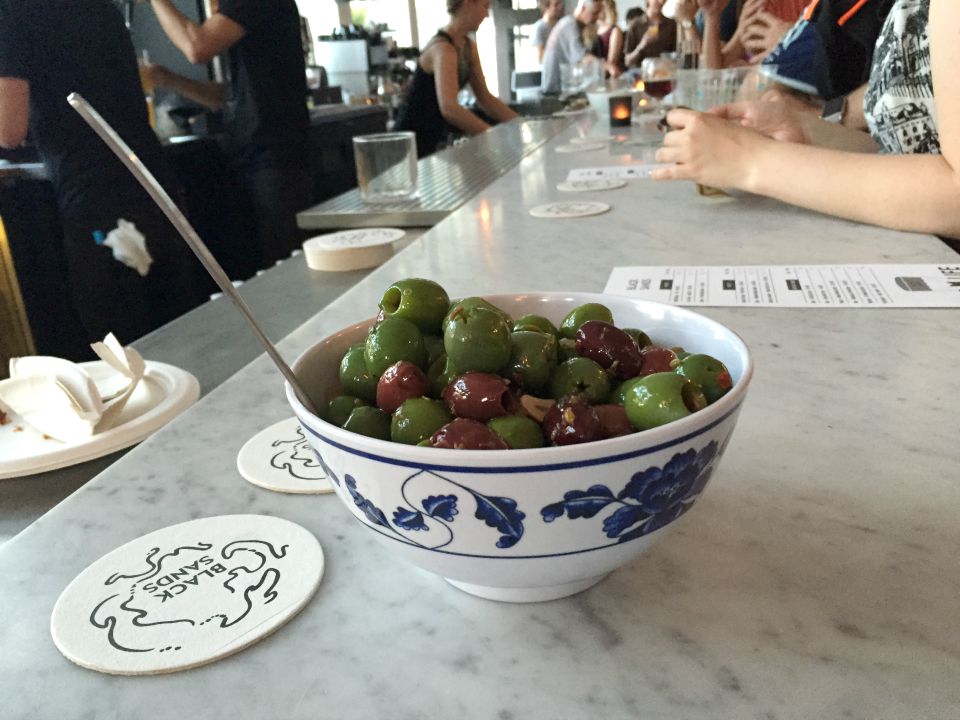 Marinated olives with pizza spice, charred tomatoes and basil oil. (Photo: Nuala Sawyer/Hoodline)
All three components—the food menu, cocktail list and beers on tap—are created to complement one another. Each week the team gets together to review what's on offer, and make sure that the complete menu is telling a cohesive story. The food menu will be changed regularly, to reflect not just what's seasonal, but also what's on tap and on the cocktail list. 
Black Sands will begin evening service tomorrow at 5pm. Going forward, hours of operation will be 8am to 2pm for breakfast and lunch, and 4pm to midnight for dinner and drinks. The kitchen will be open until 11pm every night.