By
Bo McGee
- Published on July 31, 2015.
1812 Polk Street will soon be the home of "Escape From The Jail," a live-action cooperative problem-solving game–also known as a "Real Escape Game", or "REG"– produced by SCRAP Entertainment.
Escape games started to appear in Japan in 2006, and SCRAP is commonly recognized as being a pioneer in the business. The game puts a team of players in a shared space and challenges them to work together to solve a series of clues, puzzles, and challenges in order to free themselves and win the game.
The teams have a time limit, typically an hour, to escape on their own; otherwise, a staff member stops the game. The games are known for being challenging, with only five to ten percent of teams managing to crack the puzzles in time. 
Each game has a different theme and story to drive the action forward, such as "Escape From The Time Travel Lab" and "Escape From The Puzzle Room." Currently, the group holds its events in Japantown's New People mall; it also staged a massive one-day-only escape game on the field at AT&T Park. SCRAP will continue to produce escape games in the New People Mall concurrently with the Polk Street location.
Doc Preuss, a producer for SCRAP Entertainment, confirmed the news to Hoodline, and said that the room will actually host a second, different game as well, but "the theme has not been announced yet. We will also offer some merchandise for purchase, which is a first for SCRAP in the U.S."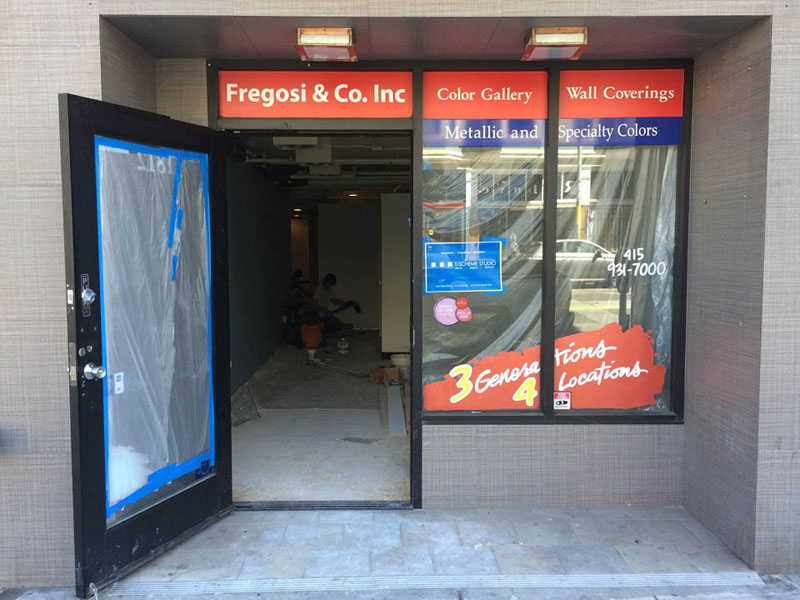 Photo: Bo McGee/Hoodline
Preuss believes Polk Street will be a good fit for the business. "Our escape rooms operate primarily on weeknights and weekends, and Polk Street is full of life during these times. We believe the patrons who enjoy the various experiences that Polk has to offer will also enjoy our games. We hope to provide a completely new type of social offering on Polk that will appeal to the local community as well as our dedicated fan base."

"Players leave our games in a great mood, buzzing with discussion," he continued. "They often head out immediately afterward to grab drinks or dinner nearby. With so many restaurants and bars on Polk Street, we expect that local businesses will be seeing many of our players drop in!"
Early renovations have started inside 1812 Polk, which housed Fregosi & Company Paint until they recently moved a few doors down to 1804 Polk. "We plan to open Escape from the Jail in August," Preuss tells us. "Future updates will be shared on our Facebook page and Twitter, so please like and follow us for more info!"