Less than six months after abandoning plans to demolish five vacant buildings at 950-974 Market Street to construct an 18-story residential tower and tourist hotel with an arts center for the Tenderloin community, Group I is back with a downsized plan and fresh ideas for community benefits.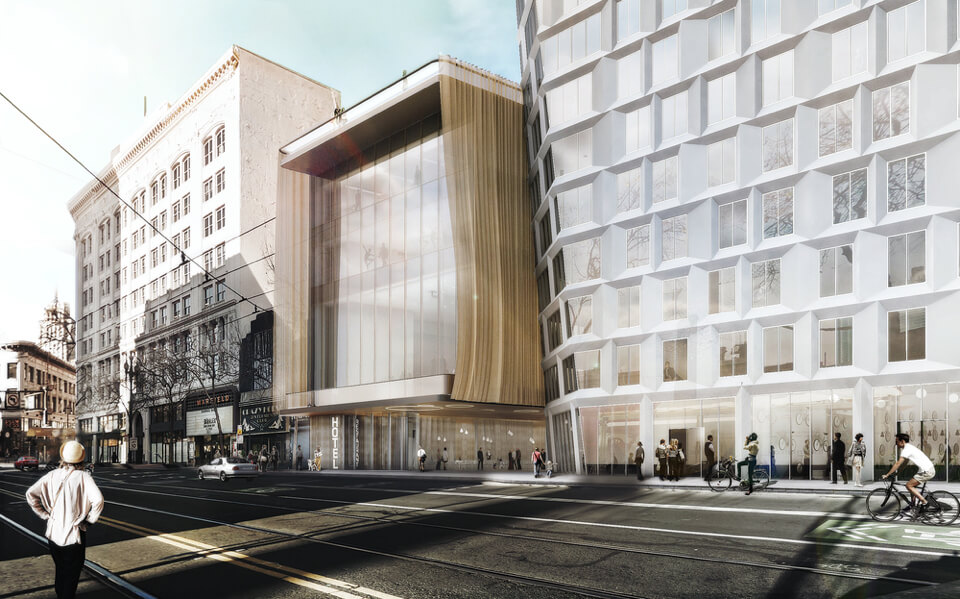 Renderings of the community arts center Group I killed back in February (Image: Bjarke Ingels Group via Curbed)
Group I's Steven Kuklin presented a selection of new renderings (not available to the public at this time) as well as potential community benefits to Tenderloin residents at last night's police community meeting. The goal of the development, he said, is to beautify and energize the block through open space and ground-floor retail that brings in members of the Tenderloin community, tech workers, and the building's residents and guests.
The proposal now seeks to build a 262-unit residential building (12 percent of the units allocated for below market rate housing) and a 235-room hotel with approximately 18,500 square feet of retail space, including a rooftop bar for the hotel. That's down from 316 dwelling units and 250 hotel rooms originally proposed in 2013. Both buildings would be 120 feet tall, down from the 200-foot height originally proposed, to match the height of the Warfield Building. Similar to previous renderings, the transparent glass facade would borrow elements from the Warfield's architecture and feature a modern interpretation of the bay window, Kuklin said.
As adequate funds weren't raised to support a community arts center, Group I decided to create an open, outdoor venue for performing arts rather than a theater, Kuklin said. On the Market Street side, a cafe and beer garden would open onto a "pocket garden" created by cutting a few walls back from the street. The firm is also planning a plaza on Turk Street, which would be created by extending the sidewalk into the parking spaces that were already removed as a safety measure. This plaza would be a neighborhood-oriented, family-friendly public space with a coffee and juice bar, seating that can be removed to accommodate performances, and potentially a community garden. From this plaza, the public will also be able to look down into a basement-level events space. Both open spaces would be connected with a walkway leading through the development.
As for parking, the revised plans include 102 basement-level spaces for cars — 80 residential, 17 staff, two carshare and three disabled. There will also be about 30 non-residential bicycle parking spaces operated by a valet, more than 200 indoor, basement-level bicycle spaces for residents, and 48 public bike racks surrounding the property.
Both the residential building and tourist hotel will have entrances on Market and Turk streets. While meeting attendees snickered at the thought of tourists strolling down Turk, Kuklin said, "You laugh now, but I promise this will make a huge difference in what Turk Street looks likes in terms of safety and beauty."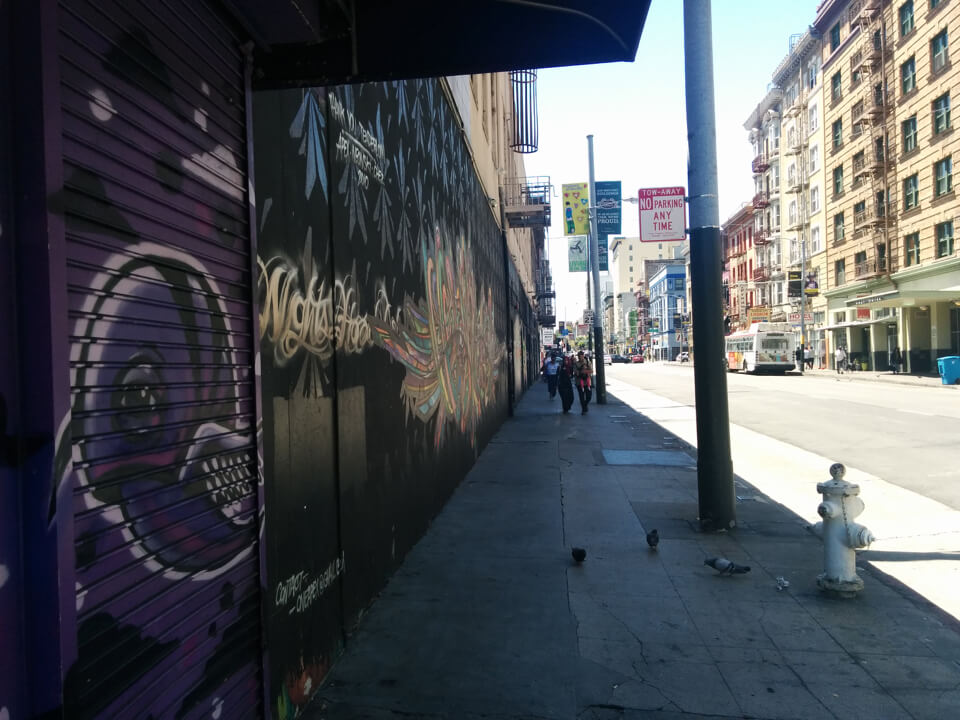 The Turk Street side of 950-974 Market Street
Another community benefit in the works is a culinary incubator program that aims to help the Tenderloin's low-income restaurateurs better compete in a marketplace that's attracting more high-end venues, Kuklin said. The kitchen, which would be offered to restaurateurs free-of-charge, would give the neighborhood's ethnic eateries the opportunity to learn how to better operate their kitchens, manage their businesses and promote their specialties in a more central, highly-trafficked area. The firm is working with the Tenderloin Economic Development Project to develop a business plan and find or create a suitable nonprofit to oversee the program.
Throughout the presentation, a handful of community members raised concerns regarding the potential development. Issues raised included the neighborhood's need for affordable housing; how the upscale amenities could disenfranchise low-income neighbors and further gentrification of the neighborhood; the need to listen to the community benefit needs of people on the ground in the Tenderloin who aren't associated with the area's not-for-profits; ways the developer could provide job training ahead of the development's completion to help the neighborhood's residents secure more lucrative job opportunities once hiring begins; and the rendering's disconnect with the neighborhood's historic facades.
Addressing concerns regarding affordable housing and the revised community benefits proposal, Kuklin said, "We can't do much to provide affordable housing to the Tenderloin, but we do hope to provide economic and retail opportunities that service the community, public space and performance space." He also noted that over the course of 30 years, the development would contribute $300 million in hotel and property taxes to the city's general fund.
Kuklin expects the environmental review will be completed in September and the plan will go before the Planning Commission in November or December. If approved, construction could begin early next year. 
In the meantime, Group I plans to visit additional community meetings throughout the summer, and anyone interested in scheduling a presentation can contact Rachel at rhoward [at] bergdavis [dot] com.