If you've waited in line at 1015 Folsom St, or biked along 14th Street to Rainbow Grocery in recent years, you may have noticed eery white bikes locked up on corners. These are ghost bikes: memorials to cyclists who have been killed on the streets of San Francisco.
Ghost bikes are rumored to have begun in St. Louis back in 2003. A passerby who witnessed a fatal collision between a cyclist and a car installed a painted bike at the intersection, with the sign "Cyclist struck here." Since then hundreds of ghost bikes have been installed throughout the USA—in Albuquerque, Toronto, New York, Pittsburgh and San Francisco.
Ghost bikes, often cobbled together from broken parts, are painted white and locked near the location where the fatality happened. In some cases flowers, notes and cards are left in memory of the victim.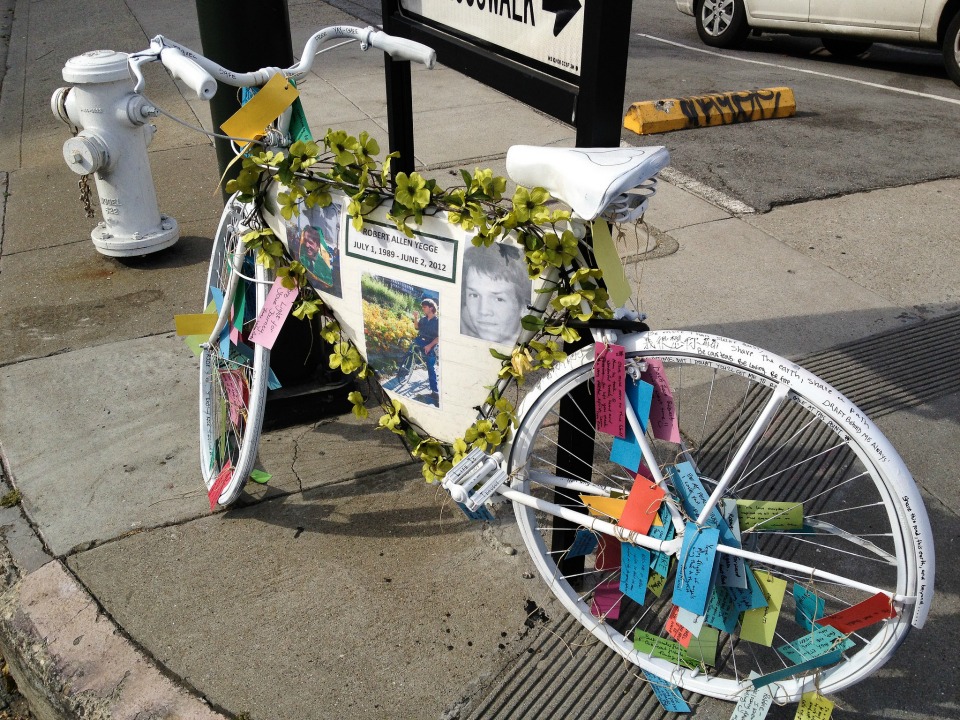 Ghost bike at Oak and Franklin streets, 2012. Photo: Jeremy Brooks/Flickr
San Francisco's ghost bikes are largely donated by San Francisco Yellow Bike Project, a non-profit group in the Tenderloin that assists the community with free and low-cost bike repairs. Thus far they have donated memorial ghost bikes for Cheng Jin Lai, Amelie Le Moullac, Charles Vinson  and Jorge A. Delgadillo. 

"While it's not where we would like to see our bikes, knowing a bike that would be recycled can be used as a memorial, is something we can and will support," said the organization in an email to us. "This goes along with our goal of landfill diversion and community building. If you or someone you know is in need of materials for a ghost bike, San Francisco Yellow Bike is here to help."
The San Francisco Bicycle Coalition also supports the placement of ghost bikes. "Ghost bikes — like the new one at 14th and Folsom Streets honoring Charles Vinson — are an important reminder that we have a long way to go to improve the safety of our streets," said Chris Cassidy, Communications Director for the Bicycle Coalition. "We owe it to people who died biking to fix the streets where poor design contributed to their deaths. The first step towards change is reminding people who use those streets that poor design has contributed to deaths there, and that it will happen again if we, as a city, fail to act."
SoMa is arguably one of the more dangerous neighborhoods for cyclists in San Francisco. With its wide streets, freeway off-ramps and higher speeds than the rest of the city, collisions betweens cyclists and vehicles in the neighborhood can often result in serious injury, or fatalities. In the past two years, four cyclists have been memorialized with ghost bikes in SoMa. 
Diana Sullivan, Third and King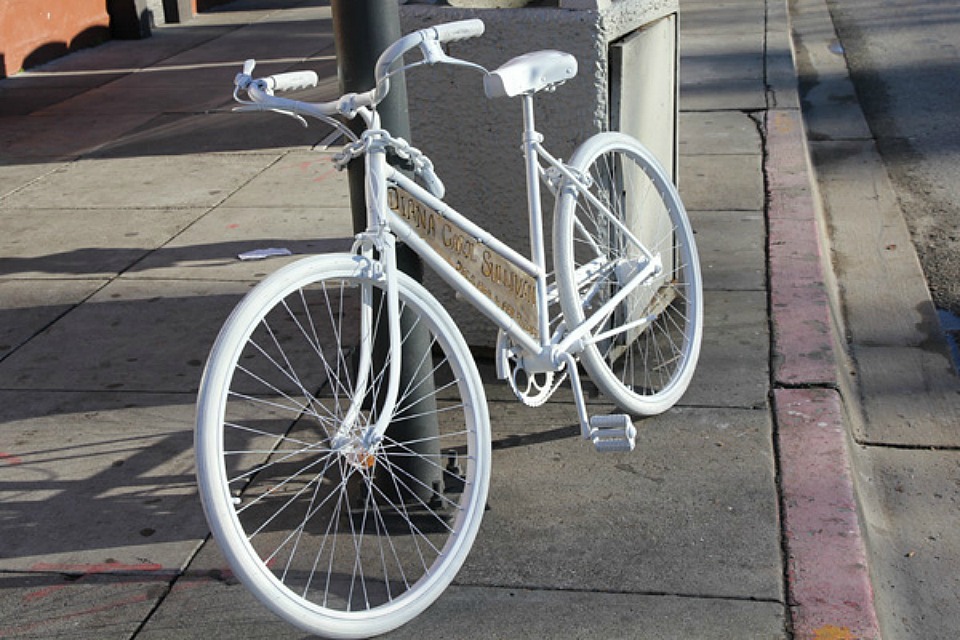 Photo: I Love Biking SF
48-year-old Diana Sullivan was cycling on King Street on the morning of February 9th 2013 when she collided with a cement mixer truck. The crash occurred between Second and Third streets, before a game was set to start at AT&T park. She died at the scene. 
Box Dog Bikes donated the old cruiser used for Diana's ghost bike memorial. It has since been taken down.
Amelie Le Moullac, 6th and Folsom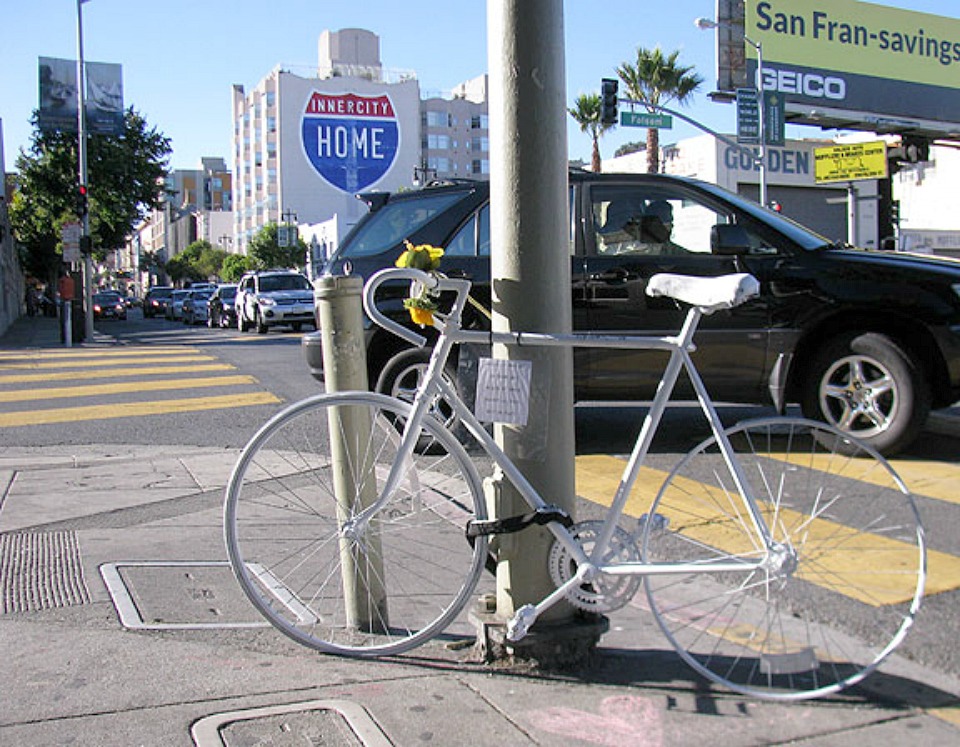 Photo: SF Critical Mass
Amelie Le Moullac was hit by a big-rig truck owned by Daylight Foods on August 14th, 2013. The 24-year-old was cycling east along Folsom Street to Caltrain during the morning rush hour when she was hit by a truck, also heading east, that turned right onto Sixth Street. The truck cut her off and she was killed instantly. 
In January of this year the truck driver, while not immediately cited at the scene, was found negligent in a court trial.
Amelie's ghost bike is no longer around, though it's unclear whether it was stolen or removed by the City. 
Cheng Jin Lai, 11th and Bryant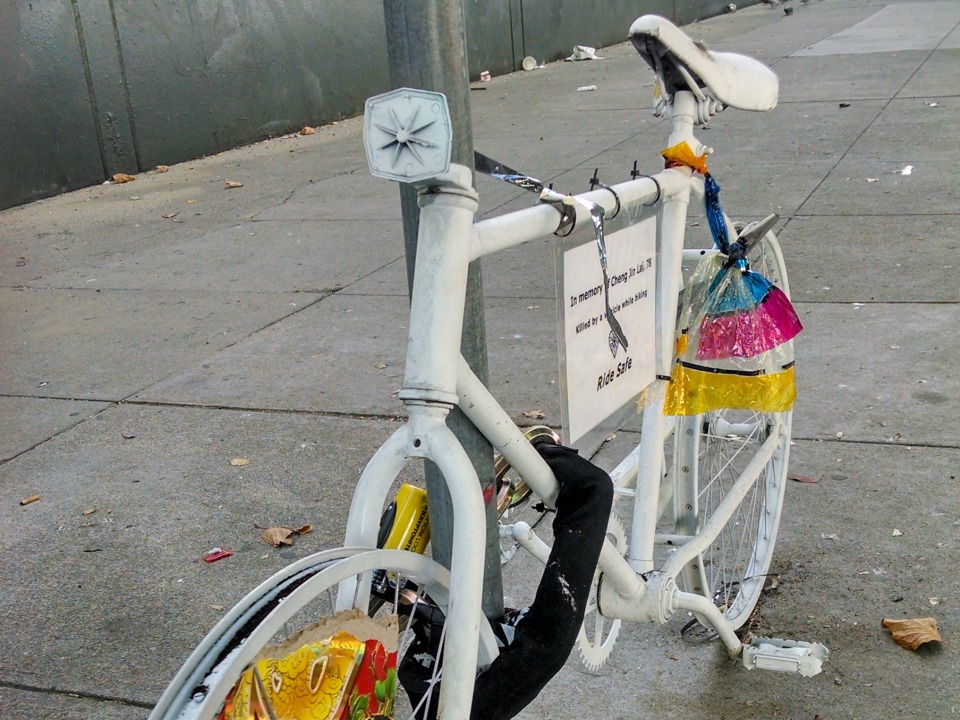 Photo: Ghost Bikes of SF
On October 18th 2013, two months after Amelie Le Moullac was hit, 78-year-old Chen Jin Lai was hit and killed at the busy SoMa intersection of Bryant, Division and 11th streets. Lai moved to the city in 2003, and the bicycle was his main mode of transportation. He was hit by a 27-Bryant Muni bus, which was later found to have been lacking key safety equipment.
Cheng Jin Lai's ghost bike is gone, though the corner where it once stood is now occupied with another type of ghost bike: those that are being chopped up and resold in pieces. If you're looking for your stolen bike, we recommend checking under the highway near the vicinity of this intersection.
Charles Vinson, 14th and Folsom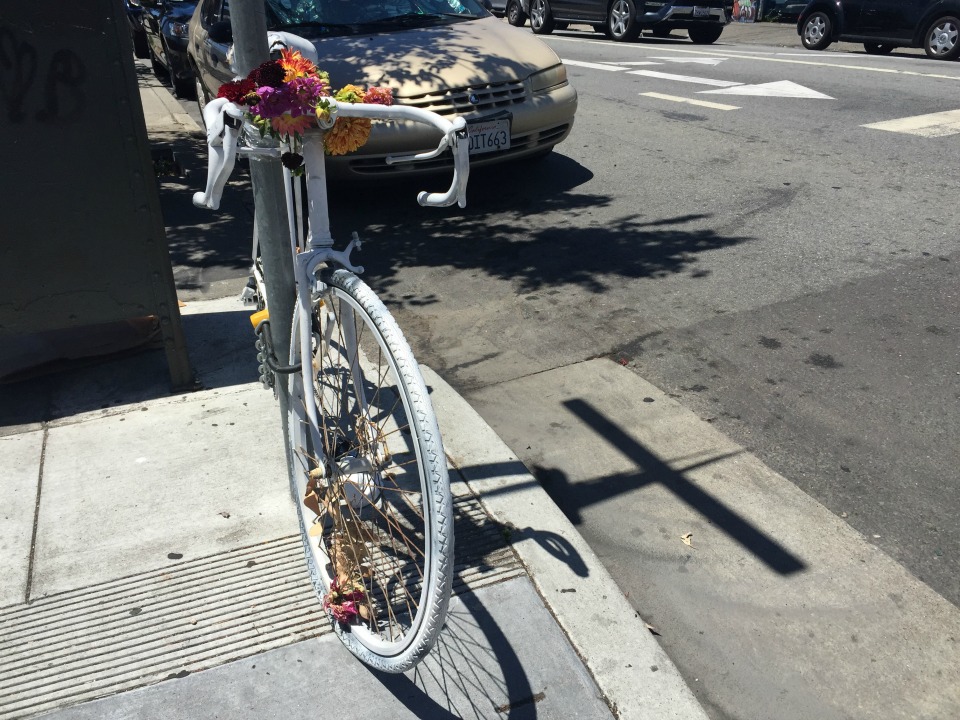 Photo: Nuala Sawyer/Hoodline
On March 2nd 2015, 66-year-old Charles Vinson was killed on his bicycle at the intersection of Folsom and 14th streets. Although wearing a helmet, Vinson suffered serious head injuries after a car ran a red light. The driver stayed at the scene. 
Charles Vinson's ghost bike is still standing today.