Tiffany McFarland and Erica Talbot are co-presidents of the San Francisco chapter of the Pink Boots Society, an organization that provides awareness and education for women in the beer industry.
Last week, we met up with them at SF's oldest beer bar, Toronado, located just around the corner from Tiffany's apartment in the Lower Haight. It's Tiffany's go-to bar, where she likes to drink Russian River Brewing Company's Blind Pig IPA with Layla, one of her three Bernese Mountain Dogs, sitting by her side. She and Erica met at Toronado about four years ago, and realized that they not only share a passion for beer, but for the East Coast and baseball as well.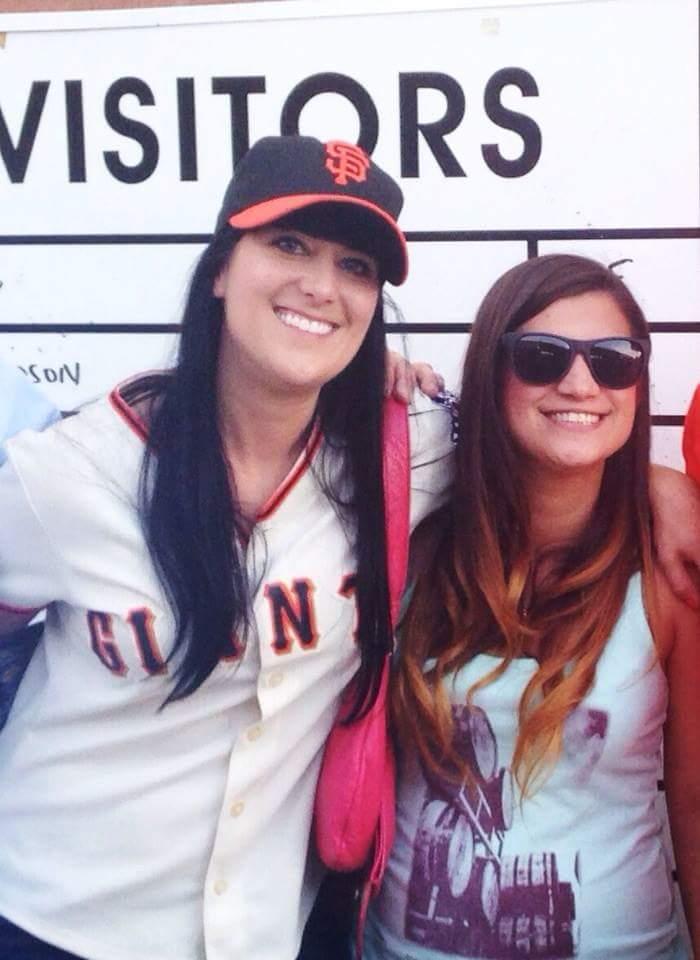 Tiffany and Erica at a Giants game. (Photo: Tiffany McFarland) 
Three years ago, Tiffany met Denise Ratfield of Stone Brewing, a member of the San Diego chapter of the Pink Boots Society and the organizer of International Women's Collaboration Brew Day. Denise encouraged Tiffany to look into the organization. Inna Henry (formerly of Headlands Brewing Co.), who started the group and organized the first few meetings, then prompted Tiffany to run the society's SF chapter. Tiffany and Erica teamed up soon thereafter, and became co-presidents. 

Over a Moonlight Reality Czech at Toronado, Erica talked about the group's mission. "Pink Boots Society is not about women being better at tasting beer, or women being better brewers or salespeople, even though they might be. What we do is we make sure we've got a strong connection to women who we are educating, and we help them achieve their goals. For example, if you are a female bartender and you want to go into the sales side of things, let us help you get there. Or, do you want to belong to a network that can help you go beyond what you think you can achieve in the beer industry? That's what we do."

"If you love beer and are passionate about it, think about where you want to go with it," added Tiffany. Let us guide you. Being into beer is not necessarily just sales or just brewing. It's great if you love those things; our organization provides advice and offers scholarships to help women go to brew school. That's what Pink Boots raises money for: We want more female brewers out there, we want more woman brewery business owners out there. I would love to see a day where people aren't saying, 'Oh, that company has a female brewer,' instead, just say, 'Oh, that's their brewer.' We are all about education, mentorship, and creating a community for women."
The taps at Toronado. (Photo: Alisa Scerrato/Hoodline)
Tiffany and Erica's work with Pink Boots Society is just a side gig, although they say it's all fluid. Tiffany is currently the territory manager at Berkeley-based Fieldwork Brewing. Originally from Stockton, she has several degrees, including an associate's degree in biology from Delta College and a B.A. in English literature from SF State. She's spent some time in Los Angeles and London, but now considers San Francisco her home. 

Erica, who lives in the Western Addition, currently works as the Bay Area regional sales manager for Paso Robles-based brewery Firestone Walker. She holds a degree from the University of New Hampshire in Environmental Science, with a specialty in water quality, and is also a Certified Cicerone, which is the beer equivalent of a sommelier.
"People say wine is good with food, but beer is better with food," she said. "For instance, sour beers are a lot like wines, due to their acidity levels and earthiness. They go really well with Italian cuisine. If you eat a thick slice of lasagna, have a sour with it, because the sour cuts the fat and richness and cleanses the palate for the next bite."
Erica also talked about the science of beer, and why water levels are so important. After she received her degree from UNH, Erica worked in a lab, but a colleague who noticed her skill with people suggested that she move into sales. She previously worked for Seattle-based brewery Red Hook, which asked her if she wanted to relocate to San Francisco for them.
PBS members celebrate International Women's Collaboration Brew Day at Speakeasy. (Photo: PBS/Facebook)
The Pink Boots Society holds events and workshops for women around the city, including a recent homebrew day at the home of Anchor Brewing Co. brewer Jen Jordan. In March, they also held an International Women's Collaboration Brew Day event at Speakeasy, where they collaborated on their own version of Unite Red Ale, a beer that Pink Boots Society members across the globe brewed versions of for the occasion. The resulting beer, named International Orange in honor of the Golden Gate Bridge, was released at an April fundraiser at Zeitgeist. Proceeds were donated to the Pink Boots Society's scholarship fund for female brewers. 

The SF Pink Boots Society chapter regularly holds events for its members, but is now looking to expand educational opportunities for nonmembers. They are an inclusive group, with a number of male supporters who they jokingly refer to as "Pink Beards." For more information about the Pink Boots Society, follow their Facebook page or visit their website.