The Telegraph Hill Dwellers' (THD) Planning and Zoning Committee and North Beach Business Association (NBBA) this month compiled a study of retail vacancies in the neighborhood's commercial district and compared them to past studies.
The findings: Retail vacancies are at an all-time low, which is not surprising given the hot economic climate in the city right now. When a similar study was done in 1986, there were 45 vacancies; in 1999, there were 39, and in 2008, there were 31, according to this comparison chart. There are now 15 vacant storefronts in the North Beach Neighborhood Commercial District (NBNCD).
"So we're really doing very well," said Kathleen Dooley, treasurer for the NBBA. "We have so many new things opening." Even though many storefronts appear shuttered, the neighborhood can look forward to a slew of new businesses opening soon.
A few more discoveries:
The NBNCD was created in 1987 to stem the loss of neighborhood-serving businesses by requiring a conditional use authorization for new restaurants and bars in storefronts that previously housed retail. The study doesn't include vacancies outside of that district's borders (for example, the recently shuttered Giordano Bros., 303 Columbus Ave., or the Emerald Tablet, 80 Fresno St.).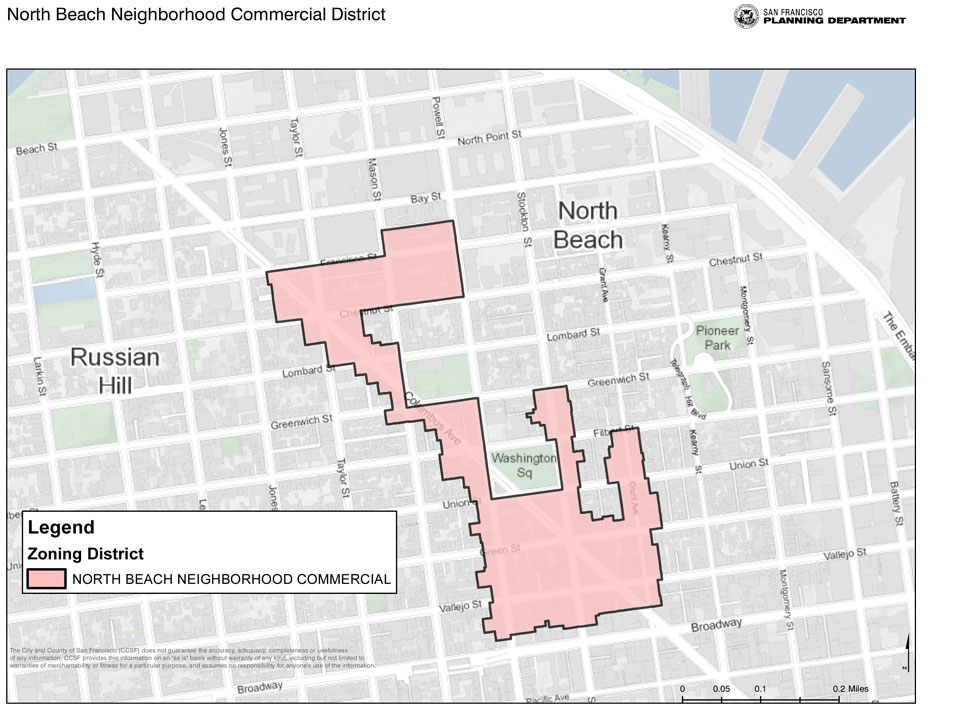 Map: SF Planning Department
Many community members have long been concerned that the North Beach neighborhood is becoming less livable due to the proliferation of bars and restaurants, despite the 1987 controls. A document released on Monday by the Telegraph Hill Dwellers stated by 2007, restaurants and bars occupied about 31 percent of all ground floor uses in the NBNCD, or about one in three retail spaces. The document reads in part:
Because the CU process was not working as intended, new legislation was enacted in 2008 to prevent new restaurants and bars from occupying any space formerly occupied by a basic neighborhood sale or service needed by residents and workers in North Beach (such as hardware stores, grocery stores, shoe stores, stationary stores, clothing stores, personal services, bakeries, to name a few). New restaurants and bars were automatically allowed and encouraged to occupy vacant spaces that were previously occupied by restaurants and bars provided they did so within 3 years (extended from 18 months) of the vacancy.
Now, spaces vacated by bars and restaurants are quickly filled by new ones—proof, the THD document says, that the new rules are working. And no new restaurants or bars filled any storefronts that used to house retail until 2013, when the Board of Supervisors changed the city planning code to allow "limited restaurants" (a food establishment that doesn't serve alcohol) to move in as long as they got a conditional use authorization. Since then, Planning approved two limited restaurants in previous retail spaces.
"It's so helpful, and its one of the reasons we do this survey periodically, is that it really helps to have some data to have a handle on what's really going on," said Stan Hayes, president of THD. Sometimes what you see is not what's really going on. It helps a lot with trying to figure out policy if you know what's going on."
So what's new? Businesses on the way include: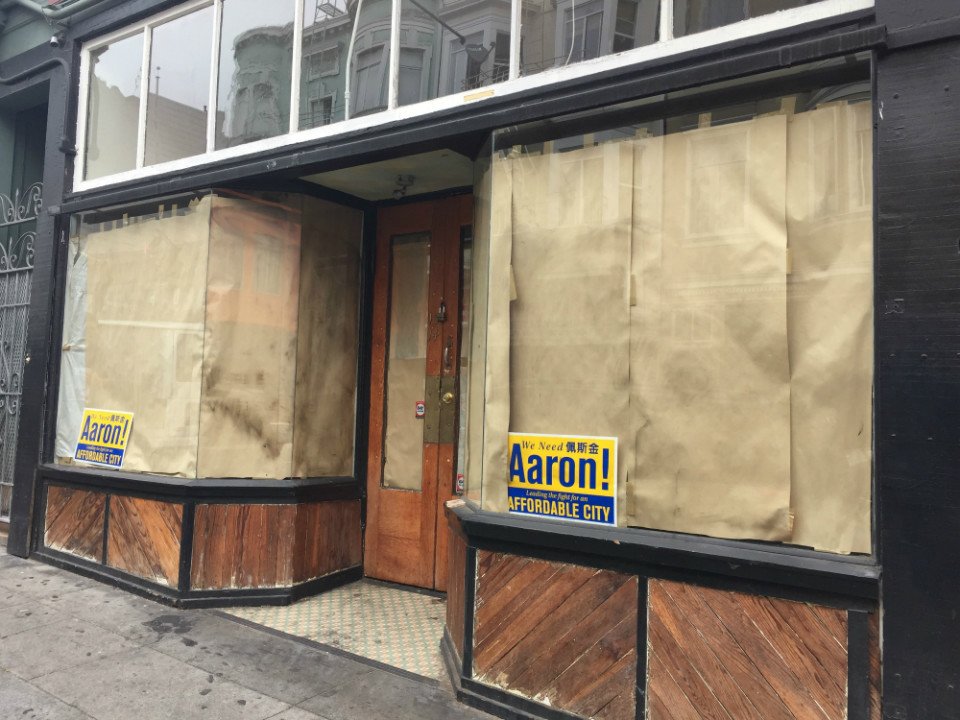 1314 Grant Ave.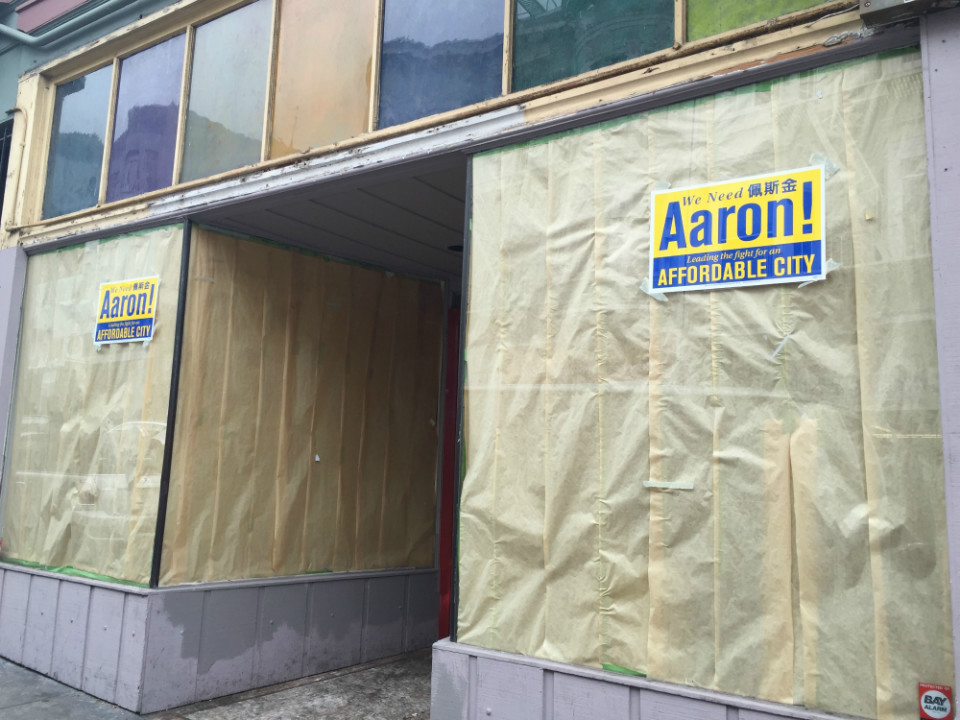 1318 Grant Ave.
In addition to these, two others are leased but closed due to construction issues: 501 Columbus Ave. and Original U.S. Restaurant at 515 Columbus Ave. "Both are vacant due to structural issues," Dooley said, adding she heard building owner Helen L. Tam wants the tenants to pay for the improvements.
Four storefronts on the list that are leased appear to be used for storage, which is against code, or other use. The storefront at 1356 Grant Ave. is papered over and hasn't housed a business at least since 2007; 524 Green St. is being used by Baonecci Ristorante for offices and storage, according to a manager reached by phone; and 1811 Powell St., a longtime salon, is now being used by Victoria Pastry Co. around the corner for storage, according to a manager reached by phone.
The space at 1450 Grant Ave. is listed on the NBBA sheet as being leased, but plastic sheeting blocks the interior. Several sources told Hoodline that North Beach Pizza was using it to store pizza boxes, but the new proprietor, Spiro Makras, told us he is not leasing or using that space. Hoodline reached the building owner listed, Denis Lappos, who told us he no longer owns the building and that his ex-wife now owns it. (Public records show it was deeded to Regina Georgopoulos on Sept. 5th, 2014.) Not on the list is 658 Vallejo St., the former Gepetto Delicatessen, which is being used by Trattoria Pinocchio for food preparation and storage.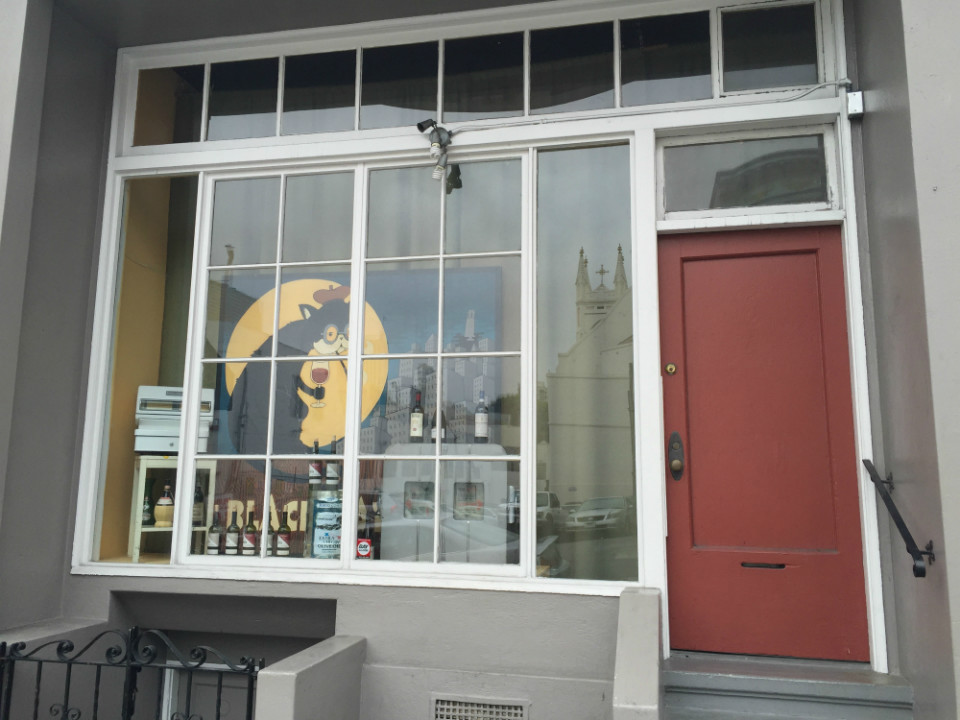 524 Green St.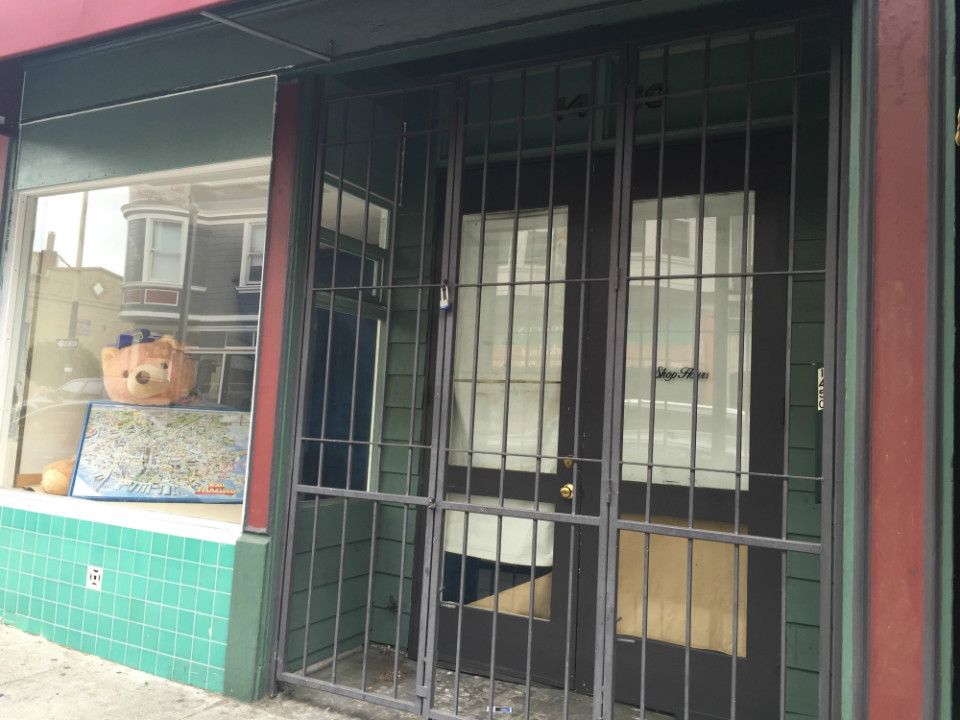 1450 Grant Ave.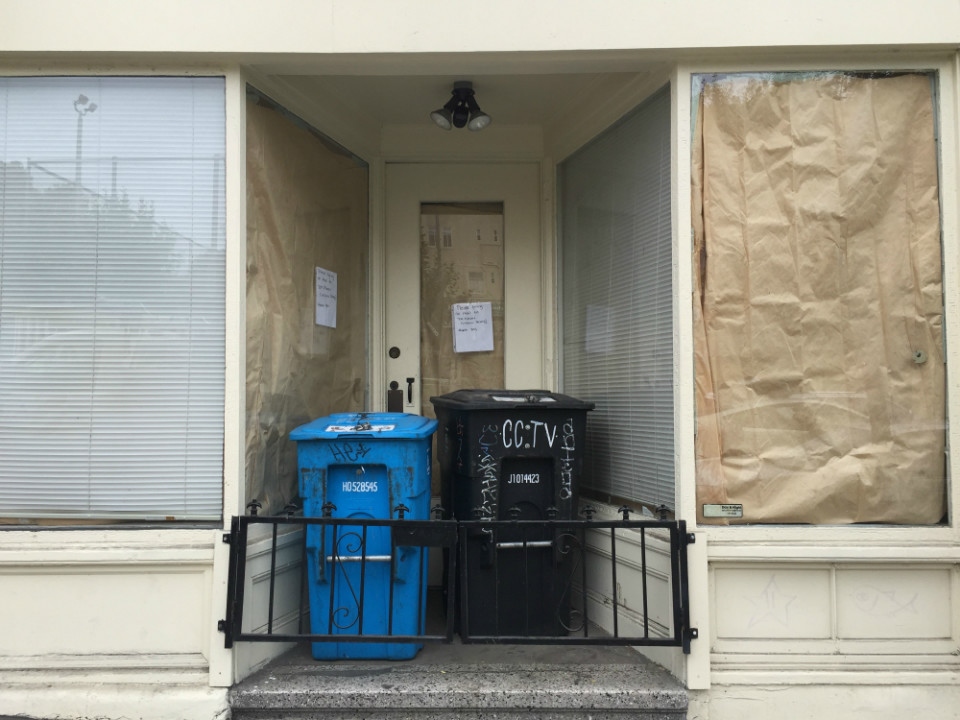 1811 Powell St.
Spaces for lease include:
Not on the list is 535 Green St., built for the Buon Gusto Sausage Factory in 1948. Although the sign recently came down, it's still for lease, said Grant Barbour, adviser to the Cassisa family, which built the building and still owns it three generations later. "We could never find a tenant who could meet zoning and afford the upgrades," he said. The building is about 8,000 or 9,000 square feet with basement, depending on which source is cited, and needs extensive work, including seismic upgrades and a new roof.
"We had a fair amount of interest from potential tenants, but when you dig into the upgrades, they couldn't afford it, Barbour said. "We're looking at the cost of the building and what uses could support the retrofit it would require. We're studying all potential uses, including demolition of the building."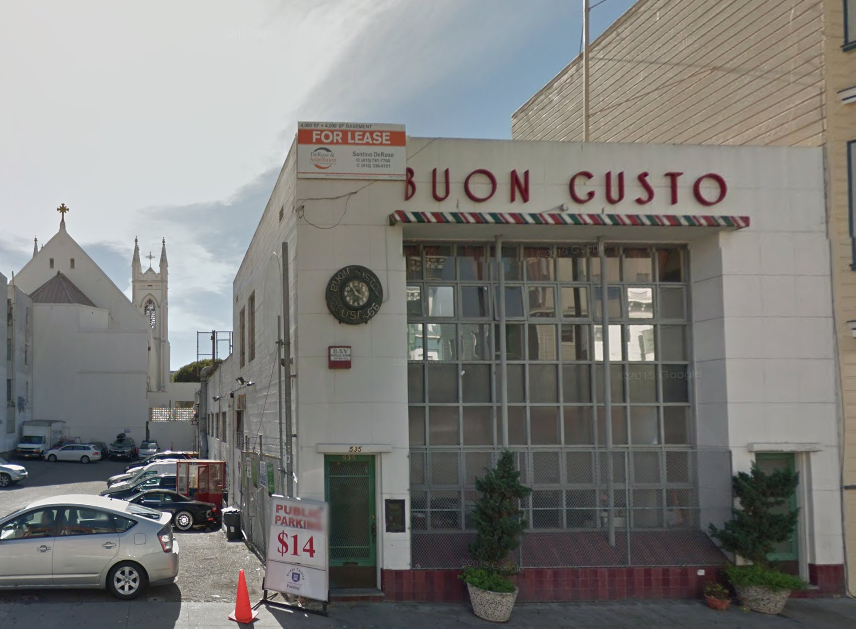 535 Green St. Photo: Google Street View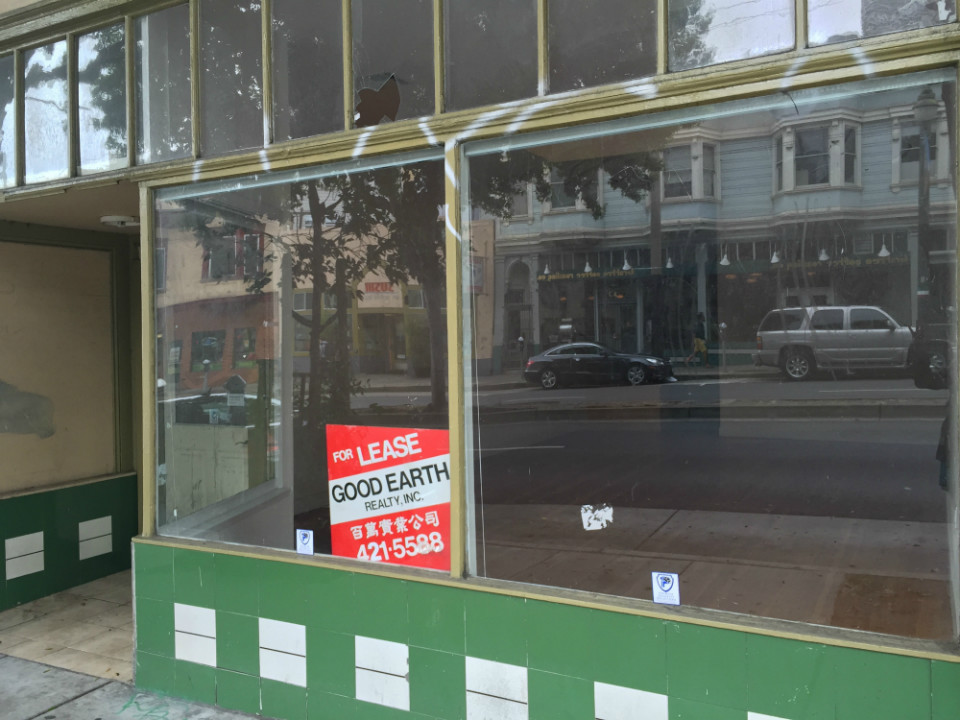 718 Columbus Ave.
Spaces vacant but not for lease are:
Another space reported as vacant and not for lease is the former Cost Less Travel Bargain Center at 635 Vallejo St. However, it now has offices in it, which is against code. The Planning Department has issued a notice of violation.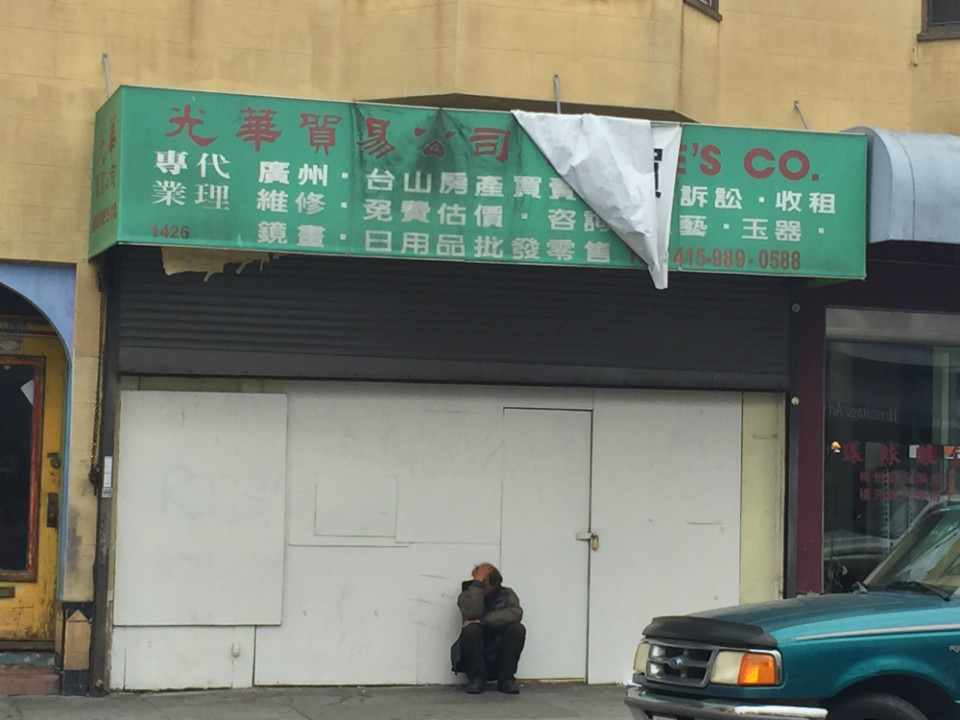 1426 Stockton St.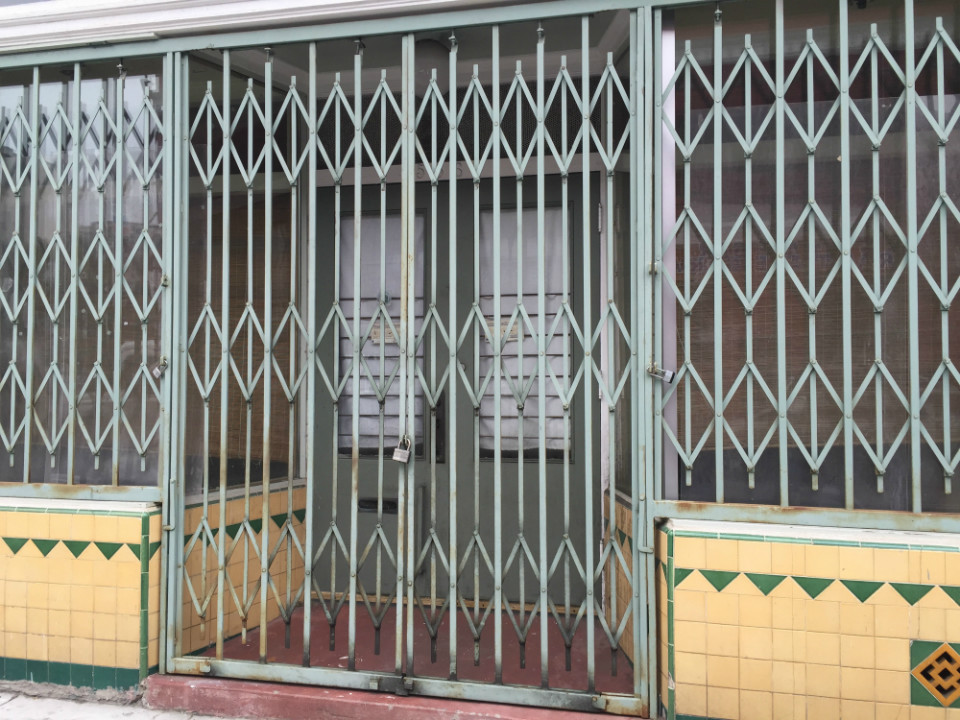 1556 Grant Ave.
"It's like this everywhere," Dooley said. "There are these 'not-for-rent' places." She said she doesn't understand why building owners won't rent, and added she's raised the idea of instituting some kind of vacancy controls, but "it's a tough subject. We're going to be bringing it up again at the Small Business Commission meeting Aug. 24th at City Hall."
When asked if NBBA acts to help fill vacancies, Dooley said yes, she sometimes just goes up to business owners and talks to them, telling them of spaces for lease. She approaches businesses in other neighborhoods she'd like to see open in North Beach as well. And, she added, the NBBA posted the spreadsheet listing the vacancy report, which includes space for lease, on its website so "people can take a look and see what's available," she said.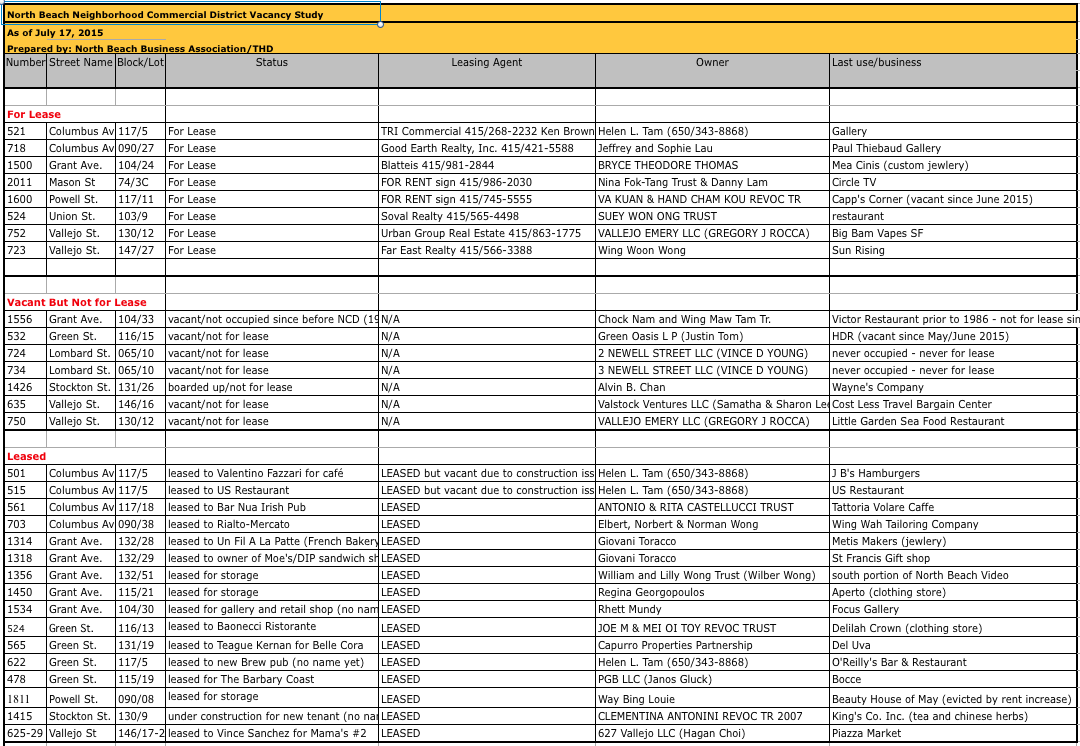 Chart: North Beach Business Association

Stephanie Greenburg, speaking as a long-term resident of the area, disputed that 15 vacancies is a good record and say the survey only tells part of the story. "In 2008 we had a recession so obviously we should have had more vacancies than we do now," she said. "Is that number OK, and what about the future? What do we do to compel and maintain commercial vitality?" (Greenburg is also president of SoTel Neighbors and Top of Broadway CBD, but is not representing them in this capacity).
She's also concerned about non-compliant uses, such as storage. "Those spaces are papered over and not well-lit or ill-maintained, which leads to a perception of a blighted or depressed commercial environment," she said. "How do we sit by and let these highly visible and impactful spaces sit empty, or worse yet, be used for storage, which doesn't serve the community?" She said she reported the storage violation at 1356 Grant Ave. as far back as 2011 and nothing's been done.
Also, Greenburg said, "My interest is with the health and vitality of the whole of North Beach." Vacancies north of Filbert and along Broadway, for example, are not included in this commercial district survey. "Those vacancies still impact North Beach," Greenburg said. "The vacancies on the perimeter are still part of the greater neighborhood, so they impact North Beach and the community as a whole. I don't think they can be ignored."
Hoodline plans to do a second part to this story focusing on vacant storefronts that fall outside the borders of the NBNCD.