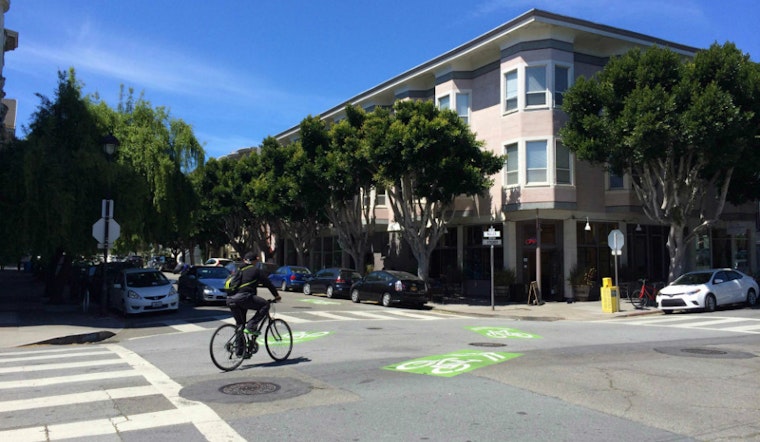 Published on July 29, 2015
The Wigg Party, a local community organization, is protesting the SFPD Park District's plans to step up traffic enforcement against cyclists via a "Stop-In," which will be held tonight at 5:30pm, starting near Waller and Steiner streets along the Wiggle. Participants in the Stop-In will bike single-file from stop sign to stop sign, coming to a full and complete stop at every intersection (and in all likelihood, snarling traffic in the process). The organizers say they want to draw attention to their belief that the new restrictions will slow traffic, without enhancing safety.
Back in June, Park Station Capt. John Sanford, Jr. announced plans to start issuing citations to cyclists for failing to obey stop signs, failing to yield, and other traffic violations. Representatives from Park District later said the initiative would begin this month, with a 20-day outreach effort to educate cyclists about existing rules before stepping up enforcement for several weeks. "I am not shy to say that it is a problem," said Sanford at the June meeting. "It presents a hazard for many people."
Morgan Fitzgibbons, one of the Wigg Party organizers, said the planned change is a waste of energy that won't make streets safer. "There has never been a reported collision between bicyclist[s] and pedestrians on the Wiggle," Fitzgibbons told Hoodline via email. "It's very clear that Capt. Sanford doesn't really have an understanding of the dynamics involved in this issue."
Founded six years ago, the Wigg Party "works to make the area around the Wiggle more sustainable and more resilient," said Fitzgibbons. Besides promoting bike and pedestrian safety, the organization also produces the Urban Eating League underground dinner series, skill-sharing activities, bike tours and NOW!, a "biannual Panhandle neighborhood festival." Fitzgibbons, who teaches environmental studies at USF, also serves on the Pedestrian Safety Advisory Committee.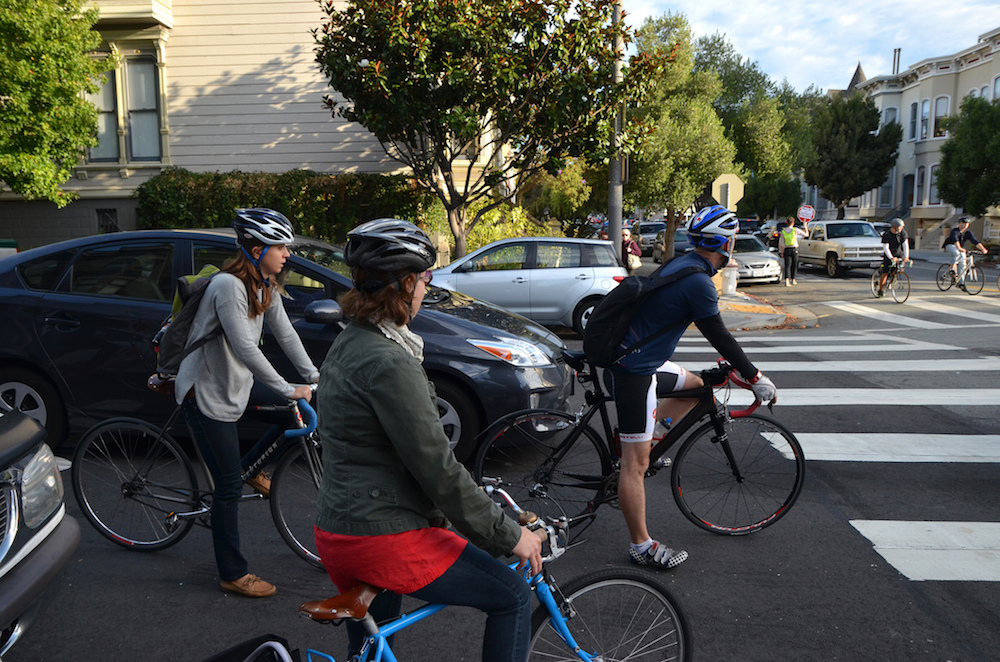 Photo: San Francisco Bicycle Coalition/Flickr
Fitzgibbons, like many San Francisco cyclists, believes that laws requiring bicyclists to stop at all stop signs are unfeasible and unenforceable. Stop signs were "meant for two thousand-pound vehicles with limited sight lines and literal mortal consequences when mistakes are made, conditions that don't apply to bicycles," he said. (He's yet to have any interaction with SFPD regarding the crackdown.)
The Wigg Party argues that requiring cyclists to stop at stop signs "is just a lazy legal afterthought, stepping from the prevailing idea that streets exist exclusively for automobiles and anything on the street should follow the same rules." Fitzgibbons said his group's plan to obey the letter of the law is a form of civil disobedience, intended to "help educate Capt. Sanford about the absurdity of his position."
The Wigg Party supports the Idaho stop, which lets cyclists use their best judgement over whether to stop or yield at a stop sign. This interaction occurs thousands of times each day "with perfect harmony," said Fitzgibbons, who estimated that only about five percent of cyclists "fail to properly yield the right of way to others."
To address those scofflaws, he said the Wigg Party has produced a Wiggle Referee event to shame misbehaving cyclists, "made numerous direct overtures" to SFMTA to improve pedestrian visibility, and asked SFPD to target "inconsiderate bicyclists who give our whole community a bad name."
Getting the stop-sign laws changed is "a rather hopeless scenario, given the widespread hatred and animosity directed at cyclists," said Fitzgibbons. "The best we can hope for is an official declaration of de-emphasis ... similar to what's happened with marijuana, or our status as a sanctuary city."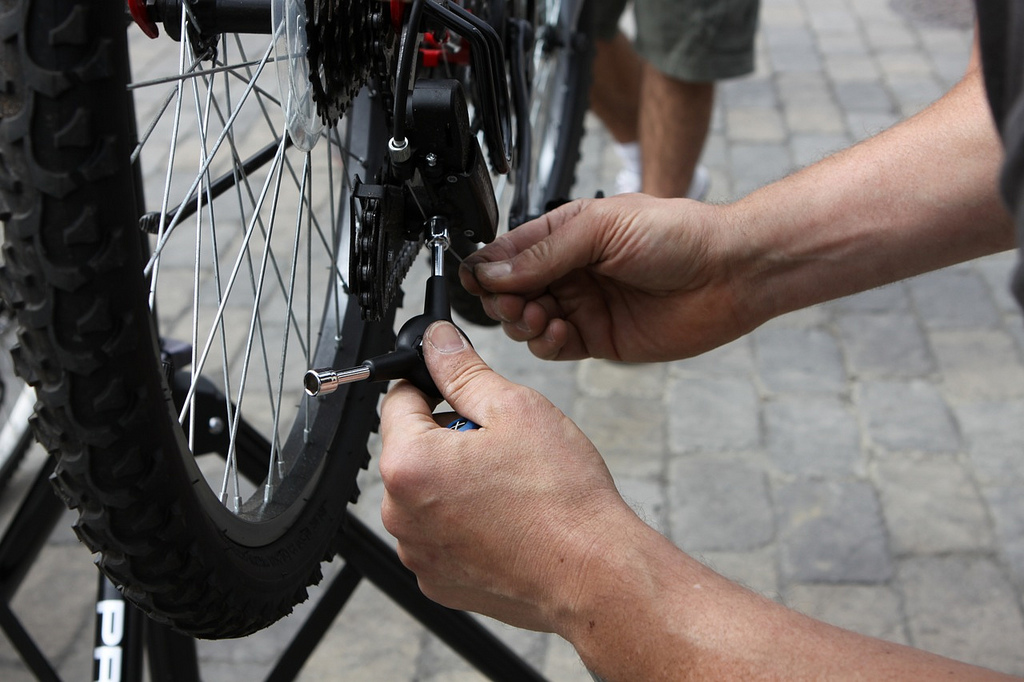 Photo: Shawn Calhoun/Flickr
Chris Cassidy, communications director for the San Francisco Bicycle Coalition, says that Park Station's plan to crack down on bicyclists is a distraction from the real goal of achieving Vision Zero, a citywide initiative to eliminate all fatalities from traffic collisions by 2024. However, the SFBC is not involved in tonight's planned Stop-In; as a matter of policy, the city's largest bicycle-advocacy group recommends that its members obey all posted traffic regulations.
"What we're hoping for is that leadership at Park Station will come to its senses, and realize that it's an outlier in terms of SFPD policy," said Cassidy. Instead of a bicycle crackdown, "we're hopeful they'll restore a vehicle-neutral plan for enforcement ... When you're talking about a finite resource like enforcement and pulling it away from department-wide policy, that does bear a very serious risk for the many people who walk, bike and drive around the Panhandle, Inner Sunset, Cole Valley, the Haight, and other really populated areas," he said.
According to Fitzgibbons, Sanford's plan to crack down on cyclists won't "do anything besides make the entire bicycling community really upset and further inflame the vile hatred" aimed at bicyclists. "No amount of enforcement is ever going to get bicyclists to stop at stop signs," he said.