You might never have noticed the unassuming entrance to a hotel right across from the cable-car turnaround near the foot of Powell Street, with the apt name of the Powell Hotel.
But the new owners are doing their best to make sure it gets plenty of attention from locals and visitors when it re-opens later this year as Axiom Hotel. It's getting a gleaming glass wall on the exterior, tech upgrades inside, and more amenities, including a cafe/bar and game room.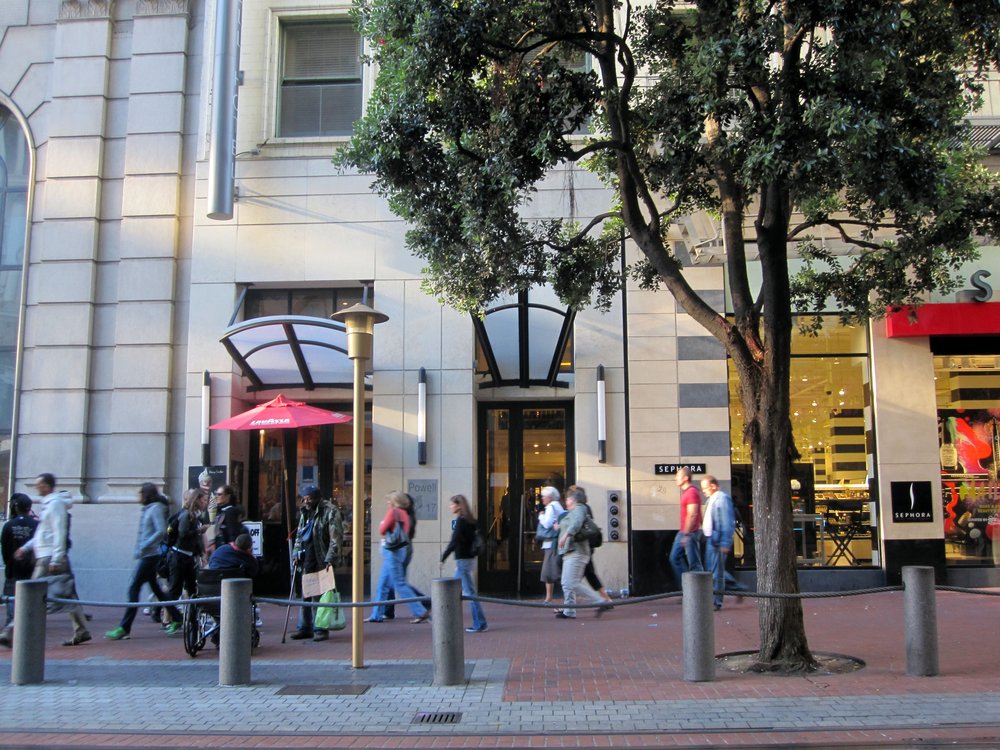 Powell Hotel entrance. (Photo: Kevin Y./Yelp)
The 152-room hotel was built in 1908, just after the 1906 earthquake, and boasts enviable architecture, including a grand staircase and high ceilings. It's ideally situated in the heart of downtown, nearly on top of the Powell Street BART/Muni station, blocks from the Moscone Center and a stone's throw from Union Square. But it didn't get a lot of love from previous owners, leading to some less-than-stellar reviews on social media sites. "There wasn't a lot of money put in" over the years, said Axiom's general manager, Garry Cox. "We've kept a lot of that history, but made a modern hotel and restaurant within it." 
Host Hotels, which owns properties worldwide(including the San Francisco Marriott Fisherman's Wharf and San Francisco Marriott Marquis) bought the property in 2014, and immediately began overhauling it. "We worked really, really hard on the service," Cox said, to pull up the property's low ratings (Kokua Hospitality still manages it).
But the building needed repairs and upgrades, too. Host enlisted New York-based designers Stonehill & Taylor to snazz things up with a glass wall at the main walk-up entrance on the Powell side, distinctive lighting (including an eye-popping lobby chandelier), technological advancements and innovative artwork.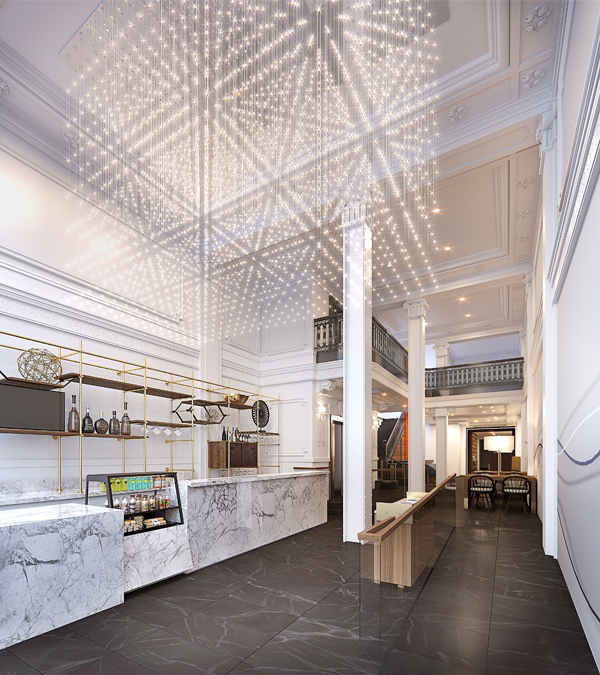 Lobby and cafe area. (Rendering: Axiom Hotel)
The hotel will also will have central air conditioning, previously a big beef with many travelers who were loath to keep the windows open in the well-situated (and thus noisy) area of town. It's also adding a small food counter and full bar in the lobby called the Turn Cafe (in honor of the cable car turnaround just outside), and a tech-friendly communal area, or "Cloud," as they're calling it, on the mezzanine.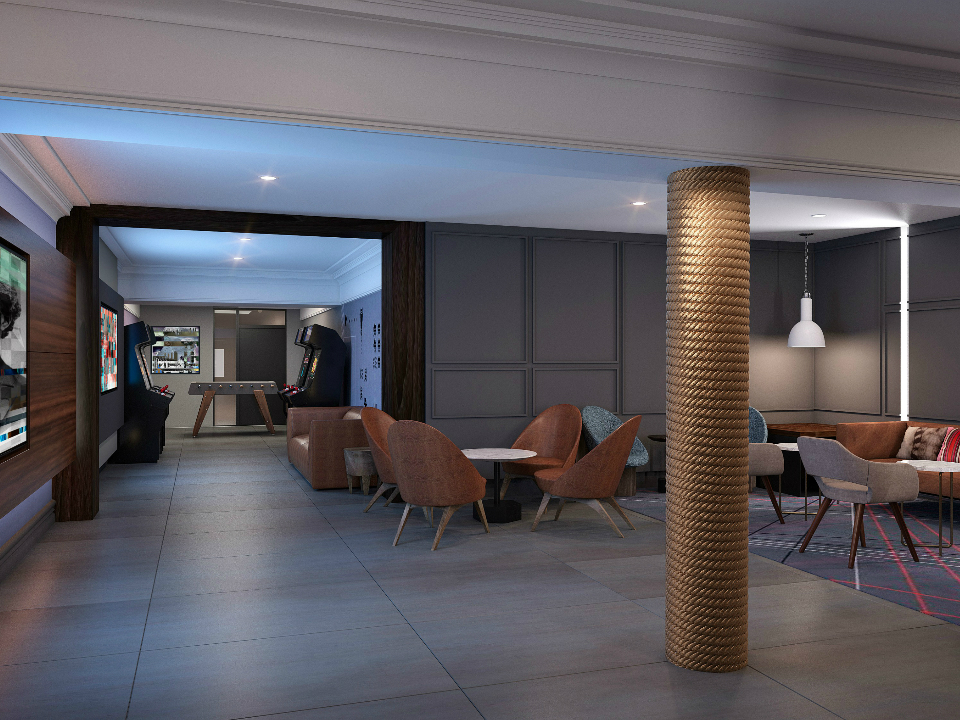 Cloud Mezzanine. (Rendering: Axiom Hotel)
Travelers and locals alike can pop in for a drink, light breakfast, small plates, salad or sandwich at the Turn Cafe, which will be open all day. Food and drinks will be grab-and-go and available to order from an iPad located in the Cloud, complete with delivery; servers will be available at peak times. Fiber-optic Internet and "plenty of charging stations throughout the entire hotel, guest rooms and public areas," will make it easy to get some work done, Cox said.
The space has "such a great view, and there's a lot of stuff to do up there to keep people engaged and entertained," Cox said, including video games, big-screen TVs and foosball tables. "It's a cool place to hang out," he added. The hotel also has about 1,600 826 square feet of high-tech meeting space, which can be divided.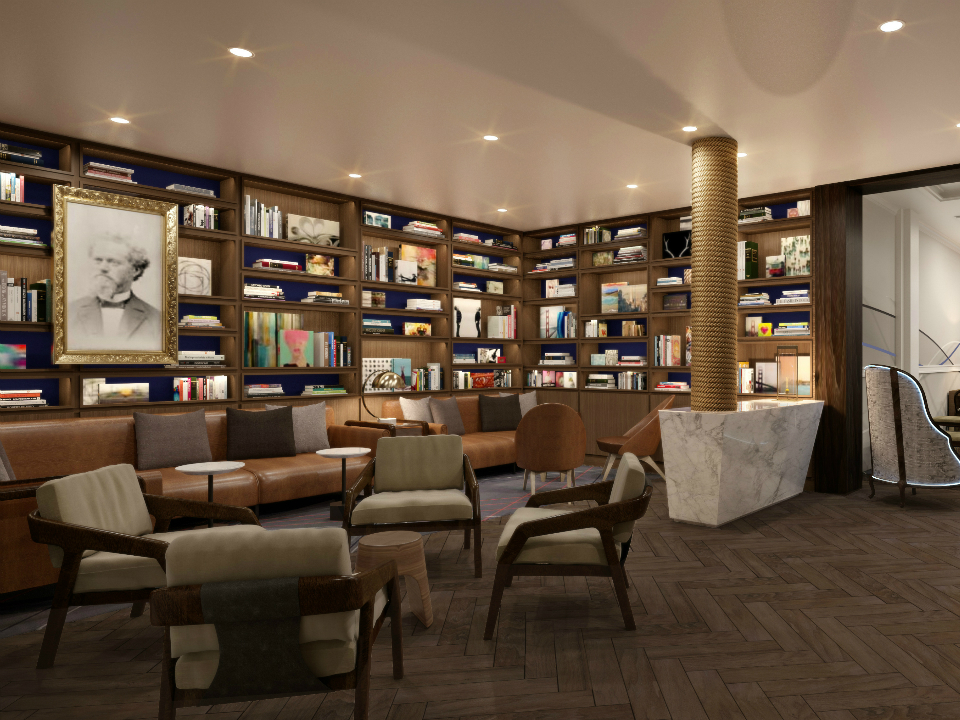 Library. (Rendering: Axiom Hotel)
The Axiom Hotel expects to open in November, Cox said, but to be on the safe side in case of delays, it isn't taking reservations until January 1st, 2016. The adjacent Sephora cosmetics store—which is in the same building and closed for the construction back in January—will reopen when the hotel does.
Along with the improvements will come an increased price tag: The website shows January reservations running $302–$418 a night, in contrast with the Powell Hotel's more budget-oriented rates.