By
Bo McGee
- Published on August 17, 2015.
Killer Shrimp—a family-owned seafood joint with rock and roll sensibilities—has moved into 1516 Broadway, the former home of Taps Social House. The business had a "soft opening" this past weekend, offering a taste of what's to come, and is officially set to open this Saturday.
The Broadway location is the third Killer Shrimp restaurant currently in operation. The other locations are located in Hermosa Beach and Marina Del Rey, and Killer Shrimp LLC also owns and operates The Killer Cafe in Marina Del Rey and The Mermaid in Hermosa Beach.

Killer Shrimp is best known for its signature dish: a hearty bowl of shrimp in spicy broth, served with french bread for dunking and meant to be eaten communally. The restaurant also offers an extensive menu including a variety of steak, seafood, and pasta dishes, as well as beer, wine and cocktails. (Here's a look at the existing Killer Shrimp menus.)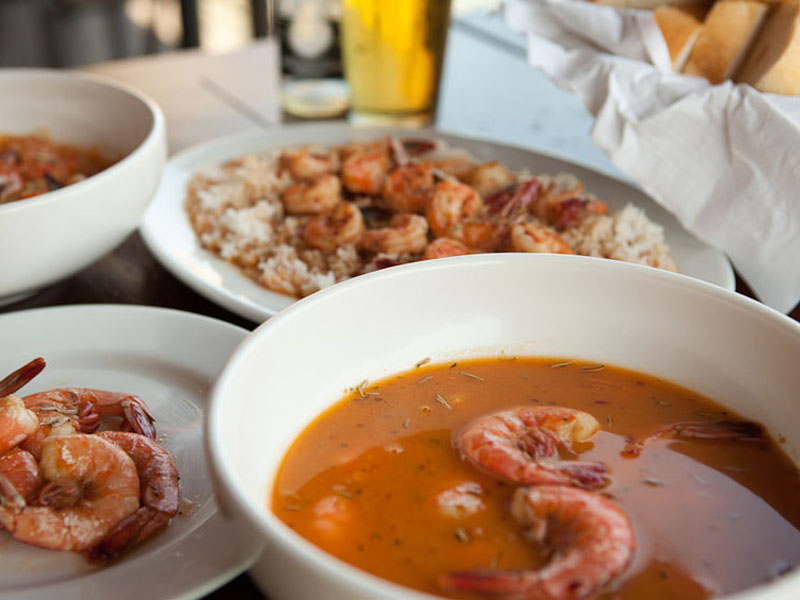 Photo courtesy of Killer Shrimp.
Killer Shrimp is owned by Kevin Michaels, the son of rock musician Lee Michaels, who you might know best by his 1971 hit song "Do You Know What I Mean".  Lee Michaels was heavily involved in the San Francisco rock scene of the 1960s and '70s, playing with such legends as Jimi Hendrix. 
Michaels first developed an enthusiasm for cooking while in San Francisco, then perfected the recipe for his signature dish over years of touring. When he settled in Malibu in partial retirement from the music business, Michaels carried on his passion for cooking and he and son Kevin hosted a few well-received "pop-up" style tastings of the dish, leading them to open their first brick-and-mortar restaurant in 1988. 
"Killer Shrimp will be a great addition to Russian Hill" said a representative for the restaurant. "We're not a high-end gastropub, we're a family business. The Broadway location is a great opportunity for us and it's close to our roots, a perfect fit."
Early reviews on Yelp have been positive, with a perfect five-star rating from seven reviewers. Yelper Ben U. said "The expansive menu is great and well executed, but that's not what this place is about. It's about shrimp. Shrimp in a spicy butter-based broth that has been simmering for no less than 10 hours. And this location delivers that. It's like a slice of LA, right here in SF."
Look for Killer Shrimp to open its doors at 1516 Broadway on Saturday.