A press release sent out this morning confirms that the long-empty former auto body shop at 838 Divisadero St. is indeed going to become a restaurant. Called Che Fico, it will seat 115, and is being headed up by chefs David Nayfeld and Matt Brewer. (The name is an Italian slang term; it literally translates to "what a fig," but is generally used to mean "How cool!")
The space at 838 Divisadero, with its signature red circle, has sat empty for years, despite being right next door to always-popular Little Star Pizza.
The interior is being designed by dmarcSTUDIO. Early renderings of the space show an airy interior with exposed timber and skylights, though the architects tell us the design is still a work in progress: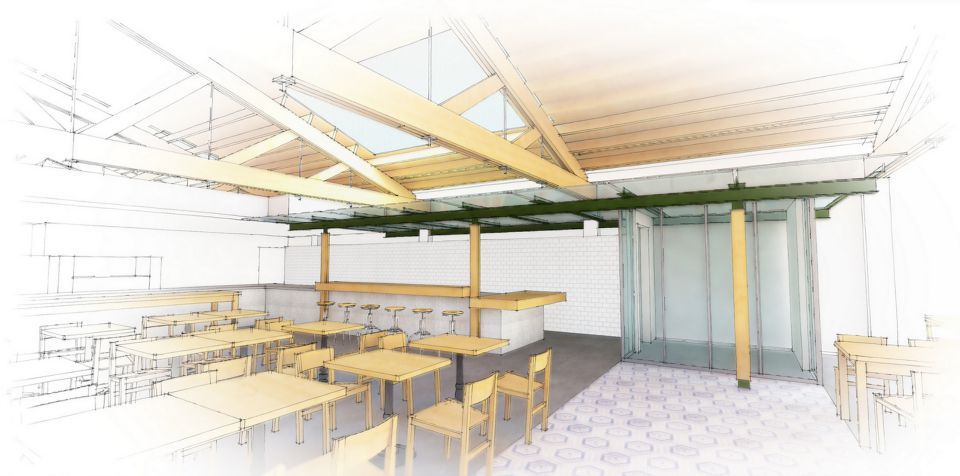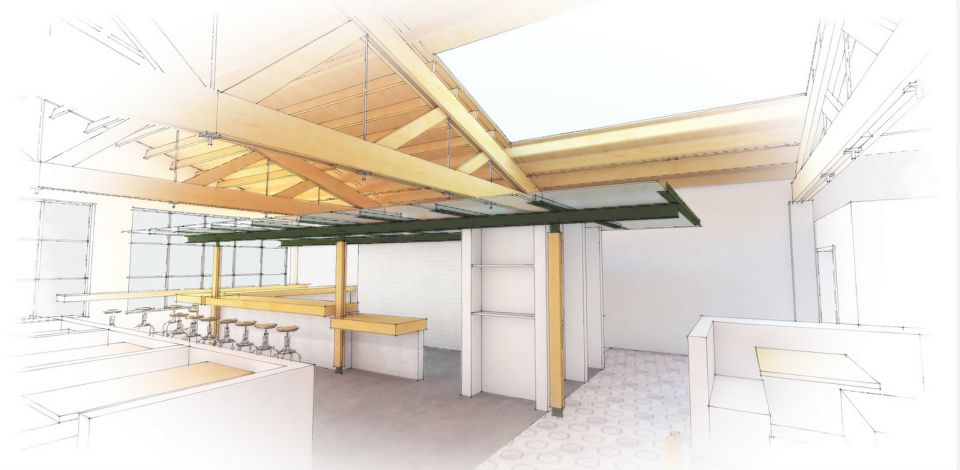 Early-stage renderings of the space: dmarcSTUDIO
Based on documents filed with the Planning Department, the ground floor will be used for "street-level patios" and bike parking, with seating on the second floor.  

The menu will consist of Italian fare, with handmade pastas, charcuterie, pizza, and seasonal dishes. Produce and meat will come from a Glen Ellen ranch owned by Brewer's family. 
In addition to food, a "curated stock of unique and fine cocktails" will be served. The wine list will include low-price Italian favorites, as well as local California wines. 
Nayfeld, a Bay Area native, made a name for himself working as the senior sous chef at Eleven Madison Park, one of the top restaurants in New York. He's also worked at Joel Rubuchon, Mirazur, and Nobu, and was a guest chef at the now-shuttered Fifty Seven in L.A. 
Brewer cooked at Chicago's three-Michelin-starred L20 before joining Hogsalt Hospitality, which owns Au Cheval, Bavette's, and Maude's Liquor Bar, among other popular spots. The duo have also brought on Michael Nogera as Che Fico's chef de cuisine. 
Although not native to the neighborhood, in their press release the pair say they are "ecstatic to be opening up a restaurant in the community where they grew up, and plan on working with a number of outreach programs within the city to create a culinary program that would work on educating underprivileged youth." 
There's no word yet on when Che Fico will open. The building's former life as an auto body shop may mean an extensive environmental cleanup, as solvent tanks are rumored to still be buried under the shop.